Read in August: Superheroes
YES! This was a great month. Best month I've had in ages. July was pretty but August was amazing. In August I read a total of 17 books. Granted, three of them were audiobook rereads and two were comics, but still. An amazing reading month. And it's good to have a really good month because September is going to be super busy for me. I have a big work thing in the middle of the month and then I love at the end of the month. And this is no small move. But, more on that later. Anyway, as far as the books go it was very hit or miss for me. I really enjoyed a lot of the books I read but I also did not like some. There were some almost 10 star reads and also some 6 star reads. Hit or miss.
For challenges, I am doing okay but not as well as I would hope on some of the individual challenges. I decided to go for a Goodreads goal of 100 books for the year and that was a really good decision because I am totally on track for that. In fact I almost finished with it. I am four books away from that and I'm definitely feeling like 120 is totally doable for the year. But I like being ahead of that challenge and I feel much better about meeting my goals. I am also on track for the
Debut Author Challenge
of 25 debuts. This month I did great and read 4 debuts, making my total for the year 18. I wanted one really good month for this one and I got that. Now if I just read two a month for the rest of the year I should be good. For the
Netgalley/Edelweiss Challenge
, I read 3 books this months which makes my total 26 for the year. I'm thinking the 36 target is still doable as all I'll have to do is read 3 a month until the end of the year. For the
Rock My TBR Challenge
I read 2 book for that this month towards my goal of 25 for the year bringing my totally up to 11 for the year. I'm definitely behind on this one but I might be able to meet the actual challenge goal of 15. And finally, I did 1 post for the
Discussion Challenge
, making my total 9 for the year which is on track for my goal of 12.
1.) I Am Princess X by Cherie Priest
Rating: 9.5 out of 10 [
My Review
]
2.) Jackaby by William Ritter
Rating: 9.5 out of 10 [
My Review
]
3.) The Rattled Bones by S.M. Parker
Rating 7.5 out of 10 [
My Review
]
4.) Shadowshaper by Daniel Jose Older
Rating: 9 out of 10 [
My Review
]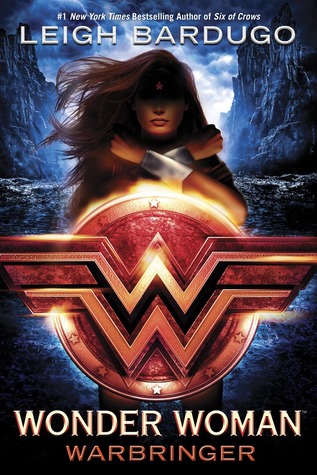 5.) League of American Traitors by Matthew Landis
Rating: 8 out of 10 [
My Review
]
6.) Heroine Worship by Sarah Kuhn
Rating: 8 out of 10
[
My Review
]
7.) Wonder Woman, Vol 2: Year One by Greg Rucka
Rating: 8 out of 10 stars [
My Review
]
8.) Beastly Bones by William Ritter
Rating: 9.5 out of 10 [Original Review]
9.) Gotham Academy, Vol. 3: Yearbook by Brenden
Fletcher, Becky Cloonan, and Karl Kerschl
Rating: 8 out of 10 [
My Review
]
10.) The Epic Crush of Genie Lo by F.C. Yee
Rating: 8.5 out of 10 [
My Review
]
11.) Ghostly Echoes by William Ritter
Rating: 9.5 out of 10 stars [
My Review
]
12.) The Dire King by Chelsea Caine
Rating: 9.5 out of 10 [
My Review
]
13.) Sleeper by Mackenzie Cadenhead
Rating: 6.5 out of 10 [
My Review
]
14.) Wonder Woman: Warbringer by Leigh Bardugo
Rating: 9 out of 10 [
My Review
]
15.) Girls Made of Snow of Glass by Melissa Bardashout
Rating: 9.5 out of 10 [
My Review
]
16.) Halloween Party by R.L. Stine
Rating: 7.5 out of 10 [Podcast Review to Come]
17.) Beasts Made of Night by Tochi Oneybuchi
Rating: 6.5 out of 10 [Review in October]
To Be Read in September:
Historical Mystery
I am so excited for this month's theme. As some of you may know historical mystery is one of my absolute favorite subgenres. It combines my favorite things, historical fiction and mysteries. Often it also involves some fantasy elements which is even better. I am some books this month that I am super excited about. Some highly anticipated reads by favorite authors and some that I have heard really good things about. I hope it's going to be another good month.
The Dreadful Tale of Prosper Redding by
Alexandra Bracken -
Add to Goodreads
I'm reading this right now and I'm really excited about it. I'm a big fan of Alex's work and any time she has a new book out I am all for it. Plus this sounds like an interesting dark historical fantasy.
Warcross by Marie -
Add to Goodreads
I love Marie Lu. I love all her books and I am super excited about this one as well. It totally sounds up my alley and I have heard good things from bloggers who have already read it. I'm thinking about starting it soon in fact.
Speak Easy, Speak Love by McKelle George
-
Add to Goodreads
I cannot wait for this book. It's a Much Ado About Nothing retelling set during the Roaring 20's. It's everything I never knew I needed.
Hunting Prince Dracula by Kerri Maniscalco
-
Add to Goodreads
Speaking of kickass female monster hunters! I loved Stalking Jack the Ripper and I am super excited about the sequel. On top of more Audrey Rose and Thomas we also get Romania and Dracula. Little known fact: I love all books that involve Dracula.
Shadowhouse Fall by Daniel Jose Older
-
Add to Goodreads
I read the first book in this series last month and I really loved it. But I listened to the audiobook (which was great) and I'm considering listening to the audio again.
House of Ash by Hope Cook
-
Add to Goodreads
This definitely sounds interesting to me. Like totally a book that I would like and a good book for the fall. I'm hoping to read it as one of my e-books.

Invictus by Ryan Graudin
-
Add to Goodreads
Another author that I really enjoy. Although I have not read many of her books. This one is completely up my alley. I mean it's about time traveling pirates. Sign me up!
The Hanging Girl by Eileen Cook
-
Add to Goodreads
I really enjoyed With Malice so I am super excited for more from this author. Not to mention this seems like my kind of read anyway.
I Hate Everyone But You by Gaby Dunn and Alison Raskin
-
Add to Goodreads
I like these two's YouTube channel. I think they are super funny and they have great banter. I expect the same thing from their book.
Custard Protocol by Gail Carriger
-
Add to Goodreads
This series is the last of the big Gail Carriger books for me. I really like this world and the characters she writes to inhabit them. I'm excited for the next phase of the series. I've heard good things about it too.
There you have it. Some of the books I hope to read in September. As always, these are subject to change. I may read all of these or I may only read a few and then read a bunch of different ones. But honestly I think this list I can stick to. Thanks for stopping by and HAPPY READING!