Read in February: Dragons
Ugh! Well that didn't go well. I had high hopes for February, but alas, work and life got in the way again and I didn't quite have the great reading month. I did not read that many books at all this month. If I'm being entirely honest it's because I would rather watch Outlander and other stuff on Netflix and Amazon instead of I have a not quite actual goal of reading 10 books a month and after once again rushing to finish a comic I ended up reading 7 books. Not a great showing but it is what it is.
For challenges, this year I'm sort of only low key doing challenges. I set a Goodreads goal of reading 120 books in a year. I'm on track for that with 18 books total for the year but I should probably pick up steam a little. For the rest of the challenges I only low key set them. I want to read 20 debuts this year. I read one this month so I'm at three total. I want to read 36 books from Netgalley and Edelweiss and I only read 1 this month. I haven't really been reading e-books lately so this might be a problem. I also want to read 20 backlist books. This month I read 2 so I'm doing well on that.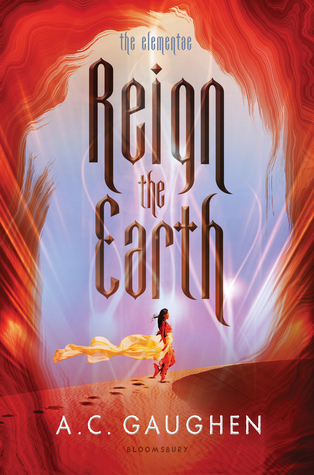 1.) Reign the Earth by A.C. Gaughen
Rating: 9.5 out of 10 [
My Review
]
2.) Fantastic Beasts and Where to Find Them by Newt Scamander
(aka J.K. Rowling)
Rating: 8.5 out of 10 [
My Review
]
3.) Tess of the Road by Rachel Hartman
Rating: 9 out of 10 [
My Review
]
4.)
To Kill a Kingdom
by Alexandra Christo
Rating: 9 out of 10 [
My Review
]
5.) Talon by Julie Kagawa
Rating: 8.5 out of 10 [
My Review
]
6.) Blood of a Thousand Skies by Rhoda Belleza
Rating: 9 out of 10 [
My Review
]
7.) Supergirl Vol. 1: Reign of the Cyborg Superman by Steve Orlando,
Brian Ching, and Mike Ativen
Rating: 8 out of 10 stars
To Be Read in March
:
Historical Fiction
I think it would be optimistic to read 12 books in March but a girl's gotta aim high. There are a few books I am super excited about and I have a few audiobook rereads planned so maybe I will be able to make it happen. We shall see.
The Radical Element by Jessica Spotswood and many
-
Add to Goodreads
I am so excited for this book. I loved A Tyranny of Petticoats and I am super excited for another collection of short stories. Plus even more authors I love are featured in this book.
Chaotic Good by Whitney Gardner -
Add to Goodreads
I really loved Whitney's Debut and I am excited for her next book. Plus I always really like contemporary reads with nerdy characters so this sounds right up my alley.
Nothing But Sky by Amy Trueblood
-
Add to Goodreads
I am super excited about this book. I love historical books that have something to do with planes, I love books set in World War I, I like books about strong female characters and this combines all three.
Despite having interest and even getting a few of her books I have year to read a Kristen Simmons. Maybe this will be my first.
Carmegie's Maid
by Marie Benedict
-
Add to Goodreads
I picked this book up at ALA because Andrew Carnegie spent a lot of time in Pittsburgh. Also it sounded interesting.
The last book in the Illuminae Files comes out this month! I can't wait. I'm so excited that I have already started my audio reread of the series.
This book sounds totally amazing and I can't wait to read it. I preordered a copy and I can't wait for it to arrive. I mean it's about witches and sisters so yeah, I need to read it.
Bygone Badass Broads by Mackenzie Lee
-
Add to Goodreads
This book just came out and I am a huge fan of Mackenzi's and love her Bygone Badass Broads posts on Twitter. I'm going to her signing today in fact and can't wait!
The Arsonist by Stephanie Oakes
-
Add to Goodreads
I have been wanting to read this book for ages. My friend Michelle let me borrow it and I really think this will be the time.
The Game of Love and Death by Martha Brockenbrough
-
Add to Goodreads
I got a copy of this from a a TBTB Secret Santa (thanks, Alyssa!) and I have not yet read it. But it sounds really fantastic and I trust the recommendation.
There you have it. Some of the books I hope to read in March. As always, these are subject to change. I may read all of these or I may only read a few and then read a bunch of different ones. But honestly I think this list I can stick to. Thanks for stopping by and HAPPY READING!