Read in May:
Remember in April when I said I was in a blogging slump? Oh boy was that true. I mean I think I posed only twice last month and one of the times was a blog tour so I had that added obligation. But I think I am starting to come out of it. I actually wrote reviews on Goodreads which is a good sign and I wanted to do this wrap up post so I would say that is progress. As for reading, it was an okay month. I was travelling a lot for work and pleasure which made it a little bit challenging. I read 10 books this month which okay. Not where I want to read but again, April was awful so we will take this.
For challenges, I am once again low key doing challenges. The only one I am legit doing is how many books in a year. I set a Goodreads goal of reading 150 books in a year. My original goal last year was 150 but I had to lower it so I want to make that happen this year. Adding these 10 books in May brings my total to 54 for the year which is definitely behind. I should lower it to 120 again just so I don't feel bad about missing it. For the rest of the challenges I only low key set them. I want to read 20 debuts this year and I read 3 this month and 2 last month which is 12 for the year and on track. I want to read 15 books from Netgalley/Edelweiss this year. I read 3 this month and 1 last month which is a total of 8 for 2019. I also want to read 20 backlist books. This month I read 1 backlist books and last month I read 2 which is 10 for the year. I am on track for all of these goals which is definitely good.
1.) The Bridge Home by Padma Venkatraman
Rating: 8 out of 10
2.) The Hummingbird Dagger by Cindy Astley
Rating: 7 out of 10
3.) The First Scream by R.L. Stine
Rating: 7 out of 10 [
Podcast Website
]
4.) Aurora Rising by Amie Kaufman and Jay Kristoff
Rating: 9.5 out of 10 [Review to Come]
5.) Bright Burning Stars by A.K. Small
Rating: 8.5 out of 10
6.) Meg, Jo, Beth, and Amy by Ray Terciero and Bre Indigo
Rating: 9 out of 10 stars
7.) The Near Witch by V.E. Schwab
Rating: 9 out of 10 stars
8.) There's Something About Sweetie by Sandhya Menon
Rating: 9 out of 10 stars
9.) We Hunt the Flame by Hafsah Faizal
Rating: 9.5 out of 10 stars [Review to Come]
10.) DEV1AT3 by Jay Kristoff
Rating: 9 out of 10 [Review to Come]
And here is hoping that I can continue the strong reading month and actually get more blogging done. I am going to ALA in a few weeks and that usually reinvigorates a lot of my desire to reconnect with the bookish internet so here's hoping that happens. I am hoping to read at least a dozen books this month but I am honestly not sure which books I want to read. I have a busy month but I that might mean more time to read.
The Raven's Tale by Cat Winters
-
Add to Goodreads
I have an e-ARC of this one and I wanted to read it but haven't been able to yet. I love a historical mystery and this one sounds really fantastic. Not only is it about Edgar Allen Poe but it's Cat Winters which is always a good thing.
Dark Shores by Danielle L. Jensen
-
Add to Goodreads
This is another one I have an e-ARC for and have not yet had the chance to read. I have heard really good things about this author and the book sounds really good.
Wilder Girls by Rory Power
-
Add to Goodreads
This debut sounds totally amazing. I love a mystery/thriller set in a boarding school so this feels totally up my alley.
Romanov by Nadine Brandes
-
Add to Goodreads
A historical fantasy reimagining of Anastasia? Yes please. My friend Michelle let me borrow her ARC and I am going to see her at ALA so I want to finish it beforehand.
Comics Will Break Your Heart
by Faith Erin Hicks
-
Add to Goodreads
I recently read one of Faith Erin Hicks' graphic novels and it was really good so when I saw the audio for this from the library when I needed a new one, I picked it up.
To Best the Boys by Mary Weber
-
Add to Goodreads
This is another book Michelle recommended. I picked it up from the library and have yet to read it. I feel like I'm in the mood now so we'll see.

Daisy Jones and the Six by Taylor Jenkins Reid
-
Add to Goodreads
I have heard great things about this book and the audio looks really good. It's a full cast and I am all for that. I put a hold on the audio from the library and my hold should be coming in.
These Witches Don't Burn by Isabel Sterling
-
Add to Goodreads
Another debut that sounds really fantastic. I love modern witch books and I am totally excited to read this one. I have a hold on a book from the library so I'm hoping it comes in soon.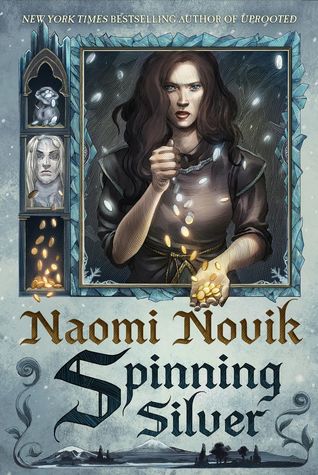 I really like Uprooted and I am super interested in reading this one as well. It's another book I put a hold on from the library and the hold should come in soon. I'm not realizing all my lirary holds are going to come in at the same time.
Other than that, I have no plans. I want to keep my options open and read whatever I feel like or if I get any good books at ALA I want to read. There you have it. Some of the books I hope to read in June. As always, these are subject to change. I may read all of these or I may only read a few and then read a bunch of different ones. But honestly I think this list I can stick to. Thanks for stopping by and HAPPY READING!