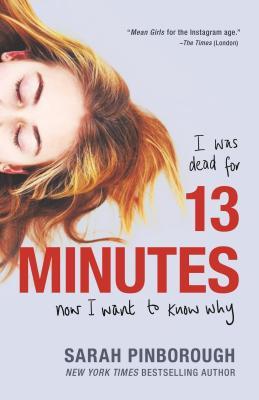 13 Minutes
by Sarah Pinborough
Publisher: Flatiron Books
Release Date: October 3rd 2017
Genre: Young Adult, Contemporary, Thriller, Crime, Mystery, Fiction
Links:
Goodreads
-
Amazon
-
B&N
-
Book Depository
-
iBooks
-
Kobo
-
IndieBound
-
Synopsis:
"Mean Girls for the Instagram age." --The Times (London)
The New York Times bestselling author known for her thrilling twists is back:
They say you should keep your friends close and your enemies closer, but when you're a teenage girl, it's hard to tell them apart. Natasha doesn't remember how she ended up in the icy water that night, but she does know this--it wasn't an accident, and she wasn't suicidal. Her two closest friends are acting strangely, and Natasha turns to Becca, the best friend she dumped years before when she got popular, to help her figure out what happened.
Natasha's sure that her friends love her. But does that mean they didn't try to kill her?
13 Minutes is a psychological thriller with a killer twist from the #1 internationally bestselling author Sarah Pinborough.
Wow, this was a really good thriller. It totally sounded like a book that was up my alley and I am so glad I got to be a part of the blog tour for it to be able to read this one. It had an atmosphere full of mystery, complex and odious characters, and a plot with tons of surprises.
I love me a good YA mystery and this one is the perfect example of what I love about them. First of all it had an atmosphere that was full of mystery and suspense. This is one of those mysteries where you really are not sure what is going on until the very end when it is all revealed which made for a totally engrossing book. When I got down to reading it, I did not want to stop because I needed to find out what was going to happen.
This is also on of those YA Mysteries and thrillers that relies heavily on the drama of high school. It's not uncommon to have a book compared to Mean Girls and I always take that with a grain of salt, but I definitely feel like this one had some aspects of that movie. It focused a lot on the girls and their relationships, or lack there of. The super popular girls have this total frenemies vibe which made for some interesting aspect of the mystery, plus it gave the book this subtle theme of friendship, bullying, and what it means to be a good friend. The themes totally added a lot to the general feel of the book and was just one more reason why I really liked this thriller.
All of this of course made for really dark and complex characters. This is a book which is full of really terrible people. Nobody is perfect and everyone has some kind of secret. Which is what I love in Mysteries and thrillers. I love awful characters, especially if they are sympathetic. And they were definitely sympathetic here. You understood their motivations and weirdly rooted for them even when they were doing bad things because it was so entertaining. Plus it worked so well in a book like this. What also worked really well was switching perspectives. Most of the book alternated between Tasha, who died for 13 minutes after ending up in a freezing near cold river, and Becca who is her old best friend who she turns to for help trying to figure out what happened. Both characters were complex and interesting. I'm sure which one I found the most interesting to be entirely honest and that's not very common with these kinds of books. But they both added so much to the overall story.
Speaking of that overall story, this plot was one that was full of surprises. I pride myself at being really good at solving mysteries and this one I did not see coming. But that's what this book did so well, there was always another shoe to drop. I was prepared to say that the pacing was a little weird because it wrapped stuff up too early, and then it surprised me again. Although I will say, the beginning was a little slow. It is the kind of book that very slowly builds to something and it definitely did. I read the last half of this book in a day because I could not put it down. It was that thrilling.
All in all, this was a really good mystery that had a thriller feel to it. It had a great atmosphere full of mystery, complex themes about friendship, dark and complex characters, and a thrilling plot.
I give 13 Minutes by Sara Pinborough 9 out of 10 stars



Buy/Borrow/Bypass:

Buy

. I really enjoyed this book. It was a fantastic thriller and I think fans of YA Mysteries should definitely check it out. If you are looking for a book full of twists and turns with terrible characters than this is the book for you.
Sarah Pinborough is a critically acclaimed adult and YA author based in London.
Sarah was the 2009 winner of the British Fantasy Award for Best Short Story and also the 2010 and 2014 winner of the British Fantasy Award for Best Novella, and she has four times been short-listed for Best Novel. She is also a screenwriter who has written for the BBC and has several original television projects in development.
Her next novel, Behind Her Eyes, coming for HarperFiction in the UK and Flatiron in the US (January 2017) has sold in nearly 20 territories worldwide and is a dark thriller about rela-tionships with a kicker of a twist. You can follow her on Twitter
@sarahpinborough
• 1 ARC of 13 MINUTES by Sarah Pinborough
• US Only
a Rafflecopter giveaway
Rafflecopter Link:
a Rafflecopter giveaway