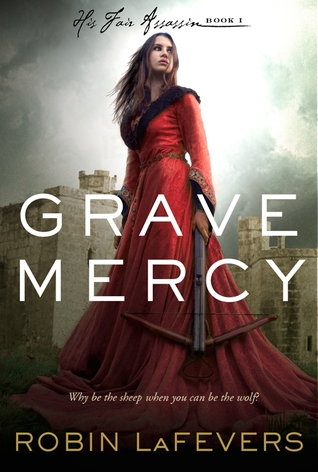 Title: Grave Mercy
Series: His Fair Assassins #1
Written by: Robin LaFevers
Published: April 3, 2012 by Houghton Mifflin Harcourt
(
Amazon
/
Goodreads
)
Synopsis: Seventeen-year-old Ismae escapes from the brutality of an arranged marriage into the sanctuary of the convent of St. Mortain, where the sisters still serve the gods of old. Here she learns that the god of Death Himself has blessed her with dangerous gifts—and a violent destiny. If she chooses to stay at the convent, she will be trained as an assassin and serve as a handmaiden to Death. To claim her new life, she must destroy the lives of others.
Ismae's most important assignment takes her straight into the high court of Brittany—where she finds herself woefully under prepared—not only for the deadly games of intrigue and treason, but for the impossible choices she must make. For how can she deliver Death's vengeance upon a target who, against her will, has stolen her heart?
I have heard nothing but good things about this book and I have wanted to read it for years now but never actually got around to it. But it's historical fiction month and I needed a backlist book so I finally took time to read it. And I'm so glad that I did because it was just as fantastic as everyone says it is. It's a really great piece of historical fiction and has everything that I want in a book.
I'm a big fan of historical fiction, especially when it is about or set during a period that you don't often see. That was absolutely the case with Grave Mercy. The book is set in Medieval Brittany and is about the conflict between the duchy and the kingdom of France as they were consolidated power. It explores a lot of the politics of the time and I found it truly fascinating with all the court politics. Plus i really loved learning about the duchess Anne. It made me want to look into her more to learn about who she is and what happened to her in real life. And that is the mark of a good piece of historical fiction for me.
But this was also an incredibly thrilling and engaging book as far as the plot is concerned. I love books worth a heavy political intrigue because it always makes for so much drama. And Grace Mercy had plenty of drama. On top of the political aspect there was also an interesting mystery. I will say however that I did solve the mystery way before the characters did. And as is often the case in those situations it became a bit annoying waiting for the characters to catch on. But it was still really interesting and I loved the way it all unfolded.
But I think the best part of this book was the characters. This is without a doubt a book full of complex and odious characters. When you have a plot with this much political intrigue you are bound to have characters who play both sides of things and whose true allegiances are not really known until it's too late. That was the case with this book. So many characters did terrible things throughout the book and I loved that. I loved seeing the scheming and backstabbing. I loved seeing the characters switch sides and turn their backs in the people they made promises to. Those are my favorite kinds of characters.
As far as the main characters they were also amazing. Ismae was a great main character. She is tough and smart. I mean how could you not be when you are an assassin nun in the service of the God of Death. She kicked so much butt throughout this book. But she also showed a lot of uncertainty and vulnerability that I appreciated. She was still figuring out how the world works and how she fits into it. I also really liked the male lead, Duval. Duval was really fantastic, and a straight up Hufflepuff. He was smart and tough but so loyal. He cared so much for Anne and would do anything to protect her and throughout the book as his feelings for Ismae grew he did the same for her. They had a good slowburn romance and I kind of enjoyed it.
On the whole Grave Mercy was a really great read. I loved the historical setting, the plot was thrilling and full of mystery, and the characters were complex and interesting. I'm glad I took the time to read it and I definitely want to finish the series. I'm not sure when I will find the time but I am interested.
I give Grave Mercy by Robin LaFevers 9 out of 10 stars



Buy/Borrow/Bypass

: Buy

. I wish I hadn't waited so long to read this book. I know a lot of people who really love it and I get why. If you are a fan of YA historical fiction and have not read this, do that.

Have you read Grave Mercy? What did you think? Leave me a comment with your thoughts. Thanks for stopping by and HAPPY READING!