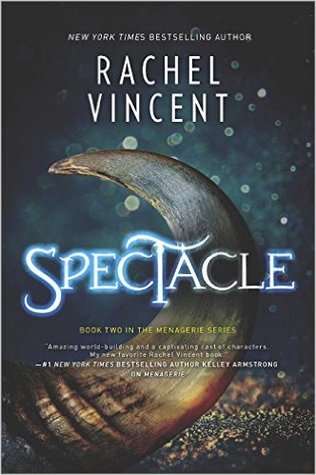 Title: Spectacle
Series: Menagerie #2
Written by: Rachel Vincent
Published: May 30, 2017 by Harlequin Mira
(
Amazon
/
Goodreads
)
Synopsis: In this riveting sequel to New York Times bestselling author Rachel Vincent's acclaimed novel Menagerie, Delilah Marlow will discover that there is no crueler cage than the confines of the human mind…
When their coup of Metzger's Menagerie is discovered, Delilah and her fellow cryptids find their newly won freedom brutally stripped away as they are sold into The Savage Spectacle, a private collection of "exotic wildlife." Specializing in ruthless cryptid cage matches, safari-style creature hunts and living party favors, the Spectacle's owner, Willem Vandekamp, caters to the forbidden fetishes of the wealthy and powerful. At the Spectacle, any wish can be granted—for the right price.
But Vandekamp's closely guarded client list isn't the only secret being kept at the Spectacle. Beneath the beauty and brutality of life in the collection lie much darker truths, and no one is more determined than Delilah to strip the masks from the human monsters and drag all dark things into the light.
*** I received an advance copy of this book from the publisher via Netgalley in exchange for an honest review. This fact has not changed my opinion. ***
This is such a hard book to rate. I liked it in the moment but the more I sit with it and think about it I don't know how I feel. Despite originally DNFing Menagerie I ended up really liking it and actually being super excited for it's sequel. And while this was an interesting book with a complex and engaging world and likable characters, it still didn't blow me away.
One of the things that I did love about this book was the world. I don't reach much urban fantasy but I do really love the concept behind the subgenre. It's such an enthralling world as cryptids, aka mythical creatures and fae, walk among us and are treated as monsters, animals, and dangerous killers. In this book we saw that again but in an even more brutal way at the Savage Spectacle. It definitely creates this complex and engaging world that has all kinds of interesting themes about humanity, prejudice, and what makes you human.
And because much of the book is about those concepts, it makes for some really likable characters. In the course of the past two books I have become incredibly attached to these characters. Our main character is Delilah. Delilah is human but she is treated like a cryptid because she is the vessel for the spirit of vengeance. Delilah is everything a great character should be. She's smart, determined, and resourceful but she also has the great vulnerability to her as well. But I as much as I like seeing her make mistakes, it's even better to see the Fury rise. Don't we all sometimes wish a supernatural force could rise in us an destroy our enemies? I know I do. But just in general I really like Delilah as a character.
But this is a book full of interesting and complex characters. In some respects I felt like the first book had spread itself a little too thin with all the perspectives. That was resolved in this book. We saw many of the characters from the first book and even some new ones but there was a more narrow focus which was nice. But I did really like the secondary characters. Gallagher is a standout again in this especially now that we know his secret. Plus I did really like the relationship between the two of them. It's refreshing to see a strong friendship and a character who protects another without it being romantic.
But I think my biggest criticism for this book is with the plot development. It was an interesting plot and it developed in a much more steady way unlike the first book which had huge pacing issues. However, it just didn't feel cohesive. It felt like two different stories. One in the beginning and one at the end. They were connected but it still felt jarring when a twist occurred shifting the plot development completely. And to be entirely honest I don't think the plot was any different from the first book. There is so much potential to explore within the world and a lot of opportunity for drama but it didn't really deliver on that for me. I enjoyed it but it didn't take things to the next level for me.
On the whole this was an interesting read and I do like the series. It has such a fascinating world and complex and likable characters but I wanted a little more from the plot. I think there is a lot more to explore and I am excited to do just that in the next book.
I give Spectacle by Rachel Vincent 8 out of 10 stars



Buy/Borrow/Bypass

: Buy/Borrow

. If you enjoyed the first book in this series, check out this one. Also, if you like urban fantasy and you have not read this series I definitely recommend it. It's definitely a good read that I would recommend to fans of the genre or anyone wanting to try it out.

Have your read Spectacle? What did you think? Leave me a comment with your thoughts. Thanks for stopping by and HAPPY READING!