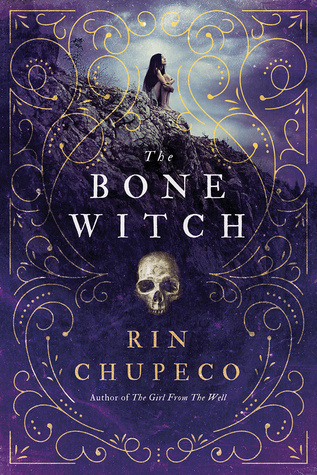 Title: The Bone Witch
Series: The Bone Witch #1
Written by: Rin Chupeco
Published: March 7, 2017 by Sourcebooks Fire
(
Amazon
/
Goodreads
)
Synopsis: A Publishers Weekly Most Anticipated Young Adult Book of Spring 2017!
In the captivating start to a new, darkly lyrical fantasy series for readers of Leigh Bardugo and Sabaa Tahir, Tea can raise the dead, but resurrection comes at a price...
Let me be clear: I never intended to raise my brother from his grave, though he may claim otherwise. If there's anything I've learned from him in the years since, it's that the dead hide truths as well as the living.
When Tea accidentally resurrects her brother from the dead, she learns she is different from the other witches in her family. Her gift for necromancy means that she's a bone witch, a title that makes her feared and ostracized by her community. But Tea finds solace and guidance with an older, wiser bone witch, who takes Tea and her brother to another land for training.
In her new home, Tea puts all her energy into becoming an asha-one who can wield elemental magic. But dark forces are approaching quickly, and in the face of danger, Tea will have to overcome her obstacles...and make a powerful choice.
Memoirs of a Geisha meets The Name of the Wind in this brilliant new fantasy series by Rin Chupeco!
*** I received and advance copy of this book from the publisher via Netgalley in exchange for an honest review. This fact has not changed my opinion. ***
I was so excited to red this book. I love me some dark fantasy and a book about witches where one is a Necromancer sounds totally up my alley. And while this was an interesting read, I didn't love it.
The one thing I did really enjoy about this book was the world. That was without a doubt the most interesting part. As far as the magical system goes, it was kind of an interesting take on elemental magic. Each person who is able to do magic has a specific gift and they mostly revolve around controlling an element, except out our MC who controls dark energy and can raise creatures from the dead. I loved seeing the magic at work and learning more about it throughout the book as Tea was trained. It was a bright spot in this book for me.
Perhaps I liked the world and magical setting so much because this was absolutely an exposition sort of book. Much of the plot revolved around setting up the story that I assume the next book is going to explore. And that story is going to be fascinating, but this one fell flat for me. There was a lot of potential with some cool action scenes and a pretty good mystery in the end but I spent most of the book waiting for the plot to kick in.
But I waited a lot in this book. It is a very slowly paced read. I like books that slowly build to a thrilling conclusion but if it takes three quarters of the book before you never get to an semblance of a plot that it too slow. It may have been a little too late for me in that case. I did find the format interesting of telling the story in flashbacks on how Tea got to be where she is at the beginning of the book but that may have also kind of slowed the pacing down a little bit. They had to spend a lot of time explaining things that maybe could have been pared down if the main plot was the present timeline.
I also didn't totally connect with the characters. Tea was interesting enough and I did connect with her feeling of loss in the beginning and her desire to prove herself worthy and capable of skill throughout the book but it never went deeper than that. She felt a little one note. And the rest of the characters felt so forgettable that I honestly forgot who people were at the end during the big reveal. I think in general I just didn't connect with the characters.
On the whole I think The Bone Witch just suffered from a bit of first book syndrome for me. I'm interested to see where the series goes because t does have a fascination world and a lot of potential but this book didn't super impress me.
I give The Bone Witch by Rin Chupeco 8 out of 10 stars
Buy/Borrow/Bypass

: Borrow.

This is probably one of those books that I would suggest reading when more of the series is out. It's interesting enough but there is a lot of exposition and if you can marathon it with the second book in the series I think it will be more engaging.
Have you read The Bone Witch? What did you think? Leave me a comment with your thoughts. Thanks for stopping by and HAPPY READING!