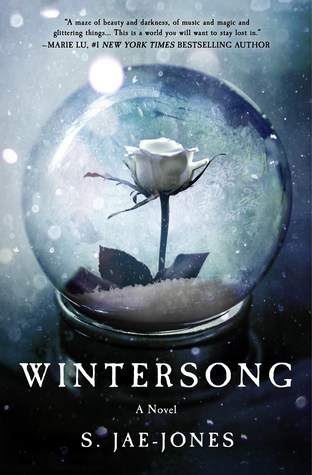 Title: Wintersong
Written by: S. Jae-Jones
Published: February 7, 2017 by St. Martin's (Macmillan)
(
Amazon
/
Goodreads
)
Synopsis: Beware the goblin men and the wares they sell.
All her life, nineteen-year-old Liesl has heard tales of the beautiful, mysterious Goblin King. He is the Lord of Mischief, the Ruler Underground, and the muse around which her music is composed. Yet, as Liesl helps shoulder the burden of running her family's inn, her dreams of composition and childish fancies about the Goblin King must be set aside in favor of more practical concerns.
But when her sister Käthe is taken by the goblins, Liesl journeys to their realm to rescue her sister and return her to the world above. The Goblin King agrees to let Käthe go—for a price. The life of a maiden must be given to the land, in accordance with the old laws. A life for a life, he says. Without sacrifice, nothing good can grow. Without death, there can be no rebirth. In exchange for her sister's freedom, Liesl offers her hand in marriage to the Goblin King. He accepts.
Down in the Underground, Liesl discovers that the Goblin King still inspires her—musically, physically, emotionally. Yet even as her talent blossoms, Liesl's life is slowly fading away, the price she paid for becoming the Goblin King's bride. As the two of them grow closer, they must learn just what it is they are each willing to sacrifice: her life, her music, or the end of the world.
*** I received an advance copy of this book from the publisher via Netgalley in exchange for an honest review. This fact has not changed my opinion. ***
I was so excited to read this book. The second I heard about it, I knew I needed it in my life. Not only is it a unique YA fantasy but it's similar to the 80's movie Labyrinth. Seriously? I needed it. On top of that I had heard really good things from fellow bloggers who had read it so when I was sent a copy from the publisher I was over the moon. And Wintersong did not disappoint. It was not entirely what I expected but it was a fantastic read.
The thing that I liked most about this book was the writing. This is definitely a beautifully written novel. This is one of those books that relies a lot on it's lyrical prose to establish an atmosphere of wonder and beauty. And that definitely worked. It was captivated and taken away by the magic and fantasy. (Be sure to come back on Thursday, I'll have an excerpt of the book and you can experience it for yourself). Plus this is one of those books that reads like a fairy tale. It has that a lot of elements from the classic stories that you know and love but still creates something new and different. I love when books feel familiar and creative at the same time and that was the case with Wintersong. It was a beautiful and lyrical modern fairy tale.
And because it reads like a fairy tale and there is such an emphasis on the atmospheric writing, it did kind of lose something with the plot development for me. Now it's not that there was no plot, it just had kind of a slow plot for my taste. I'm definitely someone who prefers a lot of action and mystery. I also prefer a really intricate plot that builds to a thrilling conclusion. I didn't get either of those here. There are kind of two separate plots, one in the first half and one in the second half. They were both interesting on their own but there wasn't a ton of connective tissue. And if I'm being entirely honest, I preferred the first half and would have liked if that would have been dragged out a little more.
But I think the thing I liked least about the plot development, especially in the second half was the romance. You guys know me, I'm a romancephobe. I don't usually enjoy books that are heavy in the romance, especially if the romance is the plot point. And that was the case with the second half of this book. I loved the sisterly bond and the idea of family, that relationship was great. But as soon as it turned romantic it lost me. On top of all that it just felt like a strange relationship to me. It felt like it developed suddenly and wasn't even built on any attraction. There was a bit of a connection with the characters but I didn't see it progressing in the direction ans speed in which it did. But keep in mind, I am very hard to please in the romance department. If you like love stories you'll probably like this more than I did.
I also think that my feelings on the relationships may have also impacted my feelings on the characters. As far as the main characters go it was kind of hit or miss for me. The character I did really like was The Goblin King. I found him super interesting. He had this mysterious backstory, and this not quite bad but not quite good way about him. And I really liked his development. Throughout the book and the more we got to know about him the more likable he became. I know there is a companion novel coming out and I hope it is about The Goblin King because he was fascinating. I wish I could say the same about Liesl. I did like her in the beginning. She was plucky and a little reckless. She selflessly did things to protect others and I appreciated her determination. But her development I didn't enjoy. Throughout the book she did a 180 and I just suddenly stopped connecting with her. I really wish that didn't happen because before that I was really enjoying her.
On the whole, Wintersong was a good read. It was beautifully written and felt like a classic fairy tale that I really enjoyed. But the p[lot and characterizations were king of hit or miss for me with the split plot points and some good and some not so good character developments.
I give Wintersong by S. Jae-Jones 8.5 out of 10 stars



Buy/Borrow/Bypass:

Buy/Borrow.

I think this is definitely worth a read. if you are a fan of fantasies, especially ones that have heavy romance I think you will really enjoy this book. It's beautifully written with a lyrical and atmospheric style that I think a lot of readers will enjoy. But if you are looking for something more plot focused, this may not be the book for you.

Have you read WIntersong? What did you think? Leave me comment with your thoughts. Thanks for stopping by and HAPPY READING!