Read in March: Contemporary?
Another good month. I'm finally back to where I want to be and reading 12 books a month. After the embarrassing few months I had this winter and a busy end of the month, I'm glad to be maintaining some level of consistency and getting back to the level of reading I know I can be at. Of course it helps that I was reading some pretty short books and plenty of audiobooks but still. I feel like I'm out of my reading slump and I am back to normal. Plus I was pleasantly surprised by many of the books I read this month. I liked a lot of them more than I had expected which is very exciting because for a long time I was not impressed by many of the books I was excited about. But all in all it was a good month.
For challenges, I am doing okay but not as well as I would hope. I decided to go for a Goodreads goal of 100 books for the year and that was a really good decision. I am now ahead of that challenge and feeling much better about meeting my goals. Having read 12 books this month I am now up to 27 books for the year. I am still a little behind for the
Debut Author Challenge
of 25 debuts, but I did read 3 this month which brings my total to 6 for the year which means I am basically back on track. For the
Netgalley/Edelweiss Challenge
, it was a better month for that too, I read 4.5 (half because I also had an audiobook and physical copy of the book) this months which makes my total 8 for the year. I'm still hoping to reach my goal of 50 for the year but I think the 36 target is more doable. For the
Rock My TBR Challenge
I read 3 books for that this month towards my goal of 25 for the year bringing my totally up to 4 for the year. And finally, the one that I doing well with is the
Discussion Challenge
, I have done one post for that, on track for twelve in the year.
2.) To All the Boys I Loved Before by Jenny Han
Rating: 8.5 out of 10 [
My Review
]
3.) The Song Rising by Samantha Shannon
Rating: 9 out of 10 [
My Review
]
4.) P.S. I Still Love You by Jenny Han
Rating: 9 out of 10 [
My Review
]
5.) You're Welcome Universe by Whitney Gardner
Rating: 8 out of 10
[
My Review
]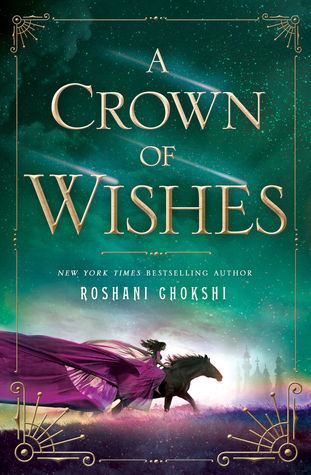 6.) Queens of Geek by Jen Wilde
Rating: 8 out of 10 [
My Review
]
7.) Night Witches by Kathryn Lasky
Rating: 8.5 out of 10 [
My Review
]
8.) Batgirl,Vol. 1: Beyone Burnside by Hope Larsen, Raphael Albuquerque,
Dave McCaig, and Deron Bennett
Rating: 8.5 out of 10
9.) Girl in Disguise by Greer Mcallister
Rating: 8 out of 10 [
My Review
]
10.) Yes, Please by Amy Poehler
Rating: 9 out of 10 [
My Review
]
11.) A Crown of Wishes by Roshani Chokshi
Rating: 9.5 out of 10 [
My Review
]
12.) Blood Rose Rebellion by Rosalyn Eve
Rating: 8.5 out of 10 [My Review]
To Be Read in February:
Science Fiction
I am really excited for this month's theme. I have been saving a few books in particular because they fit this theme. I cannot wait to read some of them. Plus this month includes new books from favorite authors, audiobooks narrated by favorite narrators, and backlist books that I have been seriously putting off. I'm super excited to read them. Plus sci-fi month is always fun.


Shadow Run by AdriAnne Strickland and Michael Miller
-
Add to Goodreads
This came out a few weeks ago and I have been saving it to read during my science fiction month. I haven't heard a lot about it but it's compared to Firefly and I'm interested
The Shadow Land by Elizabeth Kostova -
Add to Goodreads
I am so so freaking excited for this book. I love Elizabeth Kostova's books and she hasn't had a new one in like 7 years. Plus I read an interview where she said her research for The Historian inspired this book. Can't wait!
The Edge of the Abyss
by EmilySkrutskie
-
Add to Goodreads
I got a copy of this from Michelle who picked it up for me when she went to ALA. I loved The Abyss Surrounds Us and I cannot wait for more from this series. More pirates, sea monsters, and f/f romance please!
The Whole Thing Together by Ann Brashares
-
Add to Goodreads
I like Ann Brashares, like beyond The Sisterhood of the Traveling Pants (although I love that series). Her most recent book wasn't great but I'm still super interested in this one. It sounds like it'll be a little bit of a return to her roots.
The Most Beautiful Woman in Florence by Alyssa Palumbo
-
Add to Goodreads
This book sounds amazing. I love me some historical fiction especially ones like this that inclorporate some kind of additional culture or art. Plus I love the city of Florence and I am excited to read a book set there.


Wires and Nerve by Marissa Meyer and Douglas Holgate
-
Add to Goodreads
I love love love The Lunar Chronicles series and graphic novels so those two together plus Iko as the main character? Yes! I have been saving this for my sci-fi month as well and I cannot wait.
Empress of A Thousand Skies by Rhoda Belleza
-
Add to Goodreads
I've been wanting to read this book because it's political intrigue in space and the audiobook is narrated by Rebecca Soler so you know I have to listen.

Strange the Dreamer by Laini Taylor
-
Add to Goodreads
This is going to be my other audiobook for the month because it's narrated by Steve West. Plus I have heard good things. And maybe this will inspire me to read Daughter of Smoke and Bone. I know everyone loves the series but I haven't read it yet. (DON'T HATE ME!)
The Upside of Unrequited
by Becky Albertalli
-
Add to Goodreads
This is my one preorder for the month by I had to get it. I mean I loved Simon Vs. the Homo Sapiens Agenda. And the MC here totally sounds like someone I would like. Well except the love triange thing but I trust Becky.
I have been wanting to read this series for awhile and I even have the first two books in the series. Hopefully this will be the month I follow through and read them. Also the audiobook is narrated by Nick Poedhl who I love so maybe I'll listen to the audio.
Dissonance by Ericka O'Rourke
-
Add to Goodreads
I have heard really good things about this time travel series. I have the first book in hardcover and I haven't gotten around to reading it yet so maybe this will be the time.
NIL on Fire by Lynne Matson
-
Add to Goodreads
I've been wanting to finish this series for awhile now and just haven't. I don't have a good reason other than I don't have a copy of the book. But it fits the theme so maybe this is a good chance.
There you have it. Some of the books I hope to read in April. As always, these are subject to change. I may read all of these or I may only read a few and then read a bunch of different ones. But honestly I think this list I can stick to. Thanks for stopping by and HAPPY READING!