A weekly meme hosted by
Breaking the Spine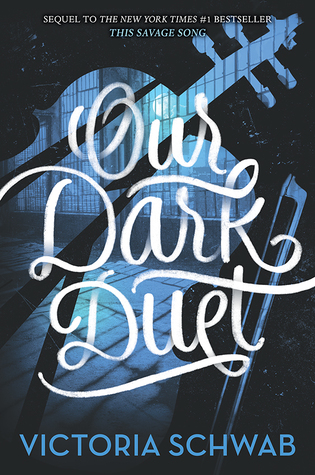 Title: Our Dark Duet


Series: Monsters of Verity #2
Author: Mackenzi Lee

Published: June 13, 2017 by HarperTeen




Synopsis: Kate Harker is a girl who isn't afraid of the dark. She's a girl who hunts monsters. And she's good at it. August Flynn is a monster who can never be human, no matter how much he once yearned for it. He's a monster with a part to play. And he will play it, no matter the cost.

Nearly six months after Kate and August were first thrown together, the war between the monsters and the humans is terrifying reality. In Verity, August has become the leader he never wished to be, and in Prosperity, Kate has become the ruthless hunter she knew she could be. When a new monster emerges from the shadows—one who feeds on chaos and brings out its victim's inner demons—it lures Kate home, where she finds more than she bargained for. She'll face a monster she thought she killed, a boy she thought she knew, and a demon all her own.
I'm a huge fan of Victoria Schwab. I would have been excited about this book no matter what it is because it's a new Victoria Schwab and I need it. Her books are always among my favorites of the year and This Savage Song, the first book in this series was no exception. It was such an amazing dark fantasy with great characters and an amazing world.
But seriously, the way that This Savage Song ended I know this is going to be an amazing sequel. There was such a crazy and brilliant twist which has me so freaking pumped. I know it's going to be going into such a dark and dramatic direction and I can't wait to see it all unfold. And oh man, have you read that synopsis? If you have read This Savage Song then you know why that synopsis is so freaking exciting.
I'm also really interested in this book because I know it will have some amazing character development. Victoria's books always have great characters who walk the fine line between good and evil. There are frequently odious characters doing the right thing for the wrong reason or vice versa and this series has that to the extreme. Not to mention that the synopsis makes me so excited for that character development. SO EXCITED!
What about you? What are you waiting for this Wednesday? Are you waiting on Our Dark Duet along with me? Leave me a comment with your thoughts. Thanks for stopping by and HAPPY READING!