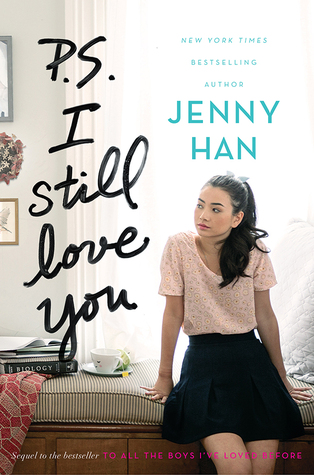 Title: P.S I Still Love You
Series: To All the Boys I've Loved Before #2
Written by: Jenny Han
Published: May 26, 2015 by Simon and Schuster Books for Young Readers
(
Amazon
/
Goodreads
)
Synopsis: Lara Jean didn't expect to really fall for Peter. She and Peter were just pretending. Except suddenly they weren't. Now Lara Jean is more confused than ever. When another boy from her past returns to her life, Lara Jean's feelings for him return too. Can a girl be in love with two boys at once?
In this charming and heartfelt sequel to the New York Times bestseller To All the Boys I've Loved Before, we see first love through the eyes of the unforgettable Lara Jean. Love is never easy, but maybe that's part of what makes it so amazing.
I enjoyed To All the Boys I Loved Before much more than I expected and with the unresolved feeling I felt after the ending of that book I knew I had to read this book. And it was just as cute a book.
I definitely love the characters in this series. In the first book I related so hard to Lara Jean. I saw myself in her and I was excited to see what would happen to her next. And so much of this book is about Lara Jean and her insecurities. In some respects she has grown up a lot since the last book but in other ways she is just as naive and immature. I love that about a teen protagonist though. She felt so real and when things for hard for her I could empathize and wanted her to get out of whatever situation she was in. And while she was maybe a little less relatable she was still really likable and I enjoyed seeing her develop.
I also really liked seeing the relationships develop, especially the romantic ones. I wasn't sure exactly how much I liked Peter until this book and then I was totally shipping it. The best part of the romance however is that it's not perfect, in fact it's far from it. It's messy and bad at times. I always think about the first loves you see in YA and wonder what will happen to them down the road. A lot of this book explored some of those ideas. Lara Jean and Peter's relationships was messy and it had it's ups and down but what relationships don't. It was just one more thing about this book that was realistic which made it so enjoyable.
I did however miss some of the other relationships in this book. So much of the first book was about the bond Lara Jean had with her sisters and her dad which wasn't really developed here. I missed that. And there were some exploration of the friendships in the book including some previous friendships which had not lasted. It was an interesting idea but I don't think it got as much attention as I would have liked. I just wish there was more friendship or other relationships instead the focus on the romance, even though I liked the romance.
But once again Jenny Han is able to write a contemporary that brilliantly balances the lighthearted and the serious. There are some really sweet moments here but there are also some really funny ones and some sad ones even. I think I went through the entire spectrum of emotions throughout this book and that is the mark of a good book to me. I prefect contemporaries that have some heavy moments but doesn't take itself to serious because that's how life is and that's what makes me enjoy and connect with a book. This book definitely did that and it's one of the things I liked about it and the series on the whole.
I know there is a third book coming out soon (which I am really excited to read) but that this was originally planned to be a duology. I appreciated that this book left things open while still wrapping up the storyline. I felt like the first book was so abrupt and this one felt complete.
P.S. I Still Love You is a good sequel to a cute and relatable YA contemporary. It's got likable characters and an interesting storyline. I enjoyed it just as much as the first book, maybe even a little bit more.
I give P.S. I Still Love You by Jenny Han 9 out of 10 stars



Buy/Borrow Bypass

: Buy.

If you read the first book and enjoyed it, you definitely have to get your hands on the sequel. I think this is a cute and interesting contemporary fans of the genre or those new to it will enjoy.

Have you read P.S. I Still Love You? What did you think? Leave me a comment with your thoughts. Thanks for stopping by and HAPPY READING!