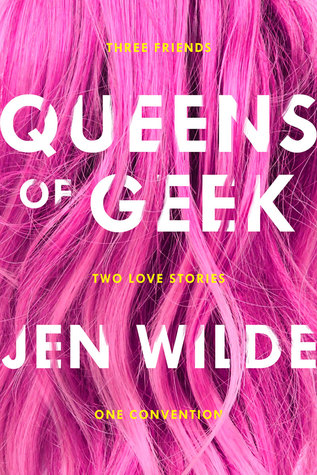 Title: Queens of Geek
Written by: Jen Wilde
Published: March 21, 2017 by Swoon Reads (Macmillan
(
Amazon
/
Goodreads
)
Synopsis: When BFFs Charlie, Taylor and Jamie go to SupaCon, they know it's going to be a blast. What they don't expect is for it to change their lives forever.
Charlie likes to stand out. SupaCon is her chance to show fans she's over her public breakup with co-star, Jason Ryan. When Alyssa Huntington arrives as a surprise guest, it seems Charlie's long-time crush on her isn't as one-sided as she thought.
While Charlie dodges questions about her personal life, Taylor starts asking questions about her own.
Taylor likes to blend in. Her brain is wired differently, making her fear change. And there's one thing in her life she knows will never change: her friendship with Jamie—no matter how much she may secretly want it to. But when she hears about the Queen Firestone SupaFan Contest, she starts to rethink her rules on playing it safe.
*** I received an advance copy of this book from the publisher in exchange for an honest review. This fact has not changed my opinion. ***
I knew this was going to be the kind of contemporary that I knew that I would really enjoy. It's a cute and quick read full of adorkable characters and fun romances that I finished in a day. It's light-hearted and engaging with a coming-of-age story and a great setting. It's everything I hoped it would be.
Firstly, I really enjoyed the setting of this book. It takes place at SupaCon which I assume is meant to be ComiCon. It was such a great setting for this book. And while I've never been to ComiCon it definitely gave me BEA feels. It perfectly captured the overwhelming but exciting feeling of going to a huge event for the first time and what it's like to meet people and stand in crazy long lines to meet an author (or celebrity) that you love. It made for a really interesting setting and you can tell that the authoris coming from a real place of love when it comes to Cons.
And I think the setting also lended it so well to the coming-of-age plot that this book had. Much of this book was about the characters breaking out of their comfort zone and doing things they had never done before. Going to SupaCon was just the tip of the iceberg for that. I loved seeing the characters try different things and honestly grow and develop by the end of the book. It wasn't a huge change but it felt realistic in the challenges that they faced in just a few days out of their lives.
Plus I'm a huge fan of books that involve geeky or nerdy characters, especially when it involves some part of geek culture and that is exactly what Queens of Geek had. The book alternates perspectives between Charlie and Taylor. Charlie is a YouTube star who just did a movie and is doing publicity for it. Taylor is just along for the con and is trying to meet her hero, the author of her beloved Queen Firestone series. While Charlie's story is easier to describe, Taylor's is easier to connect with. I really loved Taylor as she dealt with her anxiety and the excitement and then disappoint that came from the events of the book. They're both really likable but I saw more of myself in Taylor.
Both girls also had some pretty cute romances. Charlie is dealing with a very public breakup from her costar and then learning that her crush on a fellow YouTube celebrity is returned explores that in a way that I liked. Alyssa was really sweet and I liked that there was a mutual appreciation and that the two related to each other so well. I would have like Alyssa's character to be flushed out a little bit more and I did think that things moved too fast for my liking but it was cute. Taylor's romance however I did enjoy. Jamie was a great character and I liked the way the friends to more relationship developed.
But I think my least favorite thing about this book was the pacing. I've read plenty of books that took place over a day or a few days that felt natural and made sense but here it just felt like a lot and a little at the same time. In some respects it was hard to suspend disbelief that so much was happening in a day but in other ways it felt like nothing was really happening. It was very weird and hard to explain. I think that it was because this is a very short book. It's under 300 pages and it definitely reads quickly. It took me a day to read this and I honestly finished it without even realizing. You can just fly through this book because it's not super complex. But that is sometimes a good thing. A fast and cute read is sometimes just what we all need in our lives.
On the whole, Queens of Geek was a good YA contemporary. It was a bit basic when it came to the plot development but it had a great setting and likable characters as well as an interesting coming-of-age story that I think a lot of people will enjoy and relate to.
I give Queens of Geek by Jen Wilde 8 out of 10 stars



Buy/Borrow/Bypass

: Borrow/Buy.

This is the perfect palate cleanser read I would say. You can definitely read it in a day and it will cheer you up and keep you reading. If you like books about nerdy characters and are looking a quick and entertaining read with relateable characters and cute romances then definitely check this out.