I have recently, within the past year or so, started reading a lot more comics. But when I look at the comics that I do read, I noticed a bit of a trend. I mostly read comics with female protagonists. If it's about a kickass woman or girl I am all about it. So obviously this week I had to mention some of my favorites.
1.) Ms. Marvel by G. Willow Wilson and Adrian Alphona
(
Comixology
/
Amazon
/
Goodreads
)
Kamala Khan is the absolute best. I put this first on the list because it is the comic I read which convinced me that I could in fact find comics that I would love. First of all, the protagonist is so relateable and on top of that she's a diverse character which I love. Plus it's super compelling.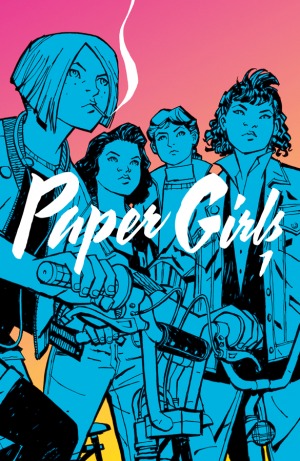 2.) Paper Girls by Brian K. Vaughn, Cliff Chiang, and Matthew Wilson
(
Comixology
/
Amazon
/
Goodreads
)
Paper Girls is weird. Like real weird. Weird and confusing. But that's what I love about it. It definitely feels like no other comic I have read or even heard about. The plot is super unique. Plus the characters are great and the art is bright and engaging.
3.) Rat Queens by Kurtis J. Weibe and Roc Upchurch
(
Comixology
/
Amazon
/
Goodreads
)
I read this about the same time that I read Ms. Marvel and it was another one of those comics that really impressed me and made me realize I could find comics that I loved. It's an amazing sword and sorcery plot, unique and super badass female characters, and amazing art.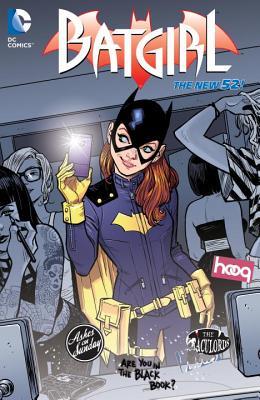 4.) Batgirl (The New 52) by Cameron Stewart, Brendan Fletcher, Jared K. Fletcher, Maris Wick, and Babs Tarr
(
Comixology
/
Amazon
/
Goodreads
)
I know comics fans hated The New 52 but it was when I started reading comics so I really don't mind it. Plus I really liked this Batgirl. I liked the way that they made her modern and fun and kept the history of the original character while moving her on.
5.) Lumberjanes by Noelle Stevenson
(
Comixology
/
Amazon
/
Goodreads
)
I'm assuming a lot of you love Lumberjanes. I mean, how could you not love it? It's got great female characters and is all about female friendship. Plus it's such a quirky and fun plot. I mean it's a summer camp and their is mystery and supernatural goings on.
6.) Gotham Academy by Becky Cloonan, Brendan Fletcher, and Karl Kerschel
(
Comixology
/
Amazon
/
Goodreads
)
This is a comic that I think a ton of people have never heard of but it is so good. It's got like a gothic mystery vibe to it which I love and totally unique characters that I think people who are not a big fan of comics will enjoy.
7.) The Unbeatable Squirrel Girl by Ryan North and Erica Henderson
(Comixology /
Amazon
/
Goodreads
)
I read this really recently and I loved it. Squirrel Girl is such a unique superhero. I mean who would have thought that a character who is part squirrel and communicates with squirrels would be so kickass but let me tell you, she is.
8.) Princeless by Jeremy Whitley, Mia Goodwin, Jung-Ha Kim, and Dave Dwonch
(
Comixology
/
Amazon
/
Goodreads
)
I love the concept of this comic. A princess who someone tries to rescue decides she's going to save herself, befriend the dragon, and rescue other damsels who have been distressed most notably her sisters. It's definitely on the younger side but it's so good.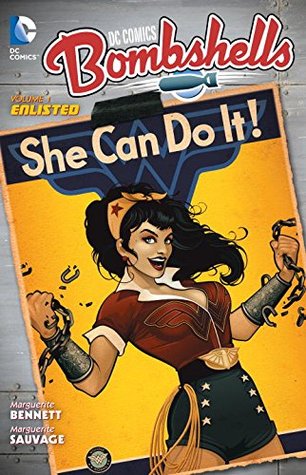 9.) Bombshells by Marguerite Bennett and Marguerite Sauvage
(
Comixology
/
Amazon
/
Goodreads
)
And this was my most recent comic I read. I read this on a recommendation (thanks Shelly!) and I really liked it. It has basically all the female protagonists in DC Universe and their kicking ass during WWII and some of them have 40's pinup style designs.
To Read
- Mockingbird by Chelsea Cain
I hadn't even heard of this until the outrage about the cover. But I love the character on Agents of SHEILD so I really want to read it.
- Monstress by Marjoire M. Lu
I read the first issue and liked it but I haven't gotten around to reading more. I need to because I have heard great things. Plus it's super dark.
- Wonder Woman by Greg Rucka and Liam Sharp
It's Wonder Woman and I love Wonder Woman (but The New 52 was weird) so I'm super excited to see what they've done with the character with the DC Rebirth.
- The Adventures of Supergirl (D.C. Rebirth) by Sterling Gates
I love the Supergirl TV show and I've heard that the new version in the comic is more inspired by the character on the show.
What comics do you like? Would you recommend any with female protagonists? Leave me a comment with your thoughts. Thanks for stopping by and HAPPY READING!