*** This is the second book in a series. If you have not read
Truthwitch
be careful of spoilers. Also read it's great and was one of my favorite books of 2016. ***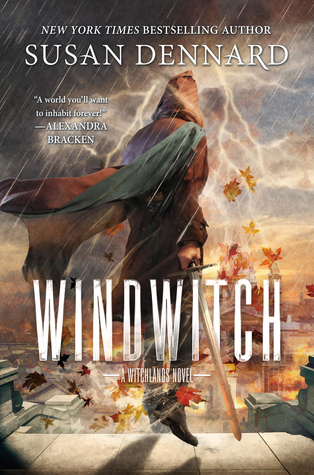 Title: Windwitch
Series: The Witchlamds #2
Written by: Alexandra Bracken
Published: January 10, 2017 by Tor Teen
(
Amazon
/
Goodreads
)
Synopsis: Sometimes our enemies are also our only allies…
After an explosion destroys his ship, the world believes Prince Merik, Windwitch, is dead. Scarred yet alive, Merik is determined to prove his sister's treachery. Upon reaching the royal capital, crowded with refugees, he haunts the streets, fighting for the weak—which leads to whispers of a disfigured demigod, the Fury, who brings justice to the oppressed.
When the Bloodwitch Aeduan discovers a bounty on Iseult, he makes sure to be the first to find her—yet in a surprise twist, Iseult offers him a deal. She will return money stolen from him, if he locates Safi. Now they must work together to cross the Witchlands, while constantly wondering, who will betray whom first?
After a surprise attack and shipwreck, Safi and the Empress of Marstok barely escape with their lives. Alone in a land of pirates, every moment balances on a knife's edge—especially when the pirates' next move could unleash war upon the Witchlands.
For a very long time, Truthwitch was one of my favorite books of 2016. I absolutely loved the world Susan created, the characters who inhabited it, and the slow but thrilling plot. Therefore I have been super excited for it's sequel to find out what happens next in this series. And Windwitch did not disappoint.
I think the thing that I love most about this series, and this book in general, is the characters. I have always loved the way the author is able to create a whole cast of interesting and diverse characters and make you like every last one of them (well, almost everyone). And she proved yet again that she is a master of characterization in Windwitch. This is a book with changing perspectives as all of our main characters are separated and off on their own adventures. But I am so invested in each character that I didn't mind at all when it switched. Arguable the lead character here is Merik, I mean the book is named after him. I really liked his character development in this one. As we learned more about him and he learned more about the world he grew a lot and I appreciated that. But if you ask me, the real stars of this book are Aeduan and Isuelt. Those two are fantastically complex and mysterious. We got some fantastic information and revelations about them and I still want to know more. In general though I just want more from these characters because I love them and find them so interesting.
I also want more from this world. It's definitely a fascinating world. Like a lot of high fantasy it is based on real like and Medival Europe but is also has this really creative feel to it. It's a world at war and we get to see that first hand with each book. But honestly we know very little about the larger world and the politics of it. I want to know more and I'm really hopeful that the next book will show us at least some of that. But the main thing that seems lacking is information about the history and magic of the world. I'm generally a big fan of the magical system here. It's elemental magic reminiscent of Avatar the Last Airbender but more evolved. It's super interesting with rules and guidelines which I like. But we know so little about it. There are references to origins but we never hear about it. And don't even get me started on how little we know about the mythical chosen ones the Cahr Awen even though they keep talking about them. The world of this book is keeping things very close to the vest and I wish they wouldn't. It's such an interesting world but it's bordering on frustrating at times.
But for me, what it lacks in world building it makes up for in plot development. This is a slower paced plot, it is not the kind of book where you can dive in and power through but it is super thrilling. It slowly builds to a thrilling conclusion with a ton of action along the way. One thing that I do think made the plot challenging and slightly confusing was the fact that there were kind of three different plots for each of the main characters perspectives. There was some overlap but for the most part they are independent of each other with their own endings and climaxes. It made each of them really interesting but it made the overall story of the book a little muddled. But on the whole I love the direction of this series. The stakes are high and there are tons of action scenes and thrilling escapes. It's also full of surprises and mystery. I was incredibly shocked by more than one big reveal and a few of them are making me real excited for the next book.
Despite the fact that I didn't love some aspects about it this was a fantastic book that I really loved. It's got fantastic characters with great development, an exciting plot full of action and surprises, and a world with a cool magical system.
I give Windwitch by Susan Dennard 9 out of 10 stars



Buy/Borrow/Bypass:

Buy.

If you liked the first book in this series you will not be disappointed by the sequel. This series is developing into a fascinating and engaging high fantasy series with characters I am totally in love with. I definitely recommend it.

Have you read Windwitch? What did you think? Leave me a comment with your thoughts. Thanks for stopping by and HAPPY READING!