A weekly meme hosted by
Breaking the Spine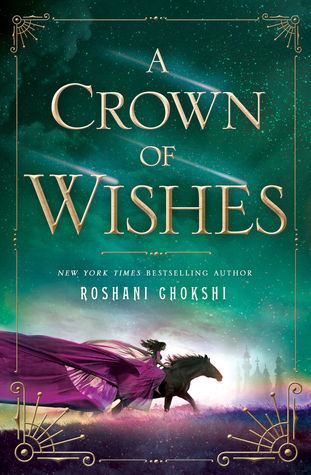 Title: A Crown of Wishes


Series: The Star-Touched Queen #2
Author: Roshani Chokshi

Published: March 28, 2017 by St Martin's Griffin




Synopsis: Gauri, the princess of Bharata, has been taken as a prisoner of war by her kingdom's enemies. Faced with a future of exile and scorn, Gauri has nothing left to lose. Hope unexpectedly comes in the form of Vikram, the cunning prince of a neighboring land and her sworn enemy kingdom. Unsatisfied with becoming a mere puppet king, Vikram offers Gauri a chance to win back her kingdom in exchange for her battle prowess. Together, they'll have to set aside their differences and team up to win the Tournament of Wishes—a competition held in a mythical city where the Lord of Wealth promises a wish to the victor.

Reaching the tournament is just the beginning. Once they arrive, danger takes on new shapes: poisonous courtesans and mischievous story birds, a feast of fears and twisted fairy revels.

Every which way they turn new trials will test their wit and strength. But what Gauri and Vikram will soon discover is that there's nothing more dangerous than what they most desire.

I really liked The Star-Touched Queen. It wasn't as amazing as I was hoping it would be with all the rave reviews I had seen but I think maybe that it suffered a little bit from the hype monster for me. And if I'm being entirely honest it wasn't the kind of fantasy plot that I go for. I'm not a big fan of Hades and Persephone/Beauty and the Beast kind of stories. Why am I saying this, well because this is the kind of read I do go for.

First things first, I loved the world building in The Star-Touched Queen and so I am really excited to explore it a little bit more, specifically I'm excited to explore the "real world" a little bit more. This is a series with a world within a world and exploring more of that is super exciting to me. Plus Roshani definitely created an atmospheric and lyrical read in the first one so I expect nothing less here.

But seriously guys, I am even more excited about this one because it is my kind of plot. One of my favorite things about fantasy is when it has heavy political intrigue and this feels like it has those elements. Not to mention I love a good warrior princess and I found Guari really compelling in the first book and want to know more of her story. I'm probably one a few people who would not be all that bummed if the characters from the first book made a reappearance. Well except for Kamala, more talking demon horse, please.

I am hoping to get my hands on a review copy of this book but I may also check out the audio. It seems like the kind of writing that would work really well with an audiobook for me. I haven't listened to the audio for The Star-Touched Queen so maybe I'll start there. Or wait to see who the narrator is. If it's a favorite I may have to pick it up.
What about you? What are you waiting for this Wednesday? Are you waiting on A Crown of Wishes along with me? Leave me a comment with your thoughts. Thanks for stopping by and HAPPY READING!