I kind of love this week's theme. I mean how many books did you want to read this year and were not able to. There are too many books and too little time. Not to mention you can't really buy all the books you want to. So here is my list of books I wanted to read and didn't this year,
Books I Never Got My Hands On
1.) Nil on Fire by Lynne Matson
-
Amazon
/
Goodreads
I loved the first two books in this series and I read them shortly after they came out. But for some reason I have really been dragging my feet in reading the final book in the series. I really need to get to it though.
2.) The Imposter Queen by Sarah Fine
-
Amazon
/
Goodreads
I read my first Sarah Fine books in 2015 and wanted to read more of her stuff. This book is totally up my alley so it seemed totally perfect. But I never got my hands on a copy and still need to read it.
3.) Please Don't Tell by Laura Tims
-
Amazon
/
Goodreads
This YA mystery was a debut I really wanted to read last year but I never picked up a copy and didn't get a chance to read it. I'd like to still check it out though.
4.) Traitor Angels by Anne Blankman
-
Amazon
/
Goodreads
I've wanted to read Anne's previous books but I haven't. I really have no explanation for it. Not to mention that this book is totally up my alley. It's a historical mystery about Paradise Lost, I should have been all over this book.
5.) Every Heart a Doorway by Seanan McGuire
-
Amazon
/
Goodreads
I have heard really good things about this book and it sounds totally fantastic. Like it's about children who have been to magical lands. Like how amazing does that sound! You may know I like books that play with fantasy tropes.
Books I Own and Didn't Read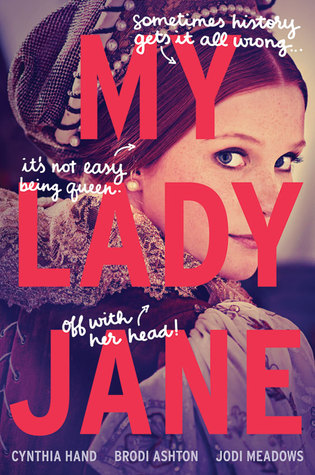 6.) My Lady Jane by Cynthia Hand, Brodi Ashton, and Jodi Meadows
-
Amazon
/
Goodreads
Yeah, here's another book that I really should have read. Like this is my kind of book. I mean seriously. I've heard it's a hilarious read and it's historical fiction about court intrigue with a little it of fantasy to it.
7.) Nemesis by Anne Banks
-
Amazon
/
Goodreads
I bought a copy of this book when Anne Banks came to Pittsburgh and I thought she was hilarious and my kind of people. I had every intention of reading it and didn't.
8.) A Criminal Magic by Lee Kelly
- Amazon / Goodreads
I bought a copy of this book when it came out because I saw it on sale and I had planned on reading it but didn't. Because seriously, it sounds so cool. And once again right up my alley because it's a historical fantasy.
BEA Books and Other Review Books
9.) Replica by Lauren Oliver
-
Amazon
/
Goodreads
I definitely wanted to read this book. It sounds super unique. But I continued to push it further and further down the TBR until the year was over and the book was unread.
10.) Rebel Genius by Michael Dante Dimartino
-
Amazon
/
Goodreads
I was so so excited about this book. I mean it's a MG fantasy from one of the creators of Avatar the Last Airbender which is my absolute favorite. And I even got a copy of this at EPA and met the author but still haven't read it.
11.) Metaltown by Kristen Simmons
-
Amazon
/
Goodreads
This one is similar to Replica. I was super excited about reading this book and was so pumped to get a copy at BEA and for some reason I just didn't prioritize it. Even when it fit the theme for that month I still didn't read it.
12.) The Girls by Emma Cline
-
Amazon
/
Goodreads
This is an adult book that I had heard a lot of hype and good things about. I got a copy on Netgalley and planned to read it but haven't yet. I still want to maybe take the time to read it but I'm not sure when I will be able to.
There you have it. The ten(ish) books I wanted to read last year but never read. What books did you want to read last year and never got a chance? Have you read any of these books? Is there any I should prioritize? Leave me a comment with your thoughts. Thanks for stopping by and HAPPY READING!