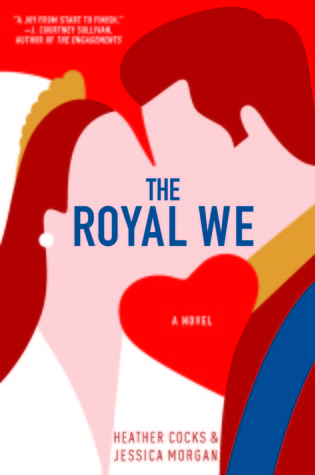 Title: The Royal We
Written by: Heather Cocks and Jessica Morgan
Published: April 7, 2015 by Grand Central Publishing
(
Amazon
/
Goodreads
)
Synopsis: "I might be Cinderella today, but I dread who they'll think I am tomorrow. I guess it depends on what I do next."
American Rebecca Porter was never one for fairy tales. Her twin sister, Lacey, has always been the romantic who fantasized about glamour and royalty, fame and fortune. Yet it's Bex who seeks adventure at Oxford and finds herself living down the hall from Prince Nicholas, Great Britain's future king. And when Bex can't resist falling for Nick, the person behind the prince, it propels her into a world she did not expect to inhabit, under a spotlight she is not prepared to face.
Dating Nick immerses Bex in ritzy society, dazzling ski trips, and dinners at Kensington Palace with him and his charming, troublesome brother, Freddie. But the relationship also comes with unimaginable baggage: hysterical tabloids, Nick's sparkling and far more suitable ex-girlfriends, and a royal family whose private life is much thornier and more tragic than anyone on the outside knows. The pressures are almost too much to bear, as Bex struggles to reconcile the man she loves with the monarch he's fated to become.
Which is how she gets into trouble.
Now, on the eve of the wedding of the century, Bex is faced with whether everything she's sacrificed for love-her career, her home, her family, maybe even herself-will have been for nothing.
This was my book club book for February and despite the fact that I didn't read it before book club, I still wanted to take the time to read it. But that may have been because I have had a copy staring at me from my kindle library for months now. It's not usually my kind of read but I had heard nothing but great things and so I read it for a change of pace. And I'm glad I did because it was extremely delightful. Like all my favorite contemporaries it was the perfect combination of serious and silly with great characters.
I wasn't entirely sure what to expect when it came to the plot development of this book. I knew going in that it was sort of like a reimagining of the relationship between Prince William and Kate Middleton but I didn't know what that would entail. This was actually a fantastic complicated love story with lots of drama. The book takes the characters through almost ten years of their relationship, from friendship, to dating, to break-up, to rekindling. Nothing about their relationship was easy, and that was unbelievably refreshing in the best way. I have often speculated about what these bookish ships would be like after the happily ever after and I loved that Cocks and Morgan showed us that. And they also showed us an incredibly realistic love triangle. I had so many conflicted shipping feels throughout this book and this book definitely showed a wide range of relationships, everything from casual hookup to true love. It was well-rounded and realistic love story.
But the romance wasn't the only thing that added to the drama in this book. The secondary plot revolved around the inclusion of Bex into the royal family and the celebrity that came with it. I feel like the authors did a great job of showing the negative affects of being famous (ironically this coming from people who blog about celebrities). I couldn't help but feel for Bex as the paparazzi invaded her personal life, followed her home and everywhere else, all so they could write all kinds of ridiculous stories about her. It was so invasive and dramatic. So much of that had to do with Bex's need to cultivate a good image and be like royalty despite not having been bred for it. There was also a lot of conflict as she had to impress the royal family, especially Nick's father Prince Richard and the Queen. It just made Bex all the more sympathetic.
But honestly, the characters didn't need much help being sympathetic. Cocks and Morgan did a great job with their characterizations. This is a book has a huge cast of characters, I honestly can't even begin to count how many secondary characters there was, but every single one of them was unique, engaging, and blossomed off the page. I loved every one of them, even the more odious ones. The royal family was great, especially Nick's brother Freddie who could have been the typical "playboy prince" but was so fun and surprisingly complex. I loved Bex and Nick's friends especially Gaz who was great comic relief, Cilla who was so sweet and supportive, and Bea who was snarky and complicated. I also loved Bex's family like her parents and her sister Lacey who was kind of annoying but had good development. But of course there are Bex and Nick. Nick could have a bit of a one-note cliche prince but he had a lot under the surface. Bex was the perfect heroine in her imperfectness. She made so many mistakes throughout the book and was a great combination of smart, sassy, and stupid. I loved her development throughout the book. Every character felt so genuine and likeable.
Part of the enjoyment of the characters may have actually been because I listened to this on audio. Seriously, the audio on this was fantastic. I think I made the right choice in listening to the audiobook for this one. I don't listen to a lot of contemporaries on audio because I usually like my audios to be full of action and adventure and while this book didn't have much of that it did have tons of drama. And the narrator (Christine Lakin) really brought the drama. She perfectly captured Bex's uncertainty, her awkwardness, and her sense of humor. But the best part was that there was so much emotion in her narration. I could feel the pain in her voice. She made me cry when Bex and Nick broke up, she made me swoon during the kissing scenes, she made me nervous during the dramatic parts. This was a pretty long book and I probably would have drifted in and out of focus if I was reading it instead of listening.

My only criticism is that there were some strange moments with the narrative structure. Not necessarily the plot development, or the pacing even, just the narrative. It took place over a long period of time and there was not a consistent flow to the book. Sometimes it would show us a snapshot then flash forward and sometimes it would take us through a whole year. It made things confusing, especially towards the end when things moved really quickly. And speaking of that ending. I liked the way it resolved but I feel like there are a lot of unanswered questions. I get that you want to leave things open for a potential sequel but I didn't feel like there was a clear resolution, which is something I wanted.

On the whole this was a great read. It was full of romance and drama that had me engrossed and likeable and realistic characters who made me laugh and cry. It perfectly balanced serious moments with dramatic plot points about the effect of celebrity and a complicated love story with funny moments full of banter. This is not my typical read but I loved it.

Buy/Borrow/Bypass:

Buy.

I'm not a huge romance fan but I am a huge fan of this book. This to me is contemporary at it's finest. It's silly and sad, romantic and dramatic. It perfectly balances the plot with great characters who jump off the page and totally had me guessing what would happen next. I would absolutely recommend this book, especially the audio.

Have you read The Royal We? What did you think? Leave me a comment with your thoughts. Thanks for stopping by and HAPPY READING!