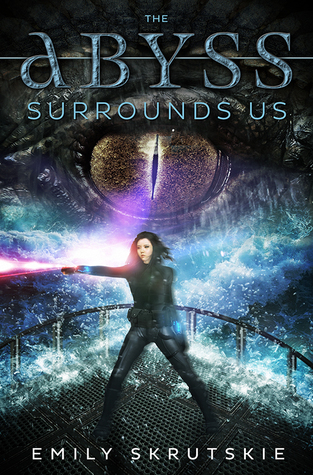 Title: The Abyss Surrounds Us
Series: The Abyss Surrounds Us #1
Written by: Emily Skrutskie
Published: February 8, 2016 by Flux
(
Amazon
/
Goodreads
)
Synopsis: For Cassandra Leung, bossing around sea monsters is just the family business. She's been a Reckoner trainer-in-training ever since she could walk, raising the genetically-engineered beasts to defend ships as they cross the pirate-infested NeoPacific. But when the pirate queen Santa Elena swoops in on Cas's first solo mission and snatches her from the bloodstained decks, Cas's dream of being a full-time trainer seems dead in the water.
There's no time to mourn. Waiting for her on the pirate ship is an unhatched Reckoner pup. Santa Elena wants to take back the seas with a monster of her own, and she needs a proper trainer to do it. She orders Cas to raise the pup, make sure he imprints on her ship, and, when the time comes, teach him to fight for the pirates. If Cas fails, her blood will be the next to paint the sea.
But Cas has fought pirates her entire life. And she's not about to stop.
*** I received an advance copy of this book from the publisher via Netgalley in exchange for an honest review. This fact has not changed by my opinion. ***
I went into this book thinking that it was going to be more of a hard SciFi novel and that's not what this book was. But strangely, that was not a disappointment.
The Abyss Surrounds Us
was not what I expected, in fact it was better than that. It was a fantastic read with an interesting world, great characters, and a fast-paced plot.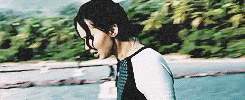 I was instantly engaged in the world of this book. It was this fantastic combination of a dystopian setting, fantasy creatures, and swashbuckling pirates. The world here definitely comes alive with a great show instead of tell style of world-building. I read this book as part of my pirates month so the sea faring aspects were fantastic and engaging but that was only the start of why this world was so good. It's a futuristic setting with fractured states and risks of pirates attacking ships that in and of it self would have been cool but it goes deeper than that. But what I liked is that it doesn't come right out and tell you about the inequalities of the world. You see them, you sense them, you feel them. This book had some great under currents of power and control which I loved. I also really enjoyed the fantasy creatures, the sea monsters. There was some great science involved with their creation and training. It felt rooted in real life which made it really interesting. Plus they were seriously badass.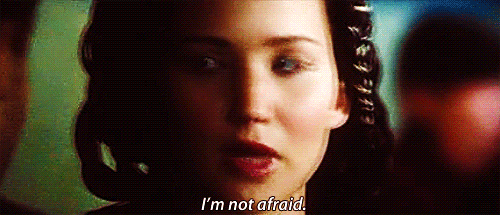 But all the characters were just as badass, amazingly, and complex Most of the book took place on the pirate ship so there was a diverse and quirky cast of characters to meet and love, including a super devious villain that was terrifying and mysterious which I loved. But the best character was the main character. I almost immediately connected with Cas, and well it was more than the fact that she and I share a name. She was a wonderful strong female protagonist. Despite being captured by pirates and being in a very vulnerable position, and scared of what will happen to her, she doesn't take crap from anyone. She's tough and smart. But she's not perfect. She's a fantastic combination of brash and reckless while overthinking things at the same time. She was real and complex and I was so invested in her struggle. I was also invested in her relationships, especially the romance. This was a great slowburn romance. Like painfully slow at times. You could feel the growing attraction and affection between the characters but it wasn't until almost the end that things really happened for them. And it was also really great to see that portrayed in a f/f relationship. Not only do you not see that very often but it's super rare in SciFi/Fantasy.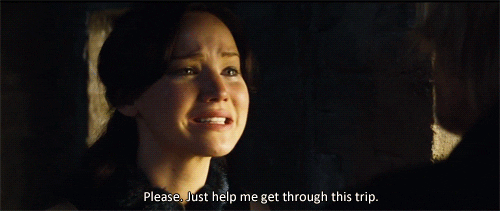 Everything in this book combined to create a fast-paced and engaging plot.
The Abyss Surrounds Us
is not a long book. at under 300 pages it is a quick read. But that's not because of a lack of pages. I cruised through reading this book because the plot was engaging and interesting. For one thing, there was tons of cinematic action scenes and lots of high-stakes adventure on the high seas that really kept me reading. There was lots of drama between Cas and the pirates that kept me engaged as well. And while the twists weren't really surprising, but they weren't predictable either. It all flowed really well as things built to a thrilling conclusion. I'm pretty sure this is the start of a series and I really liked that while it left things open for more, there was a clear conclusion and resolution. But I definitely need more. I need to know what happens next because I am seriously hooked.
On the whole,
The Abyss Surrounds Us
was a great book full of adventure, quirky and complex characters, a thrilling plot, and an interesting world. I enjoyed it so much despite the fact that it wasn't what I was expecting. It was a great read and I can't wait to see what's next for this world and this debut author.
I give The Abyss Surrounds Us by Emily Skrutskie 9 out of 10 stars



Buy/Borrow/Bypass:

Buy.

If you are looking for something different look no further. If you are like strong female protagonists, pirates, or a world full of fantasy creature then check this book out. It a fast an fun reading that I would definitely recommend.

Have you read The Abyss Surrounds Us? What did you think? Leave me a comment with your thoughts. Thanks for stopping by and HAPPY READING!