I'm so excited to be a part of this awesome event as part of the upcoming release of Rebel of the Sands by Alwyn Hamilton, one of my most anticipated debuts of 2016. I just bought a copy of the UK paperback from The Book Depository and I cannot wait to read it. It sounds like an absolutely amazing combination of fantasy, mythology, and Westerns in a Middle Eastern desert setting. Sign me up.
About the Book: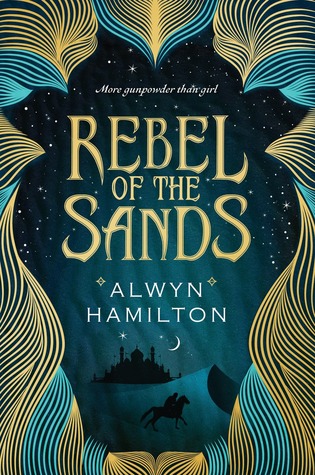 Title: Rebel of the Sands
Series: Rebel of the Sands #1
Written by: Alwyn Hamilton
Published: March 8, 2016 by Penguin
(
Amazon
/
Goodreads
)
Synopsis: She's more gunpowder than girl—and the fate of the desert lies in her hands.
Mortals rule the desert nation of Miraji, but mystical beasts still roam the wild and barren wastes, and rumor has it that somewhere, djinni still practice their magic. But there's nothing mystical or magical about Dustwalk, the dead-end town that Amani can't wait to escape from.
Destined to wind up "wed or dead," Amani's counting on her sharpshooting skills to get her out of Dustwalk. When she meets Jin, a mysterious and devastatingly handsome foreigner, in a shooting contest, she figures he's the perfect escape route. But in all her years spent dreaming of leaving home, she never imagined she'd gallop away on a mythical horse, fleeing the murderous Sultan's army, with a fugitive who's wanted for treason. And she'd never have predicted she'd fall in love with him...or that he'd help her unlock the powerful truth of who she really is.
Get a copy:
(Penguin / Amazon / Book Depository)
In a world where metal and magic clash with deadly consequences, Amani finds herself becoming a myth in the making, legendary for her sharp-shooting skills, more gunpowder than girl. So, inspired by Amani's legendary skills and growing reputation, Penguin had asked bloggers to come up with our own blogger reputation post, highlighting skills, behaviors, designs, or habits that you would be famous for in the blogosphere. So what am I know for?
As a blogger... THEMED MONTHS!
Me without themes. Or sometimes with, you know.
I think most bloggers and followers of My Thoughts Literally know that my thing is picking a different theme every month and reading a bunch of different books that fit that theme. Currently my theme is pirates (although I'm basically done with the pirate reads I had planned). Past themes have been genres like Science Fiction, High Fantasy, and Mystery or concepts like Time/Dimensional Travel, Geek Books, Adventure/Survival, Anti-Love, and Supernatural Christmas.
I love taking the time to explore in depth a particular genre and concept but it's great too because then I don't spend too much time focusing on a particular type of book. Next month will be something totally different so it keeps things fresh at the same time. And the themes definitely keep me focused. When I don't have a theme I tend to just stare at my bookshelf unclear of what comes next. I need structure or I face crippling indecision.
And I know a lot of fellow bloggers and members of the bookish community have told me that they love the theme idea. A lot of people are mood readers so they don't necessarily want to do it themselves but they think it's a cool and creative concept for the blog. Right? You guys think that right?
As a reader... SOLVING TWISTS AND MYSTERIES!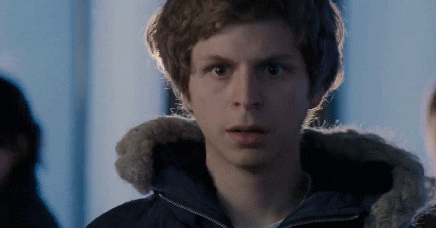 You have probably heard me bragging about how good I am at solving mysteries. I like to tout this
reputation for sure because I am a little conceited and often super proud of myself for figuring things out in mysteries or fantasies. Especially if it's an author whose books I often don't solve stuff in like Brandon Sanderson. But I also like figuring twists out and mysteries because I hate surprises. I'm just as excited, if not more, about getting something right as I am about having my mind blown.
But here's the truth as to why I say that I'm so good at this... I love theory-crafting. Often when I'm reading a book where there is a huge mystery element, my brain is working a mile a minute and I spend a lot of the book suspecting and accusing people of things they may have done or will do. I tend to narrow these theories down as clues start coming in but I operate under a guilty until proven innocent mantra while reading so that helps.
I think a lot of bloggers know me for my ability to solve mysteries. Mostly because I shamelessly brag about it but that's how reputations work right? I don't know. But if you want verification, ask Michelle at
Pink Polka Dots Books
who I was DMing about Dangerous Girls and whose faith I'm trying to restore for not figuring out her OTSP Secret Sister last round.
BEING ROMANCEPHOBIC!
You may have seen
my discussion post
where I talk about why I find romance superfluous and wish books didn't feel like they have to have it. Or you've heard me complain about how I didn't like the romance in a book and that I don't read contemporary romances because love is a secondary plot to me to the main thread of a book.
And yeah, it is kind of frustrating to not be the shipping type and not enjoy books that were otherwise great because I didn't like the romance but I'm used to it. It happens so often. But honestly I like being this way because when I do find a ship that I like and a romance that I enjoy then it's even better. It's such a rare thing that the ships I do ship I fall hard. It's quality of quantity for me. Plus doesn't it help you all out too. I'm not going to steal your book boyfriends or book girlfriends. That's not my thing, more for you.
I know I've talked to a few bloggers about this who fall into the same romancephobic camp. It's nice to find those fellow readers who could do without that kiss at the end of the world. And hey, if you didn't like the ship and you want to complain about how stupid it is, you know where to find me.
Those are my reputations. What are yours? Leave me a comment with your thoughts. And to celebrate the pending release of Rebel of the Sands, Penguin has an amazing giveaway. Don't forget to enter down below and check out this book when it comes out in two weeks!
a Rafflecopter giveaway