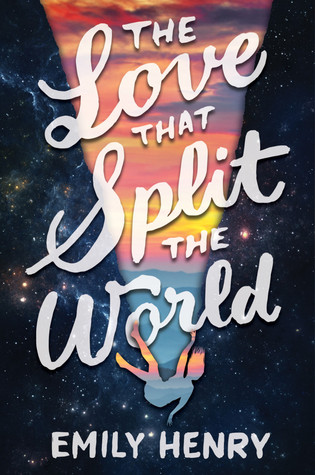 Title: The Love that Split the World
Written by: Emily Henry
Published: January 26, 2016 by Razorbill (Penguin Group)
(
Amazon
/
Goodreads
)
Synopsis: Natalie Cleary must risk her future and leap blindly into a vast unknown for the chance to build a new world with the boy she loves.
Natalie's last summer in her small Kentucky hometown is off to a magical start... until she starts seeing the "wrong things." They're just momentary glimpses at first—her front door is red instead of its usual green, there's a pre-school where the garden store should be. But then her whole town disappears for hours, fading away into rolling hills and grazing buffalo, and Nat knows something isn't right.
That's when she gets a visit from the kind but mysterious apparition she calls "Grandmother," who tells her: "You have three months to save him." The next night, under the stadium lights of the high school football field, she meets a beautiful boy named Beau, and it's as if time just stops and nothing exists. Nothing, except Natalie and Beau.
Emily Henry's stunning debut novel is Friday Night Lights meets The Time Traveler's Wife, and perfectly captures those bittersweet months after high school, when we dream not only of the future, but of all the roads and paths we've left untaken.
This book was compulsively readable and addicting. I had heard nothing but great reviews so I made sure to get a copy as my debut for time travel month. I honestly was a little nervous about reading it because of all the love but there was no reason to be worried. This book lives up to the hype. It is beautifully written with great characters and so much mystery.
The thing that first struck me about this book is the characterization. Emily Henry does a fantastic job creating complex and realistic characters that you cannot help but relate to. I instantly felt for Natalie. She's curious, inquisitive, and introspective. As curious about herself as she is in the world around here. She struggles with her identity and a lot of that has to do not only with the fact that she is adopted but it's more than that. I was honestly so invested in her exploration throughout the book. I love a good coming-of-age story but it is made all the more interesting because this is a character who I can connect with. But Natalie was not the only great characters. The romantic lead, Beau was pretty great too. He had just as much exploration of identity as Natalie. He is just as uncertain about himself and his future as she is. And while their romance was a little on the insta-lovey side their connection was clear and I liked seeing them explore it. I also loved the relationships between Natalie and her best friend, her parents, and her siblings. They were all so realistic. You could tell that she cared so much for her friends and family and that they all cared for her. It was all these relationships that gave it the Friday Night Lights vibe for me. The book was just so full of complex characters who related to each other in real and honest ways.
But there was so much more to this book than that. I would maybe categorize it as Magical Realism. It sometimes reads like a contemporary but there is also this really amazing fantasy world. Throughout the book there is Native American mythology and stories that help build out that fantasy world. It was absolutely amazing the way that these were incorporated into the plot and mystery of the books. It really made things so interesting. But there is also some really fantastic elements that give this book it's The Time Traveler's Wife vibes. There's this whole time travel and dimensional travel concept that made this book so complex. At times it did get a little bit on the confusing and scientific side of things but it was still really interesting. In general it just added a new dimension to the world and plot of the book. Throughout the story I was definitely engaged to see how it would all be connected and to learn more about the world. It was such a creative and complex world.
All of this combined to create a mysterious and well-plotted book. Things really build to a thrilling ending. I spent most of the book curious as to not only what was going to happen but why it was happening. And yes, there were some elements of the book that I predicted but in general I was captivated by the plot development and the twists. It slowly gave the reader clues as to what was happening and where it was all going. When it finally built to the ending I was on the edge of my seat needing to know how it was all going to end. And while I didn't totally love the conclusion and ending for personal reasons and questions relating to time travel paradoxes it still packed a really big emotional punch. The ending definitely hit me right in the feels and left me reeling in the best possible way.
But I honestly think my favorite thing about this book was Emily Henry's writing. I don't often talk about writing style or prose in my reviews because it's not really something I pay much attention to unless it is either not what I enjoy or totally blows me away. With this book it was the latter. I seriously loved the writing. It's subtle yet there is a beauty within these words that just captured me and took me away. Without even realizing it I was devouring these words and feeling the affect of them on me. There is a lot to unpack here with the themes that the author addresses and she handles them with care and seriousness that make them relatable and impactful. Whether it is identity, familial relationships, love, or even gender and race. It makes you think without being preachy. All of this added to make a book that had me captivated and engaged from beginning to end.
On the whole, The Love That Split the World is a fantastic and captivating book with complex characters, an interesting fantasy world, and gorgeous writing. I was surprised by how much I loved this book. You may be seeing a lot of hype around this one at the moment and for me it absolutely lives up to it.
Buy/Borrow/Bypass: Buy
. For one thing, this cover is absolutely gorgeous. It is a book I want to have on my shelves. But it's also gorgeous on the inside too. Fans of coming-of-age stories will enjoy Natalie's exploration of her identity and fans of fantasy and Magical Realism will love the world building and mystery.