A weekly meme hosted by
Breaking the Spine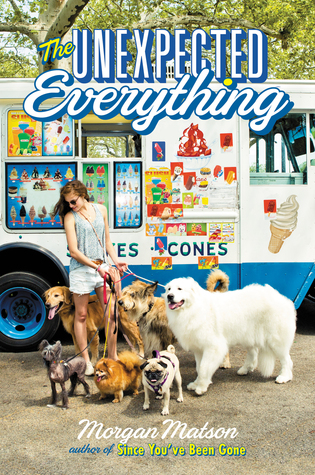 Title: The Unexpected Everything


Author: Morgan Matson

Published: May 3, 2016 by Simon & Schuster




Synopsis: Andie had it all planned out.

When you are a politician's daughter who's pretty much raised yourself, you learn everything can be planned or spun, or both. Especially your future.

Important internship? Check.

Amazing friends? Check.

Guys? Check (as long as we're talking no more than three weeks)

But that was before the scandal. Before having to be in the same house with her dad. Before walking an insane number of dogs. That was before Clark and those few months that might change her whole life.

Because here's the thing - if everything's planned out, you can never find the unexpected. And where's the fun in that?

I read my first Morgan Matson book, Since You've Been Gone, a little over a year ago and I absolutely loved it. It was the book that inspired me to read more contemporaries and that maybe I don't hate romances in the way that I thought. So when I saw that she was coming out with a new book of course I need to read.

But in general, this sounds fantastic. I love that her father is a politician and had a recent scandal. I predict some family drama. I also love that things are not going to go as planned for the MC this summer. Probably really great character development. The tone also sounds similar to Since You've Been Gone so I'm sure it will be a fun coming-of-age story as well. This will be a great way to get excited for summer I think and I can't wait to read it.