On Rereads is a monthly feature on My Thoughts Lit where I talk about the books I reread during the month. It's an opportunity to share some new thoughts on a book I read before and usually to prepare for a new release. For the foreseeable future I plan to do one reread a month so I want to share my thoughts on these books the second time around.
All the amazing books are coming out in the next couple months, amiright? In particular, there are some great sequels and series enders coming out in February, many of which are on my most anticipated books of the year. So to prepare I am reareading the books in their series. As usually these are my audiobooks for the month. But here is my thoughts on these rereads....
The Reckoners Trilogy by Brandon Sanderson
Steelheart -
(
Amazon
/
Goodreads
/
Audible
/
My Review
)
Mitosis
-
(
Amazon
/
Goodreads
/
Audible
)
Firefight
-
(
Amazon
/
Goodreads
/
Audible
/
My Review
)
I am so freaking obsessed with this series. It will always hold a special place in my heart for being my first Brandon Sanderson book. The rest is history but this is the book that started it all. So with Calamity coming out I knew I needed to reread the first books in the series to refresh my memory.
It was honestly a really great choice because these books are so well-plotted with amazing plot twists and big reveals that I was reeling from even the second time around. I remembered a lot of the big stuff but small details had escaped me. Rereading it allowed me to come up with these super harebrained theories about how it will all end. I started Calamity a few days ago and one of my theories has already been proven wrong but this is Brandon Sanderson so I shouldn't be all that surprised.
But what I really liked about this reread was the audio. MacLeod Andrews, the narrator, is a genius. Steelheart is one of my all-time favorite audiobooks and he is a big part of that. Like all really good narrators he does a fantastic job of creating different characters. I love the way he creates David's awkwardness and humor, Megan's jaded snark, and Prof's turmoil and gruff caring. Plus Cody and Abraham! GAH! I had never listened to Firefight before so I was really excited to here the narration for it and wow, was it amazing! I'm reading Calamity but I like the audio so much that down the line I may listen to it too.
A Darker Shade of Magic by V.E. Scwab
(
Amazon
/
Goodreads
/
Audible
/
My Review
)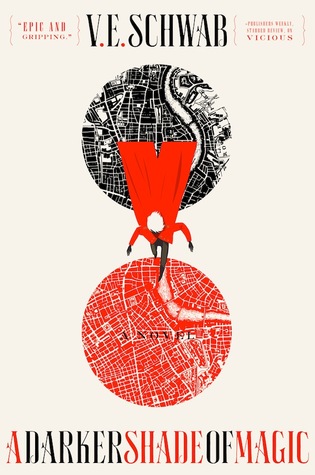 This book, ugh, you guys. It's so good. It was my favorite book of 2015 and quickly became a new favorite when I read it last year. It's so freaking amazing. The world is so complex and compelling, the characters are interesting and likable, and the plot is so freaking engaging. I'm super excited for A Gathering of Shadows coming out in less than a week!
Usually with rereads I am excited to read them because I forget little detail about the book and I need a refresher. And that definitely happened here but I remembered a lot more than I thought I did. But because I knew what was coming I felt like I had less patience for the exposition. Now don't get me wrong, I love the world building here but I spent a lot of the beginning thinking "when are Kell and Lila going to meet? When are they doing to Red London? I HAVE FEELINGS!"
But I think that maybe that was because I didn't totally love the audiobook, which made me kind of sad. I was so excited to listen to it because the plot of this book is so amazing and engaging. But the audio slowed things down a little too much for me. The speed was just too even keeled. This is an action-packed book and the narrator had the same tone during exciting action scenes as it did for easy-going explanations. I like my narrators to set the tone for the book and this didn't really do that for me. And I didn't love the different voices for the characters. Kell was good, Rhy was fun, the voices for Holland and the Danes was not great, but Lila did not work for me at all. It wasn't bad, I just didn't love it.
But despite the fact that I didn't love the audio, I am really glad that I reread this one. I am now totally ready for A Gathering of Shadow. I need more Kell, Lila, and Rhy in my life. *prepares to have mind blown and feels destroyed.*
Have you read the The Reckoners trilogy or A Darker Shade of Magic? Did you reread in preparation for their series conclussions? Have you done any rereads lately? What books? Do you like doing rereads or not? Tell me why. Thanks for stopping by and HAPPY READING!