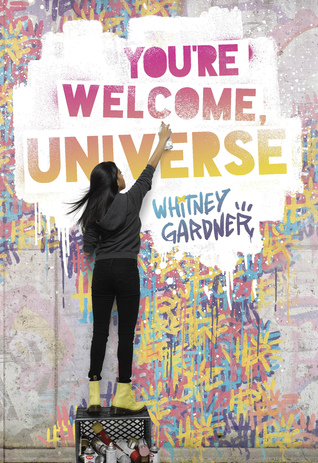 Title: You're Welcome Universe
Written by: Whitney Gardner
Published: March 7, 2017 by Knopf (Random House)
(
Amazon
/
Goodreads
)
Synopsis: A vibrant, edgy, fresh new YA voice for fans of More Happy Than Not and Simon vs. the Homo Sapiens Agenda, packed with interior graffiti.
When Julia finds a slur about her best friend scrawled across the back of the Kingston School for the Deaf, she covers it up with a beautiful (albeit illegal) graffiti mural.
Her supposed best friend snitches, the principal expels her, and her two mothers set Julia up with a one-way ticket to a "mainstream" school in the suburbs, where she's treated like an outcast as the only deaf student. The last thing she has left is her art, and not even Banksy himself could convince her to give that up.
Out in the 'burbs, Julia paints anywhere she can, eager to claim some turf of her own. But Julia soon learns that she might not be the only vandal in town. Someone is adding to her tags, making them better, showing off—and showing Julia up in the process. She expected her art might get painted over by cops. But she never imagined getting dragged into a full-blown graffiti war.
Told with wit and grit by debut author Whitney Gardner, who also provides gorgeous interior illustrations of Julia's graffiti tags, You're Welcome, Universe introduces audiences to a one-of-a-kind protagonist who is unabashedly herself no matter what life throws in her way.
*** I received an advance copy of this book from the publisher in exchange for an honest review. This fact has not changed my opinion. ***
You're Welcome Universe is a really cute and nice Young Adult contemporary. I usually read more genre fiction but every so often I like to read a contemporary and this was the perfect one to pick up for me.
One of the things I liked about this book was the characters. They are likable and complex diverse characters which are always my favorites. The main character Julia is Deaf and a lot of the book effortlessly showed what it was like to be Deaf. You got to see her interact with the hearing world in different ways and it was really interesting. From the attempt to read lips, to the texting or writing to communicate, even sign language I liked seeing it all and learning about that aspect of the culture. But the best part about Julia was that she isn't just about being deaf. She is also a street artist and just a generally sassy teenage character. I liked seeing Julia at her best and her worst throughout the book.
And when I say best and worst, I mean that. Much of the plot was a coming of age story. I love those kind of contemporaries where the characters learn about themselves and their place in the world. You're Welcome Universe was a really subtle kind of story in that way but it was a part of the plot and characterizations that I enjoyed. As I said, it's about someone trying to find out where they
But my favorite thing about the plot was the mystery elements. I didn't expect there to be a mystery in this book but there totally was. The graffiti war was a really cool aspect of the story and it lead to some interesting questions about who the other artist is and what they were going to do next. And then when we got the big reveal I loved it. It wasn't a total surprise but it was still a fun and unexpected turn which lead to even cooler character development.
One of the things that I did like about the book however is one of my criticisms though. It's a very fast read with an interesting format. I mean really fast. I know that should be a good thing. I basically read this book in a day, something I almost never do, but it wasn't really because I couldn't put it down. It was just kind of a basic read. On top of all that, the book was even shorter because there was the art dispersed throughout the book. We got to see all of Julia's tags, the street art that was created, and even some of her art projects for school. It made for an immersive reading experience and it shortened the book even more. It's short and not very complicated but not very complicated and that's kind of a good change and something that I needed right now.
You're Welcome Universe was an interesting and fun YA contemporary. It's fast and engaging with likable diverse characters and an interesting storyline. If you are looking for a palette cleanser read with some diversity to it, check this book out.