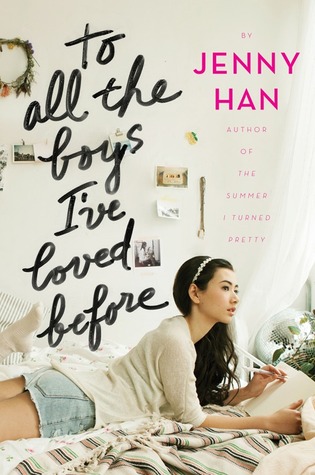 Title: To All the Boys I've Loved Before
Series: To All the Boys I've Loved Before #1
Written by: Jenny Han
Published: April 15, 2014 by Simon and Schuster Books for Young Readers
(
Amazon
/
Goodreads
)
Synopsis: To All the Boys I've Loved Before is the story of Lara Jean, who has never openly admitted her crushes, but instead wrote each boy a letter about how she felt, sealed it, and hid it in a box under her bed. But one day Lara Jean discovers that somehow her secret box of letters has been mailed, causing all her crushes from her past to confront her about the letters: her first kiss, the boy from summer camp, even her sister's ex-boyfriend, Josh. As she learns to deal with her past loves face to face, Lara Jean discovers that something good may come out of these letters after all.
After being in a boom slump that lasted for months and finally clawing my way out of it, I decided this month I needed a bit of a change of pace. I needed to read something completely different for me. I wanted to read something light and fun. A fast but engaging read. So looking through my kindle I spotted this book and noticed the audiobook was cheap so I grabbed it for a road trip. And it was exactly what I wanted.
To All the Boys I Loved Before is definitely a light and fun contemporary read. I am not a huge fan of contemporaries but I have heard great things about Jenny Han and this book in particular so I gave it a try and I am glad I did because I actually really enjoyed it. It's one of those contemporaries that does a really good job of balancing funny and light moments with serious moments. There were a lot of surprisingly complex moments in this book and I liked them just as much as I liked the fun and silly ones. It made the book feel realistic and engaging in a more realistic way.
But I think the thing that I was most surprised by this book is the romance. This is not a book that is heavy on the romance. You would think that the story of a girl who writes love letters to the boys she loved would have a ton of romance in it but it definitely doesn't. Now don't get me wrong, it's does have romance. But the romance is subtle and is actually a pretty good slowburn. I don't want to say too much because part of the fun with this and honestly why it is so charming is because you don't really know how it is going to go. I think Jenny does a great job showcasing the uncertainty and affection that a teenage girl feels for her first love.
However the romance isn't the only great relationship here. Sometimes I think authors can do a really good job with one relationship and then neglect the others but that didn't happen here at all. On top of the romance there was an interesting parental relationship, some great female friendships, and a really fantastic sisterly bond. Much of the more poignant moments in the book come at the hand of those three relationships and have nothing to do with the romance which I really liked.
And I think one of the main reasons that the relationships worked so well is that this book had really good characterizations. The characters were interesting, complex, and realistic. Things that very easily could have been cliche tropes like the cute boy next door, the bad girl, the queen bee, and the attractive jock. But they weren't. All the characters had some depth to them and it made them all the more likable. But the character with the most depth was of course Lara Jean. She had to carry this book and she did. She did it brilliantly. I connected with Lara Jean right away because I could totally relate to her. I was so much like her in high school. She's a dreamer and a homebody who likes to bake and is scared of driving. Which is honestly still a little bit me. I loved reading Lara Jean's story because I felt like I was imagining myself in her shoes and that is the mark of good characterization. Which is exactly what this book had.
My main criticism however is with the plot development and maybe even the pacing of this story. It moved along steadily and was working towards something, or so I thought. But then the book just ended. It didn't feel like a complete story. Now I know this is the first book in a trilogy and I think when it was first written is was planned to be a duology, but still. Even if you are continuing the series each book should have a clear ending. And this didn't have a cliffhanger or anything, it just ended. I kept thinking that it can't be done because that was just so abrupt.
On the whole To All the Boys I Loved Before is a good contemporary read. It has a great balance of light and serious moments, great relationships, and complex and relatable characters. It was exactly what I wanted in a palate cleanser and I am interested in finishing the series to find out how it all ends.
I give To All the Boys I Loved Before by Jenny Han 8.5 out of 10 stars



Buy/Borrow/Bypass

: Buy

. If you are late to this party like me I definitely recommend checking this book out. Whether you are a big fan of YA contemporary romances or not I think this is worth the read. It was fast and fun and I really enjoyed it.

Have you read To All the Boys I Loved Before? What did you think? Leave me a comment with your thoughts. Thanks for stopping by and HAPPY READING!