A weekly meme hosted by
Breaking the Spine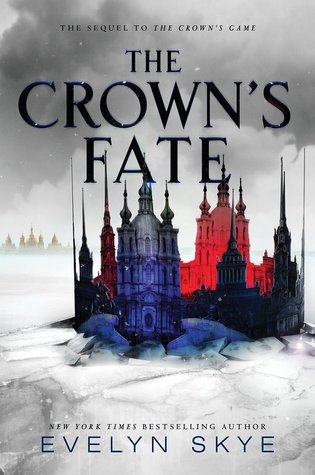 Title: The Crown's Fate


Series: The Crown's Game #2
Author: Evelyn Skye

Published: May 2, 2017 by Balzar + Bray (HarperCollins)




Synopsis: Perfect for fans of Shadow and Bone and Red Queen, The Crown's Fate is the thrilling sequel to the New York Times bestselling The Crown's Game, an atmospheric historical fantasy set in Imperial Russia.

Russia is on the brink of great change. Pasha's coronation approaches, and Vika is now the Imperial Enchanter, but the role she once coveted may be more difficult—and dangerous—than she ever expected.

Pasha is grappling with his own problems—his legitimacy is in doubt, the girl he loves loathes him, and he believes his best friend is dead. When a challenger to the throne emerges—and with the magic in Russia growing rapidly—Pasha must do whatever it takes to keep his position and protect his kingdom.

For Nikolai, the ending of the Crown's Game stung deeply. Although he just managed to escape death, Nikolai remains alone, a shadow hidden in a not-quite-real world of his own creation. But when he's given a second chance at life—tied to a dark price—Nikolai must decide just how far he's willing to go to return to the world.

With revolution on the rise, dangerous new magic rearing up, and a tsardom up for the taking, Vika, Nikolai, and Pasha must fight—or face the destruction of not only their world but also themselves.

I loved The Crown's Game so much! It was one of my favorite debuts of 2016 and one of my favorite audiobooks as well. I think a major reason I did enjoy it so much is because the audiobook was just that good. It's narrated by Steve West who is one of my all-time favorite narrators and it is the perfect kind of book for that format. I am super excited for the sequel and I absolutely am planning to listen to it on audio again.

I'm so excited about this book because the last one totally wrecked me at the end but in the best possible way. It's one of those books that has some interesting moments along the way but really builds to a thrilling conclusion full of surprises and action. The way it ended I know that the sequel is going to be fantastic because the direction it took things in means that this is going to be a book full of political intrigue and probably even more action and surprises.

I'm also really interested in this book because reading the synopsis I think there is going to be some really interesting character developments. I didn't totally love the characters in the first book, except Nikolai to be honest, but I think in this one we are going to see more complexities and I am all for that.
What about you? What are you waiting for this Wednesday? Are you waiting on The Crown's Fate along with me? Leave me a comment with your thoughts. Thanks for stopping by and HAPPY READING!