*** This is the third book in a trilogy so if you have not read A Darker Shade of Magic or A Gathering of Shadows be careful of potential spoilers. Also, what are you waiting for? That series is amazing!
Here is my review for the first book
. You should read it. ***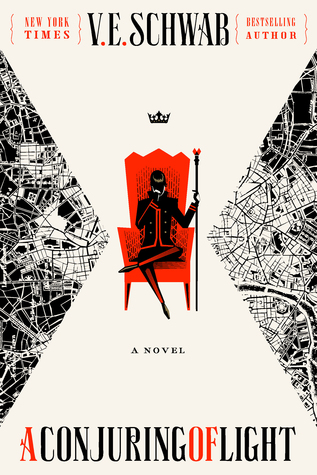 Title: A Conjuring of Light
Series: Shades of Magic #3
Written by: V.E. Schwab
Published: February 21, 2017 by Tor (Macmillan)
(
Amazon
/
Goodreads
)
Synopsis: Witness the fate of beloved heroes - and enemies.
THE BALANCE OF POWER HAS FINALLY TIPPED...
The precarious equilibrium among four Londons has reached its breaking point. Once brimming with the red vivacity of magic, darkness casts a shadow over the Maresh Empire, leaving a space for another London to rise.
WHO WILL CRUMBLE?
Kell - once assumed to be the last surviving Antari - begins to waver under the pressure of competing loyalties. And in the wake of tragedy, can Arnes survive?
WHO WILL RISE?
Lila Bard, once a commonplace - but never common - thief, has survived and flourished through a series of magical trials. But now she must learn to control the magic, before it bleeds her dry. Meanwhile, the disgraced Captain Alucard Emery of the Night Spire collects his crew, attempting a race against time to acquire the impossible.
WHO WILL TAKE CONTROL?
And an ancient enemy returns to claim a crown while a fallen hero tries to save a world in decay.
A Conjuring of Light was one of my most anticipated reads of this year and I was both excited and incredibly nervous to read it. But it was everything I wanted it to be and more. It's a thrilling read with amazing characters, a fantastic world, and a plot full of action and adventure.
First things first, I absolutely love the world of this series. It's such a fascinating alternative universe/world within a world kind of setting and that really is one of my favorite kind of worlds. The amazing thing about this series is that it takes it a step further by having each world have a different relationship with magic. So much about this world is about magic though and I love the exploration of the magic here. It's kind of a variation of elemental magic but it's still really interesting and creative. I loved seeing the magic in order, especially Antari magic. But seriously there is so much magic here, but are you surprised? The series is called "Shades of Magic." But the magic and the world here is amazing.
But I think my favorite this about this series is the characters. From the very beginning I was hooked on Kell, Lila, Rhy, and Alucard and this book only deepened that. There is just something about them that makes you root for them to succeed. They're complex and interesting characters that are not completely good which I really like. There is a darkness and danger in them that makes them unlikely heroes, which makes me root for them even more. And they are all just so badass.
But I think even better than the characters themselves is the character development. Throughout this book and this series we learn so much about the characters but they learn even more about themselves. Their experiences and the things they learn teach them so much that they develop into someone almost completely different, in the best possible way. Probably the best example of this is Holland. Holland's development was just amazing in this book and I think I might have become a big fan of his after this book. But Lila also has great development. And Rhy! Oh man. They all really did.
The other amazing developments throughout this book is the plot. I'll tell you one thing, Victoria Schwab sure know how to write a thrilling book. This one resolved a lot of my criticism of the second book in the series and instead brought things back to the high stakes adventure of the first book. It definitely built to an exciting conclusion that had me on the edge of my seat. Not to mention that there were so many moments throughout the book that had me reeling. As a plot-driven reader I really loved the way this developed. When I dove into it I really did not want to stop.
However, there was one thing about the story that I didn't like was the pacing. For the most part it was paced really well. It slowly built to the climax with a few bumps and action bursts along the way but there were a few lulls for me. Plus there was a ton of falling action. I get that this is the last book in a trilogy and you want to wrap stuff up but at some point I was just ready for it to be over and there was still a lot of book left. It just reached a point where I didn't feel like the plot was actually moving along but the book wasn't done yet. But in the end. more of these characters was okay by me.
A Conjuring of Light was an absolutely amazing book and it was everything I was hoping it to be. This series is without a doubt a new favorite. It's full of brilliant and interesting magic, action and adventure, has memorable and complex characters, and a thrilling plot.
I give A Conjuring of Light by V.E. Schwab 9.5 out of 10 stars
Buy/Borrow/Bypass: BUY!
Seriously, buy this book. If you loved the first two books in this series you will not be disappointed by this one. It's brilliant and amazing. And if you haven't read this series and you like fantasy, what are you waiting for? It's everything!\\
Have you read A Conjuring of Light? What did you think? Leave me a comment with your thoughts. Thanks for stopping by and HAPPY READING!