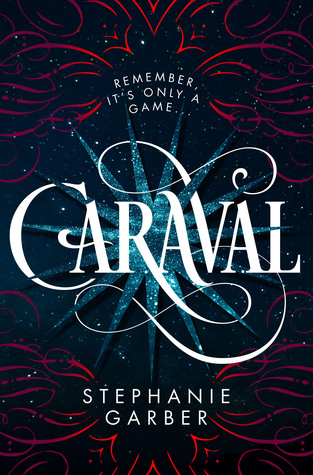 Title: Caraval
Series: Caraval #1
Written by: Stephanie Garber
Published: January 31, 2017 by Flatiron Books (Macmillan)
(
Amazon
/
Goodreads
)
Synopsis: Welcome to Caraval, where nothing is quite what it seems.
Scarlett has never left the tiny isle of Trisda, pining from afar for the wonder of Caraval, a once-a-year week-long performance where the audience participates in the show.
Caraval is Magic. Mystery. Adventure. And for Scarlett and her beloved sister Tella it represents freedom and an escape from their ruthless, abusive father.
When the sisters' long-awaited invitations to Caraval finally arrive, it seems their dreams have come true. But no sooner have they arrived than Tella vanishes, kidnapped by the show's mastermind organiser, Legend.
Scarlett has been told that everything that happens during Caraval is only an elaborate performance. But nonetheless she quickly becomes enmeshed in a dangerous game of love, magic and heartbreak. And real or not, she must find Tella before the game is over, and her sister disappears forever.
A mesmerising, magical and stunningly imaginative debut novel for anyone who loved The Night Circus and Daughter of Smoke and Bone
*** I received an advance copy of this book from the publisher at BEA in exchange for an honest review. This fact has not changed my opinion. ***
I was immediately attracted to this book when I first learned about it. It seemed totally up my alley. A fantasy full of mystery, magic, and adventure? Yes, please. Not to mention I heard nothing but great things about it from fellow bloggers who read it. So I was really looking forward to reading this. And while I did really enjoy it, I'm not sure it lived up to the hype for me.
One thing I did love here was the plot development. It was definitely a thrilling book. I'm a plot-driven reader and I like when my fantasies in particular take me for a ride, and this book did that. There was a really fantastic storyline full of mystery and surprises. It wasn't the kind of mystery that you can solve but I didn't really mind that. Instead it continued to surprise me in ways I didn't expect. It's kind of hard for a book to do that so I have to give this one some credit for that. Even things I thought I had figured out, I didn't. Plus it really built to an exciting conclusion that had me on the edge of my seat and reeling. From a plot standpoint, I really did love this book.
And while I did find the world interesting and engaging, it's just not my favorite kind of thing. If you are one of those readers who love a circus or carnival setting I think you will totally love this one. It is one of those worlds. One of those settings where things are whimsical and mysterious. I did really like being able to explore the location of Caraval but it just didn't blow me away. I found the magic to be kind of lacking. I've read some books with this kind of setting where things were more over-the-top while here they felt more subtle to me. I like m magic to "go big or go home" and here it was just there in the periphery. Or maybe I just didn't understand it or pick up on it because I was focusing more on the mystery. But either way, there wasn't much of a balance between world and plot for me.
I also felt the same about the characters. On the whole I enjoyed them but the characterization did feel a little lacking for me. The one character who I did really like was the main character, Scarlett. I thought Scarlett was a great protagonist. I can relate to her healthy amount of skepticism that she balanced with a sense of wonder. I also really liked how she put others before herself. The development she had throughout the book on that side of things was really fantastic. As far as the secondary characters go, there was a lot of interesting ones. I did like Julian, the male lead, because he felt really mysterious and slightly dubious which I enjoyed. I'm not sure I bought into their romance but that's nothing new. But there were also some really fantastic antagonists. A lot of the drama of the book came from the fact that the main characters were always fighting against these really odious villains. Whether it was her father or the Master of Caraval they were dark and devious and I wanted Scarlett to succeed over them.
But the character that disappointed me the most was probably Tella. There was so much emphasis put on the sisterly bond here, something that is very popular within books and movies nowadays and I really enjoy. But I'm not sure that this aspect of the story worked for me. I did feel like Scarlett and Tella cared about one another but I never felt like that bond went super deep. I think this may have just been a case of being told instead of being shown that. There was supposed to be a feeling of self-sacrifice which made sense from one aspect of conflict but not really from another. Much of the plot was triggered from Scarlett's supposed desire to protect Tella and while it made Scarlett more likable it kind of made Tella less likable. I think if she had been a bigger player in the story that may have been different but she was kind of minor character and I wanted more from or about her.
On the whole this was a good read I just think that it fell victim to the hype monster for me as I struggle through this reading slump. As much as I love YA fantasy this isn't the kind of book that usually blows me away. But it did have a really thrilling plot and interesting characters.
I give Caraval by Stephanie Garber 8.5 out of 10 stars



Buy/Borrow/Bypass:

Buy/Borrow.

If you like fantasies set in carnivals or circuses you should definitely check this out. This might be a book more for people who are not huge fantasy fans because it is a little bit more on the subtle side. And despite some things I didn't like, it was interesting and I would recommend it.

Have you read Caraval? What did you think? Leave me a comment with your thoughts. Thanks for stopping by and HAPPY READING!