A weekly meme hosted by
Breaking the Spine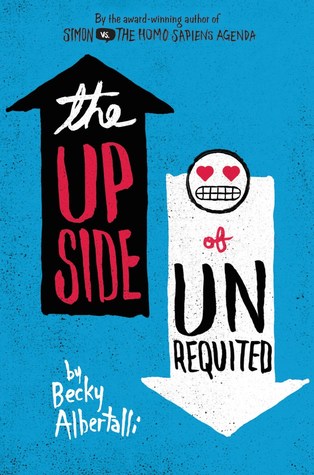 Title: The Upside of Unrequited


Author: Becky Albertalli

Published: April 11, 2017 by Balzar + Bray (HarperCollins)




Synopsis: Seventeen-year-old Molly Peskin-Suso knows all about unrequited love. No matter how many times her twin sister, Cassie, tells her to woman up, Molly can't stomach the idea of rejection. So she's careful. Fat girls always have to be careful.

Then a cute new girl enters Cassie's orbit, and for the first time ever, Molly's cynical twin is a lovesick mess. Meanwhile, Molly's totally not dying of loneliness—except for the part where she is. Luckily, Cassie's new girlfriend comes with a cute hipster-boy sidekick. If Molly can win him over, she'll get her first kiss and she'll get her twin back.

There's only one problem: Molly's coworker, Reid. He's a chubby Tolkien superfan with a season pass to the Ren Faire, and there's absolutely no way Molly could fall for him. Right?

I loved Simon Vs. the Homosapians Agenda, Becky's debut. It was one of my favorite books of 2015 and my favorite debut. It was the perfect kind of contemporary for me. It was funny, romantic, sweet, serious. It was amazing. I would read anything that Becky would write because I loved that book so much. And it takes place in the same sphere so here's hoping there is a reference/cameo from Simon, Blue, or any other character from that book.

But seriously, I would be very excited about this book even if it wasn't from an author that I loved. The synopsis of it sounds super fantastic. First of all, I love that this is a book about a protagonist who is a self-proclaimed "fat girl." I can relate and I always love when the MC isn't your typical kind of heroine. I also love that there is an LGBT secondary character who has the same name as me. It's not a common thing to come across another Cassie/Cassi. Usually when I do they end up dead or in a ton of peril.

But I think the thing I am most excited about is that there will probably be a lot of exploration of relationships and romance which I am cool with. I'm kind of romancephobic but I like the idea of a person who has a ton of crushes and has never been in a relationship explores that. It totally feels like new ground to tread. And I mean the sounds of this love triange is actually kind of intriguing.

I have seen a few fellow bloggers who have read advance copies of the book and totally loved it. I just preorded it with some Christmas gift cards and I cannot wait to get my hands on a copy to totally devour.
What about you? What are you waiting for this Wednesday? Are you waiting on The Upside of Unrequited along with me? Leave me a comment with your thoughts. Thanks for stopping by and HAPPY READING!