Read in May: Themeless
Another good month. It was a little slower than the previous few months but I didn't read any comics so I think I did pretty well. This month I read a total of 11 books. I was really excited to read so many of the books I read this month. Of course not all of them were big hits but I actually loved a lot of them. There were some really great books this month.
For challenges, I am doing okay but not as well as I would hope. I decided to go for a Goodreads goal of 100 books for the year and that was a really good decision but it may have been a bit too low. I'm over halfway there so I'm thinking about raising it a little to 120 but we'll see. But I like being ahead of that challenge and I feel much better about meeting my goals. My total is now up to 53 books for the year. I am also on track, and actually kind of ahead, for the
Debut Author Challenge
of 25 debuts. I did read 4 this month which brings my total to 13 for the year. For the
Netgalley/Edelweiss Challenge
, I read 5 this months which makes my total 16 for the year. I'm thinking the 36 target is more doable, but 50 is definitely going to be a reach. I think I'll stiuck with 36 for this one. For the
Rock My TBR Challenge
I read 2 books for that this month towards my goal of 25 for the year bringing my totally up to 7 for the year. I'm definitely behind on this one but I might be able to meet the actual challenge goal of 15. And finally, I did one post for the
Discussion Challenge
, making my total 5 for the year.
1.) Cold Summer by Gwen Cole
Rating: 7.5 out of 10 [
My Review
]
2.) The Pearl Thief by Elizabeth Wein
Rating: 8 out of 10 [
My Review
]
3.) Noteworthy by Riley Redgate
Rating: 8.5 out of 10 [
My Review
]
4.) The Knife of Never Letting Go by Patrick Ness
Rating: 7.5 out of 10 [
My Review
]
5.) Rose Under Fire by Elizabeth Wein
Rating: 9 out of 10
[
My Review
]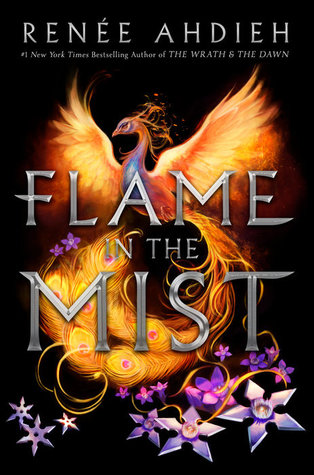 6.) The Love Interest by Cale Dietrich
Rating: 8 out of 10 [
My Review
]
7.) Antisocial by Jillian Blake
Rating: 7.5 out of 10 [
My Review
]
8.) The Crown's Fate by Evelyn Skye
Rating: 8.5 out of 10 stars [
My Review
]
9.) One of Us is Lying by Karen M. McManus
Rating: 9 out of 10 [
My Review
]
10.) Flame in the Mist by Renee Ahdieh
Rating: 9.5 out of 10 [
My Review
]
11.) Always and Forever, Lara Jean by Jenny Han
Rating: 9.5 out of 10 [
My Review
]
To Be Read in June: Historical Fiction
I am so excited for some of these books. June has some of my most anticipated books of the year in it and I can't wait to read them. Plus I love this theme. I am a huge fan of historical fiction and I have been really enjoying some historical fiction reads lately. I think it's going to be another good month.
Midnight at the Electric by Jodi Lynn Anderson
-
Add to Goodreads
This such a me book. Michelle picked a copy up at ALA MW and was like "you need to read this book" so she gave me the copy. I didn't love Tiger Lily as much as most people but it was good and I'm super pumped about this one.
I may end up listening to the audiobook for this one because I loved the first one on audio but I do have a review copy to read. But it's a cool darkish urban fantasy with carnivals and creatures, I need to refresh myself on the first book but it was really good.
The Fallen Kingdom by Elizabeth Mat -
Add to Goodreads
I love this series so much and I am both excited and sad to see it end. But I am really interested to see where it goes especially the way the last book ended. This series is full of drama and cliffhangers so I am expecting lots of thrills and surprises.
Obsidian and Stars by Julie Eshbaugh
-
Add to Goodreads
I really liked the first book in this series. I thought it was a really interesting piece of historical fiction, what with the prehistory setting. I am part of the blog tour for this and I can't wait to see what happens next.
Now I Rise by Kiesten
-
Add to Goodreads
I really liked And I Darken but if I am being entirely honest I wish it was darken and had more political intrigue. But that is exactly what this book sounds like. I think it will be much more of what I was looking for with super brutal Vlad/Lada the Impaler.
Gentleman's Guide to Vice and Virtue by Mackenzi Lee
-
Add to Goodreads
I am sooooo excited for this book. I have been excited about this book for years, every since I first learned about it. I have a review copy I have been sitting on for awhile and I'm excited to finally read it.
Our Dark Duet by Victoria Schwab
-
Add to Goodreads
I loved the first book in this series so much. It was one of my three favorite books of last year. I'm super excited to read the sequel and see that crazy twist Victoria has in store for us.
Tash Hearts Tolstoy by Kathryn Ormsbee
-
Add to Goodreads
This sounds like a really interesting contemporary. I love the idea of a YouTube show with a modern interpretation of Anna Karenina plus the MC is asexual which my romancephobic heart is excited about.
I have been wanting to read this book for awhile and even though I have a copy I have not read this. Maybe this month will be the time to actually read it as it fits the theme.
His Fair Assassins Trilogy by Robin LeFevers
-
Add to Goodreads
I own the first two books in this trilogy and I have heard really great things but I still haven't read it yet. Again, maybe this month I will take the time. We shall see.
There you have it. Some of the books I hope to read in June. As always, these are subject to change. I may read all of these or I may only read a few and then read a bunch of different ones. But honestly I think this list I can stick to. Thanks for stopping by and HAPPY READING!