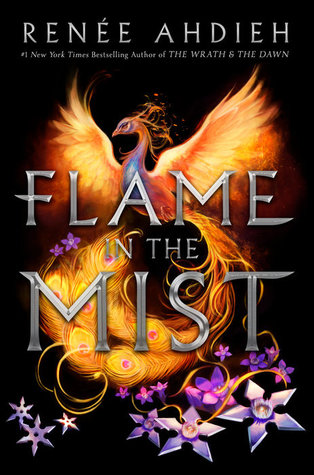 Title: Flame in the Mist
Series: Flame in the Mist #1
Written by: Renee Ahdieh
Published: May 16, 2017 by Putnam Books for Young Readers (Penguin)
(
Amazon
/
Goodreads
)
Synopsis: The only daughter of a prominent samurai, Mariko has always known she'd been raised for one purpose and one purpose only: to marry. Never mind her cunning, which rivals that of her twin brother, Kenshin, or her skills as an accomplished alchemist. Since Mariko was not born a boy, her fate was sealed the moment she drew her first breath.
So, at just seventeen years old, Mariko is sent to the imperial palace to meet her betrothed, a man she did not choose, for the very first time. But the journey is cut short when Mariko's convoy is viciously attacked by the Black Clan, a dangerous group of bandits who've been hired to kill Mariko before she reaches the palace.
The lone survivor, Mariko narrowly escapes to the woods, where she plots her revenge. Dressed as a peasant boy, she sets out to infiltrate the Black Clan and hunt down those responsible for the target on her back. Once she's within their ranks, though, Mariko finds for the first time she's appreciated for her intellect and abilities. She even finds herself falling in love—a love that will force her to question everything she's ever known about her family, her purpose, and her deepest desires.
I really liked The Wrath and the Dawn duology so I was very excited to read Renee Adhieh's next series. Not to mention it seemed like an interesting YA fantasy with a unique world and complex characters. And that's exactly what it was.
For one thing, if you have read The Wrath and the Dawn you know what you are getting into when it comes to the writing of this book. Renee really knows how to draw you in with her writing. It's lush and descriptive with these beautify explanation of what you are seeing and what the world looks like. I could perfectly see the locations and couldn't help but immerse myself in this book.
But in general that was easy because this was a very cool world. I am always looking for unique fantasy worlds and I definitely found one here. For one thing this is a world that is based on Asian culture. It pulled a lot from samurai culture which was very cool and worked really well with this kind of book. It also had some subtle magic to it. I do wish there was a little bit more magic because I think it seemed a little out of place when it did come into the story. But I think there is more to learn in later books and I'm excited to learn about it. Because I think in general this book has an Avatar: The Last Airbender vibe and that is always something I enjoy.
The thing that surprised me most about this book and the world was how much political intrigue it had. You usually expect a little bit of that when it comes to fantasies, especially when you're talking about a girl who is betrothed to the son of the emperor, but I still think this had more than I thought. There was a lot of intrigue to this. And it's the kind of thing where you have to wait until the end for all of it to unfold. There are still a lot of unanswered questions that I want to see answers to.
That is however my main criticism of this book. There were a lot of unanswered questions and it kind of made for a confusing plot development. It also made for slow plot development. This is a book that had extremely slow pacing. Things happened, lots happened, but I wasn't sure why it was happening until the last fifty pages or so. And yes, it did have some great twists and lots of excitement it just took it's sweet time to get to the good stuff while being obtuse throughout most of the book. I'm such a plot driven reader that I have to say I was a little bored in parts. But in the end it did make up for it.
I also think one of the things that made the book a bit tough at times was the characters. Now I will say, u rally loved these characters. They are my favorite kinds of characters in that they are really complex and walk that fine line between good and bad. Much of the character development was the MC and the reader asking themselves who was right and who was wrong. And everyone was so dubious in that they were doing the wrong thing for the right reason or vice versa. But there are a lot of character perspectives here. Most of the book was from Mariko's perspective but we did get three or four other perspectives that kind of muddied the water and confused me a little bit. I did like the characters though so it wasn't too annoying.
In general, I think this is an amazing read. It is a fantastic YA fantasy wig gorgeous writing, a lust and unique world, an engaging plot, and complex characters. I really loved it and I can't wait to see what happens next.
I give Flame in the Mist by Renee Ahdieh 9.5 out of 10 stars



Buy/Borrow/Bypass

: Buy

. If you liked The Wrath and the Dawn you should definitely check out the author's new book. But even if you didn't read it you should definitely check this one out. It's a fantastic YA fantasy with such an unique world that I think fans of the genre will love it.

Have you read Flame in the Mist? What did you think? Leave me a comment with your thoughts. Thanks for stopping by and HAPPY READING!