Read in April: Science Fiction
Another good month. I'm definitely back to where I want to be. I read 14 books this month (actually 15 but one is on the May TBR so I'm not counting it). Of course it helps that I read plenty of audiobooks and comics but still. I feel like I'm out of my reading slump and I am back to normal. Plus I read a lot of really great books. This is the first time in a long time I had a hard time deciding which four favorites to have the covers for. I changed my mind a few time. All in all a good month.
For challenges, I am doing okay but not as well as I would hope. I decided to go for a Goodreads goal of 100 books for the year and that was a really good decision. I am now ahead of that challenge and feeling much better about meeting my goals. I may now push it to 120 because that's what I'm on track for but we'll see. My total for the year is now up to 42 books for the year. I am also on track for the
Debut Author Challenge
of 25 debuts. I did read 3 this month which brings my total to 9 for the year. For the
Netgalley/Edelweiss Challenge
, I read 3 this months which makes my total 11 for the year. I'm thinking the 36 target is more doable, 50 might be a reach. For the
Rock My TBR Challenge
I read 1 books for that this month towards my goal of 25 for the year bringing my totally up to 5 for the year. And finally, I did one post for the
Discussion Challenge
, making my total 4 for the year.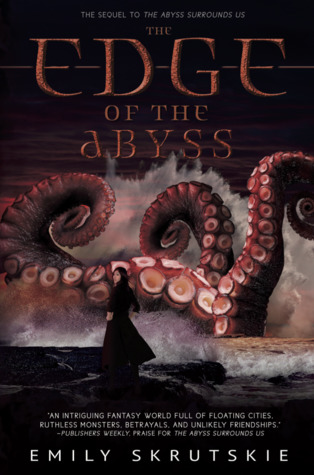 1.) The Overnight by R.L. Stine
Rating: 6 out of 10 [
Podcast Website
]
2.) Wires and Nerve by Marissa Meyer and Douglas Holgate
Rating: 9.5 out of 10 [
My Review
]
3.) Empress of A Thousand Skies by Rhoda Belleza
Rating: 9.5 out of 10 [
My Review
]
4.) Shadow Run by AdriAnne Strickland and Michael Miller
Rating: 9 out of 10 [
My Review
]
5.) The Edge of the Abyss by Emily Skrutskie
Rating: 9.5 out of 10
[
My Review
]
6.) Rat Queens Vol. 3: Demons by Kurtis J. Weibe and Tess Fowler
Rating: 8 out of 10 [
My Review
]
7.) Simon Vs. The Homo Sapiens Agenda by Becky Albertalli
Rating: 9.5 out of 10 [
Original Review
]
8.) The Upside of Unrequited by Becky Albertalli
Rating: 9.5 out of 10 stars [My Review]
9.) Ms. Marvel,Vol. 4: Last Days by G. Willow Wilson and Adrian Alphona
Rating: 9 out of 10
10.) Strange the Dreamer by Laini Taylor
Rating: 9 out of 10 [
My Review
]
11.) Unbeatable Squirrel Girl Vol. 2, Squirrel You Know It's True by Ryan
North and Erica Henderson
Rating: 9 out of 10 [
My Review
]
12.) The Most Beautiful Woman in Florence by Alyssa Palumbo
Rating: 9 out of 10 [
My Review
]
13.) Scrappy Little Nobody by Anna Kendrick
Rating: 8.5 out of 10 [My Review]
14.) Geekerella by Ashley Poston
Rating: 9 out of 10 stars [My Review]
To Be Read in May:

Okay, so I actually don't have a theme for May. I could maybe come up with one, there are a lot of contemporaries and mysteries but I just did a contemp month and I have a mystery one coming up so instead I'm just calling this a freebie month. I am really excited about some of the books I have planned. There are some highly anticipated new releases I've been waiting for and some review books that sound really amazing. I think it's going to be another good month.
Cold Summer by Gwen Cole
-
Add to Goodreads
By the time this is up I will already have finished this book. It's a time travel story about a guy who goes back to WWII and gets PTSD. Also there is romance.
Noteworthy by Riley Redgate -
Add to Goodreads
I usually like to read more contemporaries in the summer time and this one sounds totally adorable. I mean it's about acapella, which is cute, but that also means the characters will probably be a little nerdy which I love.
The Love Interest
by Cale Deitrich
-
Add to Goodreads
I got a copy of this through Netgalley and I was super excited because this sounds totally up my alley. I mean it's about teenage spies. I'm interested to see what the author does with it too because the idea sounds fascinating.
One of Us is Lying by Karen M. McManus
-
Add to Goodreads
A mystery with unreliable narrators where the characters are an unlikely team in a Breakfast Club style detention together and someone ends up dead. Obviously I need to read this.
Spactacle by Rachel Vincent
-
Add to Goodreads
I may end up listening to the audiobook for this one because I loved the first one on audio but I do have a review copy to read. But it's a cool darkish urban fantasy with carnivals and creatures, I need to refresh myself on the first book but it was really good.


The Pearl Thief by Elizabeth Wein
-
Add to Goodreads
I have been waiting on this book since the moment I learned about it. It's a prequel to Code Name Verity about Julia. Oh I seriously cannot wait.
Always and Forever, Lara Jean by Jenny Han
-
Add to Goodreads
I was surprised by how much I enjoyed the first two books in this series and I am excited to read the final one. I listened to the audios and I will probably do that again.

The Crown's Fate by Evelyn Skye
-
Add to Goodreads
I loved this first book on audio soooo much, I mean it's narrated by Steve West, so I preorder the sequel on audio so I can listen to it the moment it comes out.

Flame in the Mist by Renee Ahdieh
-
Add to Goodreads
I really like Renee's first series and so I'm excited to see what is next for her. Plus I think this book sounds fascinating. I mean it's fantasy about samurai, how cool is that?
I have been wanting to read this series for awhile and I even have the first two books in the series. I meant to read it last month but I didn't end up doing that. But I did pick up the audio for the first book and already started it.
There you have it. Some of the books I hope to read in April. As always, these are subject to change. I may read all of these or I may only read a few and then read a bunch of different ones. But honestly I think this list I can stick to. Thanks for stopping by and HAPPY READING!