I'm so excited to be a part of the blog tour for this book.
If you saw my review on Monday
you know that I loved Stalking Jack the Ripper (it was one of my favorite books of last year), and
I was not disappointed by Hunting Prince Dracula
(it will probably be one of my favorite books of this year). So I was really happy to help spread the word about this book.
In addition to that, I really like Kerri. I've been chatting with her on Twitter for over awhile now and I was able to meet her both at BEA in 2016 and at ALA this year. She is just a total sweetheart. So because of that I am super excited to have an interview with Kerri.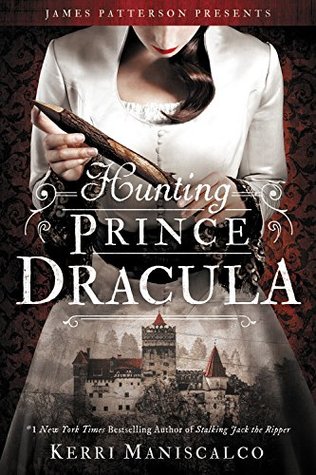 Hunting Prince Dracula
(Stalking Jack the Ripper #2)
by
Kerri Maniscalso
Publisher: Little, Brown & Co.
Release Date: September 19, 2017
Genre: Young Adult, Historical Fiction, Mystery, Thriller


Synopsis: In this hotly anticipated sequel to the haunting #1 bestseller
Stalking Jack the Ripper
, bizarre murders are discovered in the castle of Prince Vlad the Impaler, otherwise known as Dracula. Could it be a copycat killer...or has the depraved prince been brought back to life?
Following the grief and horror of her discovery of Jack the Ripper's true identity, Audrey Rose Wadsworth has no choice but to flee London and its memories. Together with the arrogant yet charming Thomas Cresswell, she journeys to the dark heart of Romania, home to one of Europe's best schools of forensic medicine...and to another notorious killer, Vlad the Impaler, whose thirst for blood became legend.
But her life's dream is soon tainted by blood-soaked discoveries in the halls of the school's forbidding castle, and Audrey Rose is compelled to investigate the strangely familiar murders. What she finds brings all her terrifying fears to life once again.
Hi, Kerri! I'm so excited tobe able to ask you a few questions. I loved your debut Stalking Jack the Ripper and I can't wait to read the sequel Hunting Prince Dracula. I'm excited for our readers to learn more about you and the book. Okay, let's dive right in.
Thank you so much! I'm excited about the questions and am so excited to be here!
General Questions About The Book
Can you explain the series in ten words or less?
Sure! Victorian Era Gothic Nancy Drew meets Sherlock.
How would you describe the main characters of Audrey Rose and Thomas? What Hogwarts Houses would you sort them in?
I LOVE this question! I usually describe HUNTING PRINCE DRACULA inHP terms: (a forensic academy full of Slytherins go Ravenclaw on each other while trying to solve murders in Dracula's castle), so this is fabulous. I think they'd both be sorted into Ravenclaw, though they do have some Slytherin...so maybe Raverin.
(As a Slytherclaw myself I love this answer. I told Kerri when she said this on Twitter that this is my personal Hero's Journey because I was a teenage Slytherin but now I'm a total Ravenclaw.)
What can you tell us about the setting of the book? I know in this one we are headed to Romania.
Most of the setting takes place at Bran Castle, which is a magnificent fortress located in the his-toric region of Romania known as Transylvania. I've definitely taken liberties with the interior ofthe castle and have included really fun, subterranean tunnels for the characters to explore. It's filled with chambers that feature "fun" surprises for them.
What inspired you to write this series?
I really wanted to read a book about a girl like me—one who loves forensic science. My grand-mother was always one of my biggest supporters, so I used my love of forensics and my grandmother's love of"whodunits" and came up with the idea of a gothic Nancy Drew-type series. Women in STEM are amazing and it felt right to feature that passion in my main character.
Do you have a favorite scene? One that you're excited for readers to experience? (No spoilers of course).
I do! There's a scene in HPD that I've been holding back on since SJTR and it has to do with Thomas Cresswell. I think readers will totally know the scene when they get to that chapter...I believe it's 29.
This series involves solving unsolved murders. What unsolved crime would you want to solve?
I still stand by wanting to know who Jack the Ripper really was—his case is still so captivating after all of these years, it would be nice to have closure. I also have always been intrigued by the Black Dahlia case.
Questions About Your Writing Process.
When you write are you a plotter or a pantser?
A little of both, actually. I always have an idea of how I want the story to play out—a lot of times I'll write out character sheets with details of all the players before I begin. I also like to write up a short three or four hundred word blurb for myself. (Much like the sort of jacket copy you read on books.)
I also have this thing called the "The 3 C's"of drafting I sort of live by:
1. Cursing
2. Crying
3. Chocolate
I know a lot of writers listen to music, and some use Pinterest to visualize everything. How do you get into the frame of mind to write?
I ADORE using my Pinterest board! I'm a visual person, so anytime I can find a picture that's similar to what's in my head, I'm in a happy place. I also am a huge fan of taking writing breaks to listen to music that sets a certain mood or atmosphere for whichever scene I'm currently working on.
I love your Pintrest board! It was how I got verification that I was right about how this book was going to be about Dracula after I read SJTR. Before seeing that it was just a theory.
If you want to check out Kerri's Pinterest here it is.
Which book was harder to write, this book or the first book in the series and why?
Definitely HUNTING PRINCE DRACULA! I was terrified of the second book curse, and writing to deadline is SO HARD. I normally like to write in a linear fashion...starting from chapter one and going on until I reach the end, editing as I go to fine tune it before sending it off to critique partners, revising, rinsing and repeating until my dark heart's content. Deadline writing is much different. I wrote scenes out of order (based on what was feeling like the most natural scene for me that day), and fit it all together chapter by chapter. It was stressful since it wasn't my usual process, but I actually love writing that way now!
When you were writing did you start with the setting or the plot?
Before I started drafting SJTR I'd say I started with the setting. I knew I wanted to write about a girl who studied forensics, sort of have her be a female Dr. Watson, but thought there needed to be more tension based on why that would be difficult for her. When I read about some badass female doctors during the 1840's and beyond, I knew I wanted to set it in the 19th century. After that, there was only one case that jumped out, waving its hands to be solved by this brave heroine.
What research did you do for the book?
I think it might be easier to ask what research I didn't do;) Everything. From the setting to the dresses to Victorian protocol to upper class versus lower class, folklore regarding strigoi and pricolici, research on Vlad the Impaler and his family, the list truly goes on and on.
Questions About You
Favorite book?
I have several that I reread occasionally, but growing up I loved WHERE THE SIDEWALK ENDS by Shel Silverstein.
Favorite TV show?
I LOVED the Victoria series on PBS and can't wait for the second season.
Favorite Movie?
I'm a huge fan of Shakespeare and absolutely LOVE Baz Lurhmann's Romeo and Juliet.
Favorite Song?
Ohh. Too hard! I listen to songs based on mood and it changes often. Right now I'm listening to"Burial"by Miike Snow.
Name 3 fictional places you would move to in a heartbeat?
Wonderland, Fantasia, and Velaris.
Name a recent book that you read which would recommend to our book lovers.
GIRL AT THE GRAVE by Teri Bailey Black which is perfect for fans of SJTR, or SKY IN THE DEEP by Adrienne Young, this epic Viking-inspired fantasy. Both are coming out in 2018 and need to be on everyone's pre-order lists.
Oh, I want to read Sky In the Deep. It's one of my most excited debut of next year. I'll have to look into Girl at the Grave though.
If you were trapped on a desert island what would your island be made of?
Mangoes. I could eat them all day long. Oh...are we talking about food or...is this just me? If not food, then abalone shells. Totally not functional but it would be gorgeous at sunrise and sunset!
That sounds amazing and totally realistic. I'm sure somewhere out there is an island full of mangoes and one full of shells. I mean I have definitely seen beaches made out of shells. It must exist.
Thanks so much for being here Kerri. It was my pleasure getting to interview you and get to know you a little bit more.



Kerri Maniscalco grew up in a semi-haunted house outside NYC where her fascination with gothic settings began. In her spare time she reads everything she can get her hands on, cooks all kinds of food with her family and friends, and drinks entirely too much tea while discussing life's finer points with her cats.

Her first novel in this series, Stalking Jack the Ripper, debuted at #1 on the New York Times bestseller list. It incorporates her love of forensic science and unsolved history.
•
2 copies of Stalking Jack the Ripper and Hunting Prince Dracula
a Rafflecopter giveaway
There you have it folks, my interview with Kerri Maniscalco, author of the Stalking Jack the Ripper series including the newly released Hunting Prince Dracula. Hunting Prince Dracula is officially out there in the world so get yourself to a bookstore and pick it up. It's soooo good. If you need a little encouragement here is my review which was posted Monday. Thanks for stopping by and HAPPY READING!