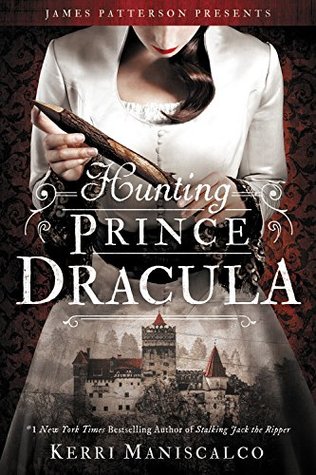 Title: Hunting Prince Dracula
Series: Stalking Jack the Ripper #2
Written by: Kerri Maniscalco
Published: September 19, 2017 by Jimmy Patterson Books (Little Brown Books)
(
Amazon
/
Goodreads
)
Synopsis: In this hotly anticipated sequel to the haunting #1 bestseller Stalking Jack the Ripper, bizarre murders are discovered in the castle of Prince Vlad the Impaler, otherwise known as Dracula. Could it be a copycat killer...or has the depraved prince been brought back to life?
Following the grief and horror of her discovery of Jack the Ripper's true identity, Audrey Rose Wadsworth has no choice but to flee London and its memories. Together with the arrogant yet charming Thomas Cresswell, she journeys to the dark heart of Romania, home to one of Europe's best schools of forensic medicine...and to another notorious killer, Vlad the Impaler, whose thirst for blood became legend.
But her life's dream is soon tainted by blood-soaked discoveries in the halls of the school's forbidding castle, and Audrey Rose is compelled to investigate the strangely familiar murders. What she finds brings all her terrifying fears to life once again.
**** I received an advance copy of this book from the publisher in exchange for an honest review. This fact has not changed my opinion. ****
This book was so fantastic! You probably know that I was hotly anticipating this book and was incredibly excited to receive a copy in the mail from the publisher. T I loved Stalking Jack the Ripper and I was excited to read the second book in the series for more Audrey Rose and Thomas, more mystery, and more historical settings. And that is exactly what I got. I got an amazing historical mystery.
The thing, I think, that most impressed me about this book was the mystery. I really enjoyed the mystery in Stalking Jack the Ripper but I did find it a little predictable. That was not the case with this book. This mystery definitely came as a surprise for me. There were some aspects that I was able to predict but the big reveal was definitely shocking and I loved that. I do wish there were a little more clues along the way but I'm not too mad at it. It's sometimes hard to catch me off guard and I appreciate a book that is able to do that. Plus I went into this book hoping for an interesting and engaging mystery which is what I found in this book.
I think I may have been more excited about this book than the last one because of the fact that the main mystery and plot revolved around Dracula. I love all books that involve Dracula, be it the fictional vampire or the actual historical figure Vlad Tepes. And I was not disappointed by this one. Kerri definitely did her research into the figure and his history and incorporated them in interesting ways. She also incorporated a lot more of the Romanian and Eastern European folklore as well. It gave the book a great atmosphere and slightly dark quality to it. These books are not scary but the have the perfect kind of fall and Halloween atmosphere for me. I mean we're dealing with serial killers so of course there is plenty of blood and murder. It added a great dimension to the book and because we're talking about Dracula it gave the impression of supernatural quality while still being rooted in truth.
v That's a pretty apt assessment of the book, rooted in truth but still full of atmosphere. I'm a big fan of historical fiction and I like when it takes actual historical figures and/or events and explores them in a more creative way. This book definitely had that creative part down but it also had the historical. I love the Victorian setting because of the tendencies for females to break out of gender norms and that is definitely something that Kerri explores here. But it also such a lush setting. The historical setting here was just that. From the Orient Express to the Transylvanian castle it was amazing to explore these historical settings and what they were like at the time. It was also really interesting to explore what forensics was like back them. This aspect was particularly interesting because of the school that the characters attended. In general I really loved the historical fiction setting of this book.
However, my favorite thing about this book was the characters. In the two books I have become completely attached to Audrey Rose and Thomas. Audrey Rose is a fantastic protagonist. She's tough, resourceful, intelligent, and up for any adventure. I love the fact that she is trying to be genuinely herself even if it's not what is expected of her but also worries about what society thinks of her. She's trying to be a forensic investigator but still maintain her femininity and those are my favorite kinds of strong characters. And then there is Thomas. This is very much a Thomas book as we learn more about him and his past. I absolutely adore Thomas. He's everything also tough, intelligent, and resourceful. And in this book he was even more flirty. He has a great roguish quality to him. Plus, oh the banter. The banter between these two was so good!
This book also had some really good secondary characters. The school allowed us to meet a whole host of new and different characters. Most of them didn't get a ton of screen time which made them not all that memorable but I did like Professor Radu who had this great Remus Lupin quality to him, and Anastasia who was a fun companion for Audrey Rose. But I think my favorite new character was Thomas's sister Daciana. She was really fun and another example of a female who is breaking away from gender norms. Plus her interactions with Thomas were great. But I will say, I did miss some of the characters that were introduced in the first book like Liza and Audrey Rose's Uncle so I hope they come back in the last book. Something makes me think they will.
On the whole, Hunting Prince Dracula was an amazing read. I was hotly anticipating it and I was not disappointed. It had an amazing plot full of mystery and the perfect amount of atmosphere, a great lush historical setting, and amazing characters you will fall in love with.
I give Hunting Prince Dracula by Kerri Maniscalco 9.5 out of 10 stars



Buy/Borrow/Bypass:

BUY!

If you liked the first book you have to read this one. And if you haven't read it and you like historical mysteries or are looking for a fall read that is dark but not scary then check this one out.

Have you read Hunting Prince Dracula? What did you think? Leave me a comment with your thoughts. Thanks for stopping by and HAPPY READING!