Hi Everyone,
I hope you don't mind but I am taking a break from your regularly scheduled content to talk about something a little bit more personal. Yes, friends, this will not be a post about books. As the title leads you to believe, this is a post about my life. Although it does relate to books and blogging because it may cause a little bit of hiccups from the blog. I'm going to try and maintain my usual schedule but things are going to be very different for the next few weeks. Okay, let's dive right in...
1.) I Quit My Job (and got a new one)
For the past seven and a half years I have worked for a non-profit environmental organization. I don't often talk about my work here or on social media because honestly I just need a break from it. It's nice to have that work/life balance and the blogosphere has definitely helped me balance it all in the past four years that I have been more involved in it.
But the company I work for unites diverse communities to protect the environment and public health and make democracy work for all. I've been a community organizer in that doing a few different things including canvassing, event planning, and working with community groups to speak truth to power. It's a very thankless job. It's the kind of job that never really has a finish line. You just keep plugging away and moving the finish line. And after awhile the thing I liked most about the job became the thing that frustrated me. I felt like I was never going to win and that was just too hard after four years. After some personal struggles with my mental health this winter it became apparent that I needed to move on.
Enter a new opportunity. A friend of mine owns a start up called Interview Connections. It's a company that does online marketing and media with a specialization in podcasts and guest bookings. The company has been growing a lot in the past couple of years. Every time she is hiring she texts me and tells me I should come work for her. This time when she did I said tell me more. Well we talked more seriously and she ended up making a job just for me. I'll be doing the guest bookings, managing the staff, and planning training. I'm really excited for the new challenge and to work with my friend (and a few others who work for the company again).
2.) I'm Moving
Well part of why I had been reluctant in the past to work for my friend is that it would have meant moving. And like to a new apartment, no to three states away. But to be honest, I wanted to move but it was just too much work. So when I said yes I knew it required the move but I was ready for it.
For the past four years I have lived in Pittsburgh, Pennsylvania. I never expected to be here that long. I assumed that this would just be a few year stop before I went somewhere else. But somewhere along the way I started enjoying Pittsburgh. It's a really cool place. It's not the old industrial Pittsburgh that it used to be. And like a lot of Rust Belt cities there is a lot of focus on revitalizing through science and technology. Plus there's great restaurants and a pretty active arts scene with plenty of festivals, museums, and theater. In the time I have lived here I have also met some amazing people. I joined a book club and made some good friends with the ladies there who also love YA. Special thanks to Michelle from Pink Polka Dot Books who introduced me to the book club and has become a good friend. Also in my time here, my brother and then girlfriend, now wife, moved here. They had a baby about six months ago and I am so in love with that little girl who is my goddaughter. Needless to say, I had a lot of reasons to stay.
And yet I am moving back to Rhode Island. Just after college I moved to Providence, Rhode Island to work for Americorps. One of the first things I heard when I moved there is Rhode Island grows on you. And it definitely grew on me. I lived for six years in Providence and I loved it. In the four years I have lived here in Pittsburgh I have only been back twice and both times it made me realize how much I missed it. I missed the beaches and ocean breezes, I missed the history of the region, I missed the music scene, the food, the neighborhoods, the friends I made there. Rhode Island is the place where I felt like I fit in. It felt right. And so I am so excited to move back.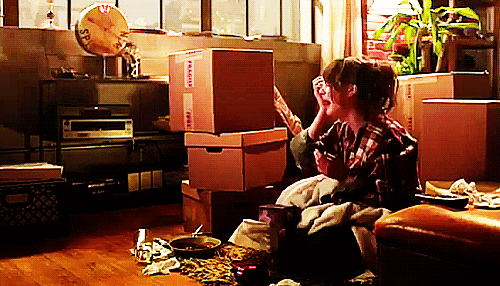 But.. moving is a lot of work. I have lived in the same apartment for four years and in that time I have accumulated a lot of stuff. Obviously a lot of books. I have five times as much books as I had when I first moved here. But also a lot of other stuff too. A lot of furniture, a lot of clothes, a lot of stuff. I've known I was moving for weeks and I still haven't done much packing. Mostly I have just been culling things from my life. Throwing stuff away, donating stuff, just getting rid of everything that I have collected all these years. But this weekend I spent a lot of time packing and I'm not even close to being ready to move.
I have to be out of my apartment by the end of the month so the next ten days there will be a lot of packing and cleaning. And then I will be spending two days loading up the truck and two days driving back there. My Dad is coming down from NY to drive the truck so I can drive my car which is super helpful. And I have hired movers when we get to RI so we don't have to unload anything. But then I have to unpack everything before I start my new job on the 4th.
So why am I telling you all of this? Well because there is so much work to do in the next two weeks that I am not sure how much time I will have to read. What that means is that I am also not sure how much time I will have to review books and post here on the blog. As much as I want to read in October I am going to have a lot going on in my life. So bear with me if I am not able to post five times a week like I usually like to. I have some posts planned already and a book I have not yet reviewed which comes out in October so I won't totally disappear, but still.
Okay, that is all I got. That is my life update for the time being. I will still be around and you can always tweet me. I hope to come back in the same way I was before but until I know for sure how everything will go with the new job I don't know. Thanks for stopping by and HAPPY READING!