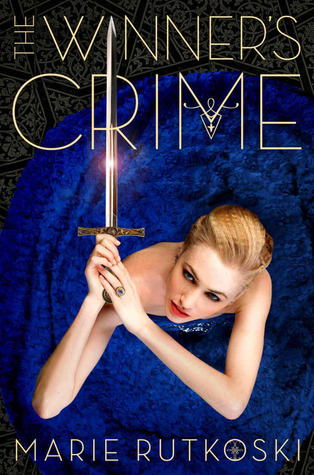 Title: The Winner's Crime
Series: The Winner's Trilogy
Author: Marie Rutkowski
Published: March 3, 2015 by Macmillan
(
Amazon
/
Goodreads
)
Synopsis: Book two of the dazzling Winner's Trilogy is a fight to the death as Kestrel risks betrayal of country for love.
The engagement of Lady Kestrel to Valoria's crown prince means one celebration after another. But to Kestrel it means living in a cage of her own making. As the wedding approaches, she aches to tell Arin the truth about her engagement…if she could only trust him. Yet can she even trust herself? For—unknown to Arin—Kestrel is becoming a skilled practitioner of deceit: an anonymous spy passing information to Herran, and close to uncovering a shocking secret.
As Arin enlists dangerous allies in the struggle to keep his country's freedom, he can't fight the suspicion that Kestrel knows more than she shows. In the end, it might not be a dagger in the dark that cuts him open, but the truth. And when that happens, Kestrel and Arin learn just how much their crimes will cost them
*** Warning: This is a sequel and it may contain spoilers for book one. If you haven't read The Winner's Curse, do that and then come back. ***
Yeah, I get it. I get why everyone loves this book, love this series. It's fabulous. I thoroughly enjoyed The Winner's Curse. It had a fantastic world, great character, and a captivating plot. The Winner's Crime was an incredible sequel. The world was bigger, the characters were better developed, and the plot was so engrossing.
In The Winner's Crime, Kestrel has to live with the consequences of the deal she made in the previous book. She's not doing a very good job at that, and for a lot of the book it feels like she's all alone. I could definitely empathize with her. But in true Kestrel fashion she never makes it so that I pity her. She begins plotting and scheming. But the great thing about the scheme here is that it's more of a long con, if you will. You know that the wheels are turning and that she is up to something but you don't really know what it is until the very end. There wasn't as much action in this one but that's okay. Despite a lack of thrilling action, it was never dull, because there was still tons of mystery. I felt like The Winner's Crime was full of subtle clues to foreshadowing and the characters were frequently eluding to the fact that they had something up their sleeve. It was so full of veiled threats and like Kestrel, it caused the wheels to turn in my head too. Plus it gave the book this amazingly mysterious atmosphere and tone. In the end everything built to a huge pay off and along the way there tons of interesting moments.
And perhaps the moments were so interesting because the stakes were higher and the world was bigger. I loved the world that Marie Rutkowski created in The Winner's Curse. It was refreshing in it's subtlety and interesting in it's depth. That sounds weird written down but it makes so much sense in my head. Most sequels tend to take you out of where the series began and into the larger world. The Winner's Crime was no exception. It took us out of Herran and into Valoria at large. We got to visit the capital of the empire and we also got to travel to the eastern portion of the world, who is still at war with the empire. But the great thing was is that it kept to the spirit of the world in the first book. Valoria is militaristic place that puts pride and control over people. Your choices are limited and you are forced to follow what society dictates for you, especially if you are not Valorian. Here we got to see that even more. The capital is a ruthless place and we really see how and why they have become so powerful. We once a gain get to see a well-rounded look at the concept of ancient wars and their aftermaths/ It was a great wrinkle to the idea of oppression and control that began in the first book. I loved learning more about the world in this series in The Winner's Crime.
I also loved learning more about characters in this series. The Winner's Crime introduced us to some amazing new secondary characters. Kestrel's betrothed Verex was so complex and sweet his father the emperor was sinister and devious. We also got to meet the ruling family in the east, who I hope we get to see again, especially Risha the kidnapped princess who is living at Valorian court. But with this series it's all about the main characters. I've already mentioned Kestrel and her personality. Seriously, I really love her. She's such a fantastic character and the perfect MC for this series. She's not your average strong female protagonist. She's tough but in a different sort of way. She's intelligent and scheming. In this book she also shows a tremendous amount of inner strength. The more we learn about her and the more time we get to know about her, the more well-rounded and interesting she becomes.Our other main character is Arin. I loved how multi-dimensional he was in the first book and while he was still fantastic and interesting and did develop more, I do think he lacked some of the depth he had in the first book. But what didn't lack depth was their romance. I seriously ship it now! I can't quite put my finger on what was different, but I seriously just wanted to smoosh their faces together here. Maybe because it combines some of my favorite kinds of romances. It's the perfect combination of "we shouldn't be together" with a "tortured love story" and it's all a wonderful slowburn.
And once again Marie Rutkowski proved how fantastic a writer she is. The book drew me in and her writing truly captivated. Her prose was gorgeous and the changing perspectives of Kestrel and Arin crafted a complex and interesting story. The pacing was slower but I was still able to fly right through it. Everything built to an amazing climax that left me just gutted! I need the finally book in the series immediately! It's just such a fantastic and engaging YA fantasy with a mysterious plot, a fascinating world, and great characters.
I give The Winner's Crime by Marie Rutkowski 9.5 out of 10 stars



Buy/Borrow/Bypass:

BUY!

This series keeps getting better. It is a must read for fans of YA fantasy. Or if you are a fan of YA Contemporary Romances check this book out and ease into the fantasy. It doesn't overwhelm you with the world and it's character-driven enough to appeal to a wide audience. Basically just read this book!