So I used to love spending my weekends at the beach! Sadly Pittsburgh has no beaches so I have to make do with a trip to a local water park. But the books and reading is the same, beach reads have a specific connotation. We all know what they are, usually fluffy contemporary romances or stories about summer which may even involve the beach. Here is my list of beach reads.
Books that I Recommend for Your Beach Bag.
1.) We Were Liars by E. Lockhart
Seriously, this book is brilliant. Most of it takes place at a beach house on a private island over the summer. It's not light and fluffy but it's short and wonderful! Trust me, would I lie to you?
2.) NIL by Lynne Matson
If you're looking for something not so fluffy, I recommend NIL. It's an amazing action and adventure story that takes place on a creepy deserted tropical island. It would be the perfect book to take to the beach with you, just avoid heat shimmers.
3.) The Sisterhood of the Traveling Pants by Ann Brashares
The quintessential summer read. I love this series so much as it captures so many first for teens but at it's heart it's about an amazing summer vacation and the friends you share it with even if you're far apart.
4.) Beauty Queens by Libba Bray
So yes this book is about a bunch of teenage pageant participants struggling to survive a plane crash on a tropical island. But it's also totally hilarious and much more about feminism than expected. The island setting and humor makes it a great beach read.
5.) One for the Money by Janet Evanovich.
I long ago gave up on this series but summer always meant a new Stephanie Plum book. These books are as hilarious and entertaining as it comes for a cozy mystery. If you have yet to read them, I recommend.
Books That May Find Their Way in to My Beach Bag
1.) All Lined Up by Cora Carmack
I have yet to try any New Adult but this sounds pretty great. It's been compared to Friday Night Lights, which I love. Plus it's a quick read and a steamy romance. Sounds like the perfect thing to read while relaxing on the beach for a day.
2.) The Things You Kiss Goodbye
This one I got at BEA and it's a contemporary where a girl falls for a cowboy. I know, I know it had me at cowboy too when I heard about it on Tea Time. I have heard it deals with some tough concepts but I love contemporary that can balance the light and heavy.
3.) Let's Get Lost by Adi Alsaid
A YA Contemp about road trips, helping your fellow man, and finding yourself along the way. It's been awhile since I read a "characters' different stories intertwine to make one connected story" kind of book, so I'm excited to pick this one up.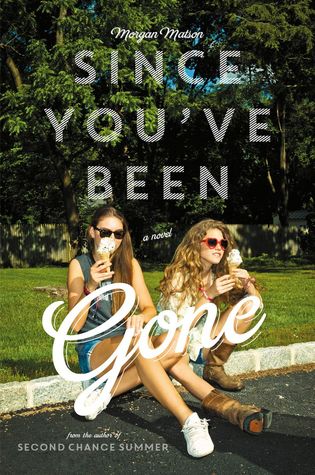 4.) Since You've Been Gone by Morgan Matson
A girl's best friend who helps her break out if her shell disappears before an epic summer and leaves a list of things to do to find her. I've heard great things about this and all the cliche summer things to do make it sound like the perfect beach read.
5.) Landline by Rainbow Rowell
As you may know I'm a big fan of Rainbow's books. Her last adult contemporary was my favorite and I'm so excited to read another one. She's so brilliant at balancing the light and heavy. Plus this book has a magic time-traveling phone!
What are your beach reads? Have you read any of these books? Leave me a comment with your thoughts and HAPPY READING!