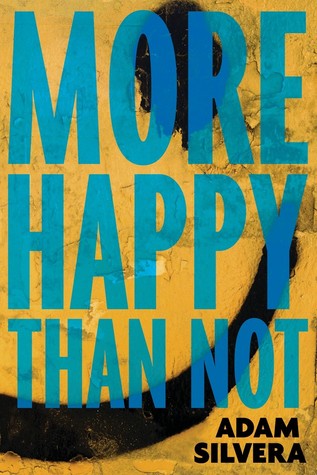 Title: More Happy Than Not


Author: Adam Silvera




Published: June 2, 2015 by Soho Teen


(Amazon / Goodreads)



Synopsis: The Leteo Institute's revolutionary memory-relief procedure seems too good to be true to Aaron Soto -- miracle cure-alls don't tend to pop up in the Bronx projects. But Aaron can't forget how he's grown up poor or how his friends aren't always there for him. Like after his father committed suicide in their one bedroom apartment. Aaron has the support of his patient girlfriend, if not necessarily his distant brother and overworked mother, but it's not enough.



Then Thomas shows up. He has a sweet movie-watching setup on his roof, and he doesn't mind Aaron's obsession with a popular fantasy series. There are nicknames, inside jokes. Most importantly, Thomas doesn't mind talking about Aaron's past. But Aaron's newfound happiness isn't welcome on his block. Since he's can't stay away from Thomas or suddenly stop being gay, Aaron must turn to Leteo to straighten himself out, even if it means forgetting who he is.

Adam Silvera's extraordinary debut novel offers a unique confrontation of race, class and sexuality during one charged near-future summer in the Bronx.
*** I received an advance copy of this book from the publisher at BEA in exchange for an honest review. This fact has not changed my opinion. ***
This is going to be absolute weirdest review I have ever written. I'm probably going to gush about the book and telling that everything that I liked about this book is why I didn't like it. Because that's exactly what I felt while reading this book. I have never hated a book I loved so much. But More Happy Than Not was a book that destroyed me. It's a beautiful and heart-breaking read that is begging to be read.
And when I say heartbreaking, I mean heartbreaking. There was a Top Ten Tuesday awhile ago about books that were "hard to read," this was an extremely hard to read. I have a complicated history with contemporary novels, for the longest time I thought that they weren't really my thing and I realized it was because I was reading the wrong books. And for me, this is the wrong book. I don't like sad books, I don't like books that are sad on purpose. I like my contemporary novels to be more lighthearted and fun. I love a good coming-of-age story but not a tearjerker. I have a few triggers when it comes to my books and this one hit both on the big ones for me. And because of this, I just didn't love this book in the way I think most people will. It just isn't my kind of book but it is a fantastic book that I would recommend. For me it was just hard to read.
One of the things that I liked about this book was one of the things that made it so hard to read and that is the characters that Adam created. They blossomed off the page and were lifelike and matched the grittiness of the book. The book is full of interesting and complex secondary characters. Many of them that I couldn't help but love and even more that I couldn't help but hate. In particular it was pretty easy to fall for the main character Aaron. He was a little quirky and nerdy, loving fantasy novels and comic books. But he's also trying to move on after a really hard time in his life, he's finding out who he is and who he wants to be. You can't help but want to see him figure it all out and finally find his happiness. His struggle is part of what made it so hard to read despite enjoying him and the other characters.
But that being there was a lot absolutely wonderful things about this book including Adam Silvera's writing. It was beautiful and tragic. The mood is dark and gritty with a plot to match. The writing keeps you thinking at the same time it leaves you emotionally raw and vulnerable. If you are looking for a book that is full of feels than look no further. But if you are also looking for a book that is expertly plotted you will find that here too. I wouldn't say there was a mystery here but there were at least a few twists that I know I should have seen coming but they caught me completely by surprise. And while things built to an interesting and engaging conclusion, it didn't leave me very satisfied.
For all these reasons and more I found More Happy Than Not a good read but not the book for me. The characters were interesting and realistic, the writing was beautiful and tragic, and it was expertly plotted.
I give More Happy Than Not by Adam Silver 8 out of 10 stars



Buy/Borrow/Bypass

: Buy/Borrow.

A must read for fans of contemporary novels. Especially if you like books that are sad on purpose. There is a lot to enjoy about this book it just isn't my kind of read but that being said I really did enjoy it. But be warned, it deals with some pretty serious issues.