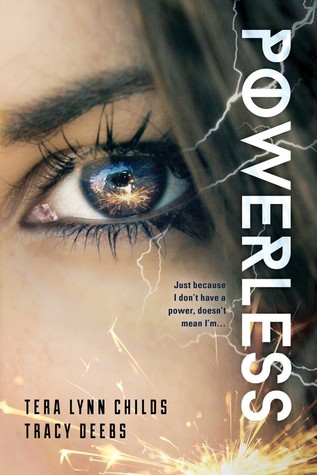 Title: Powerless


Series: The Hero Agenda #1




Author: Tera Lynn Childs and Tracey Deebs




Published: June 2, 2015 by Sourcebooks Fire


(Amazon / Goodreads)



Synopsis: Kenna is tired of being "normal". The only thing special about her is that she isn't special at all. Which is frustrating in a world of absolutes. Villains, like the one who killed her father, are bad. Heroes, like her mother and best friend, are good. And Kenna, unlike everyone else around her, is completely ordinary— which she hates.





She's secretly working on an experiment that will land her a place among the Heroes, but when a Villain saves her life during a break-in at her lab, Kenna discovers there's a whole lot of gray area when it comes to good and evil and who she can trust.. After all…not all strength comes from superpowers.
*** I received an advance copy of this book from the publisher (thanks Sourcebooks) via Netgalley in exchange for an honest review. This fact has not changed my opinion. ***
When I saw this book on Netgalley, I snatched it up almost immediately. This is a total "me-book." I love books about superheroes, magical systems based on superpowers, and when a book explores the idea of good and evil. Despite being a quick and somewhat basic read, it was not at all disappointing. It is all this and more. An interesting Young Adult Science Fiction novel with a thrilling plot and great characters.
One of the things that I liked about this book was the world that Childs and Deebs created. This is the start of a new series and like with a lot of first books, it had a very narrow focus. We don't get to see a lot of the larger rule and with things told from Kenna's focus we even see a very small part of that world. I didn't feel like I needed to see what things were like in the larger world but I would have liked to know more about the science behind what they were doing and researching. It was touched on a little bit but I would have liked some more specifics. But I did like the superpowers involved in this book. I love books that deal with superheroes and people with superpowers, it is my favorite kind of magical system. The authors here definitely created a system that is interesting and complex. Like all good power systems there was clear rules and each person has a specific power that is entirely their own. They are a hero or villain not based on their behaviors or attitudes but based on their power signature and their family.
Throughout the book we explore the world of superheroes and supervillains in a small but interesting way. We see things through the eyes of Kenna who's mother is a high ranking scientist on the side of the heroes so she's been led to believe that these are the good guys. But as the synopsis tells us, things are much more grey. This adds to all kinds of interesting themes of good and evil. I love books that walk the line between doing good things for the wrong reason or doing bad things for the right reason. This wasn't quite like that but like with a lot of superhero stories it dealt with the idea of whether or not power corrupts and if people are inherently good. Although it explored this concept and did it in a way that broke down the barriers of the character's perceived notions of good and bad, it did so in a very simple way. It didn't explore a lot about the motivations behind the actions of the antagonists or even really what they were doing that made them not purely good. This is the start of a series so I'm hoping that we get more of that as the series develops. It was a really interesting theme and one that I really enjoy in my books.
I also really enjoyed the characters on Powerless. I almost instantly fell in love with Kenna. She is without superpowers and surrounded by people who can do things like fly and move things with their minds but she never feels "powerless." She's smart, tough, and resourceful. She's my favorite kind of heroine because she isn't perfect or the toughest but she never gives up and she's easy to cheer on. The book is also full or complex and interesting secondary characters both "heroes" and "villains." Kenna starts working with a team of both types of people and it makes for all kinds of interesting banter. The team includes her best friend Rebel who I liked a lot and had my favorite power telekinesis. Rebel is the kind of person who lives in the world of grey and is tough and sassy. The heroes are rounded out with Jeremy, a technopath who hates villains but agrees to work with them. For the villians we have Rebel's boyfriend Dante who uses his wind power in an interesting and chaotic way but is really devoted to the people he loves, his cousin Draven who is full of secrets, and Nitro a quick-tempered villain who creates fire. I found the "heroes" to be much more well-rounded in their characterization except for Draven but they were all interesting and had some good character arcs throughout the book.
And Powerless also had some really great plotting. It wasn't particularly complex when it came to the plot development but it was very readable and engaging. It was definitely a really action-packed read. The kind of visual story that I can see making a great movie or TV show. It definitely read like that kind of big blockbuster type of story with thrilling action, narrow escapes, and surprising twists. And while the mystery and twists were not all that surprising they were well-plotted and really built to an interesting and engaging conclusion. I felt like each of the big reveals was well-timed and had It was a fast and fun read that I breezed through and really enjoyed.
I give Powerless by Tera Lynn Childs and Tracey Deebs 8.5 out of 10 stars



Buy/Borrow/Bypass:

Buy/Borrow.

A really fun and interesting read for fans of superhero stories or anyone who likes books that examine the idea of good and evil. It's a quick read and one that I definitely suggest picking up.

Have you read Powerless? What did you think? Leave me a comment with your thoughts. Thanks for stopping by and HAPPY READING!