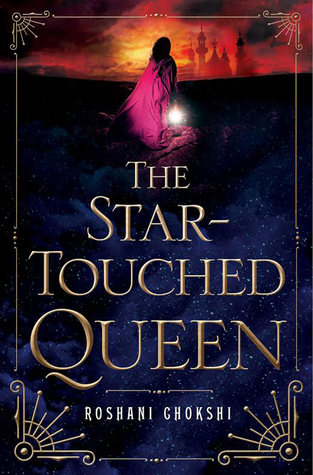 Title: The Star-Touched Queen


Written by: Roshani Chokshi




Published: April 26, 2016 by St Martin's Griffin (Macmillan




(

Amazon

/

Goodreads

)



Synopsis: Fate and fortune. Power and passion. What does it take to be the queen of a kingdom when you're only seventeen?



Maya is cursed. With a horoscope that promises a marriage of death and destruction, she has earned only the scorn and fear of her father's kingdom. Content to follow more scholarly pursuits, her whole world is torn apart when her father, the Raja, arranges a wedding of political convenience to quell outside rebellions. Soon Maya becomes the queen of Akaran and wife of Amar. Neither roles are what she expected: As Akaran's queen, she finds her voice and power. As Amar's wife, she finds something else entirely: Compassion. Protection. Desire…





But Akaran has its own secrets—thousands of locked doors, gardens of glass, and a tree that bears memories instead of fruit. Soon, Maya suspects her life is in danger. Yet who, besides her husband, can she trust? With the fate of the human and Otherworldly realms hanging in the balance, Maya must unravel an ancient mystery that spans reincarnated lives to save those she loves the most…including herself.

*** I received an advance copy of this book from the publisher in exchange for an honest review. This fact has not changed my opinion. ***

I was so excited to read The Star-Touched Queen. It was one of my most anticipated debuts of 2016. But I think the dreaded hype monster struck me on this one. Either that or it was a case of poor timing (reading anything before and after The Raven King was going to be problematic). Now don't get me wrong, I liked The Star-Touched Queen it just didn't blow me away.

One thing I did love about this book is the world-building. It's a beautiful and descriptive fantasy world that is essentially a love letter to fantasy worlds. There is so much to explore in the beginning of this book and I was absolutely loving being able to do just that. I'm always looking for fantasies with different kinds of worlds and inspirations which is what I found here. It effortlessly combined traditional fantasy elements with mythology. especially Indian, to make something unique and fascinating. And while there is so much to explore it never felt overwhelming, full of unimportant details, or with info dumps. It was just there to experience. Even some of the language and stories lifted from Indian culture while a bit confusing at times just worked to establish and interesting and immersive world. I'm not usually a big fan of the exposition portion of a book but here I loved it. It was all full of magic and wonder.

It was in the beginning portion of the book too that there was also plenty of mystery and intrigue that kept me reading then suddenly the entire tone and setting of the book changed. It was in the second half that I think more of the plot development started kicking in. Now normally this would have been the part where I would start loving it but it felt jarring and sudden to me. It kind of made things confusing and the plot feel a little disjointed. It honestly felt like two separate books, a before and an after. At some points there was a lot of different storylines working together and I think it muddied the waters for me a little bit. I understand that we were slowly getting reveals that would unfold the larger plot and lead to the conclusion but it was like I had to learn things all over again and then I slowly started losing interest.

But I also think that part of my losing interest in the plot towards the middle had to do with the romance. I wasn't exactly loving the relationship. This is supposed to be based on the Hades and Persephone myth which I'm pretty familiar with and have seen done to some degree a few times. It's similar to the Beauty and the Beast story which as you may know, is not my favorite. It has to be done really well for me to get on board. I wouldn't necessarily call it instalove because reasons but I didn't really feel it in the way I do for more slowburn romances. I honestly think I just didn't feel the chemistry in the beginning so it made it harder later in the book. Not liking the romance is nothing new for me but I just didn't feel the connection between the characters and so when there was a desire from the MC to succeed in a romantic capacity I just wast invested.

But in the end I did really like many of the characters. I thought Maya was fantastic and I liked her development throughout the book. I especially liked her when it came to taking control of her life and her decisions. She was not treated very well and after spending so long walking on egg shells and doing what other people wanted. it was nice to see her take on that responsibility for herself. And I loved that she was so caring and compassionate in the face of it all. She was a really well-rounded and likeable MC with great character development. I also really liked Kamala, the talking demon horse who wanted to eat Maya and then grows to be her friend. And the villain of this book was great as well but when they finally came into the story it seemed a little out of the blue. I honestly would have liked more with the antagonist in the first half and less with Amar. Amar was fine but I didn't feel the chemistry with him and I think he came off a little bland for me. Honestly more establishment and character development of Amar would have been nice. Maya was very much the focus of the book which was good but at times I would have liked more from those secondary characters.

On the whole this was a good read but it didn't blow me away like I had hoped. But I think that may have been just been bad timing. It's got a great world and great characters but I just didn't connect with the plot and the pacing made my interest wane towards the end.

Buy/Borrow/Bypass:

Borrow/Buy

. I think this is a book I would recommend to fantasy fans. I would especially recommend it if you love lush and descriptive world building and you are looking for fantasy with a more of a romance element like A Court of Thorns and Roses. But if you are looking for a more action-packed fantasy then maybe this isn't for you.

Have you read The Star-Touched Queen? What did you think? Leave me a comment with your thoughts. Thanks for stopping by and HAPPY READING!