On Rereads is a monthly feature on My Thoughts Lit where I talk about the books I reread during the month. It's an opportunity to share some new thoughts on a book I read before and usually to prepare for a new release. For the foreseeable future I plan to do one reread a month so I want to share my thoughts on these books the second time around.
I usually try to do a few rereads a month to prepare for upcoming sequels. I had four on my list for May but I honestly only got to half of them. I'm still trying to decide if I want to push the ones I didn't read to June or to just say
The Wrath and the Dawn by Renee Ahdieh
(
Amazon
/
Goodreads
/
Audible
/
My Review
)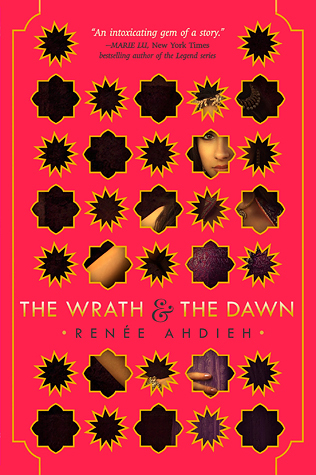 I loved this book when I read it last year. I was so impressed by the world, the plot, and especially the characters. I fell helplessly in love with Shazi, adored Khalid, and totally ship them. I was excited for the sequel, The Rose and the Dagger, to come out so I decided to reread this one to refresh my memory.
And boy did I need a refresher. This was, I think, the first book I read that was set in a high fantasy world inspired by the Middle East with magic that slowly came into the book but it wasn't the last. They all tend to blend together after awhile and so I needed to be reminded of the plot of the book. I honestly forgot so much. Well except how amazing Shazi is, that I remembered. And I loved the story again. Even though I knew how it would go, I still felt like the stakes were high and there was a lot of exciting moments.
But that being said, I didn't love the audio for this one. I have such a hard time with certain female narrators and what I assume is the way that they try and create atmosphere. The narrator here was one of the examples of what I don't like. She was just entirely too breathy for me and I even speeding it up didn't help much.
But I am really glad that I reread it. It was a great refresher for the series and I was able to dive right into The Rose and the Dagger knowing what had led to that point.
The Sin Eater's Daughter by Melinda Salisbury
(
Amazon
/
Goodreads
/
Audible
/
My Review
)
Hilariously, so this is going to be the total opposite of what I said above. Well except for this first point. I absolutely loved this book when I read it originally. I have it 10 stars and it actually pulled me out of a reading slump when I read it last winter. So with the sequel/companion coming out at the end of this month I was excited to reread it.
And yes, I do still like the story but I think this is a case where I should not have reread. For one thing, I remembered a lot of details about this book. It's not a super complex story. The main plot is about the character learning about the way things really are and then there is a bit at the end that will set up future books. One of the things I liked about this book this the first time was the mystery and the big reveals. Not having that here kind of made the story not as exciting.
There is also a lot of world-building. Like a lot, a lot. The first time around I really liked the way that this book combined religion, history, and politics to create a complex and engaging world. But this time I just wanted the plot to kick in. It just felt like a lot of exposition. It may have just been a case of timing. Good timing the first time around and bad timing this time around.
But despite the fact that I did like the audio. I felt like the narration did a good job of setting the tone of the story. There was a lot of mystery and confusion with it and the internal conflict of the characters were evident in their thoughts and manner of speech. If you are reading this for the first time and are a fan of audiobooks I would recommend this one.
Have you read the The Wrath and the Dawn or The Sin Eater's Daughter? Did you reread in preparation for their sequels? Have you done any rereads lately? What books? Do you like doing rereads or not? Tell me why. Thanks for stopping by and HAPPY READING!