Read in September: Historical Mystery
Another good month, although not as good as last month. Although honestly I don't think I could do better than last month. But with everything else going on in my life I think it's pretty good. In September I read a total of 14 books. There were a lot of audiobooks and two were comics, but still. A great reading month which is especially good because it was a super busy month for me. October will also be just as busy probably as I just moved and am now getting settled in Rhode Island. Anyway, as far as the books go I read some really good books this month. I really enjoyed a lot of the books I read, which is so good because I was super looking forward to many of them.
For challenges, I am doing okay but not as well as I would hope on some of the individual challenges. I lowered my Goodreads goal to 100 books for the year and that was a really good decision because I completed it this month. I raised it to 120 but may raise it to 150 which is what my original goal for the year. But we'll see how I feel at the end of the month when I hopefully finished that goal. But I like being ahead of that challenge and I feel much better about meeting my goals. I am also on track for the
Debut Author Challenge
of 25 debuts. This month I only read 1 debut, making my total for the year 19. If I make sure to read a few during the next two months I will definitely meet that goal for the year. For the
Netgalley/Edelweiss Challenge
, I read 4 books this months which makes my total 30 for the year. I'm thinking the 36 target is still doable as all I'll have to do is read 2 a month until the end of the year. For the
Rock My TBR Challenge
I read 1 book for that this month towards my goal of 25 for the year bringing my totally up to 12 for the year. I'm definitely behind on this one but I might be able to meet the actual challenge goal of 15. And finally, I did 1 post for the
Discussion Challenge
, making my total 10 for the year which is on track for my goal of 12.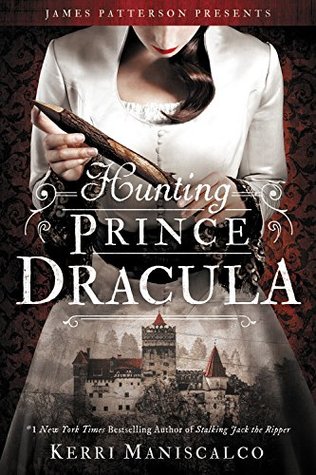 1.)
The Dreadful Tale of Prosper Redding
by Alexandra Bracken
Rating: 8 out of 10 [
My Review
]
2.) Prudence by Gail Carriger
Rating: 9 out of 10 [
My Review
]
3.) Warcross by Marie Lu
Rating 8 out of 10 [
My Review
]
4.) Odd and True by Cat Winters
Rating: 9 out of 10 [
My Review
]
6.)
Godsgrave
by Jay Kristoff
Rating: 9.5 out of 10
[
My Review
]
7.) Hunting Prince Dracula by Kerri Maniscalco
Rating: 9.5 out of 10 stars [
My Review
]
8.) Tower of Dawn by Sarah J. Maas
Rating: 9 out of 10 [
My Review
]
9.) Runaways, Vol. 4: True Believers by Brian K. Vaughn
and Adrian Alphona
Rating: 8 out of 10
10.) The Hanging Girl by Eileen Cool
Rating: 8.5 out of 10 [
My Review
]
11.) Speak Easy Speak Love by McKelle George
Rating: 8.5 out of 10 stars [
My Review
]
12.) 13 Minutes by Sara Pinborough
Rating: 9 out of 10 [
My Review
]
13.) Jane Unlimited by Kristen Cashore
Rating: 9 out of 10 [Review to Come]
14.) There's Someone Inside Your House by Stephanie Perkins
Rating: 9 out of 10 [Review to Come]
To Be Read in October: Magical Realism
I am so excited for this month's theme. I've been really enjoying Magical Realism these days and I'm so excited to read some more this month. Plus there are going to be some super exciting debuts and some highly anticipated reads by favorite authors and some that I have heard really good things about. I hope it's going to be another good month.
The Memory Trees by Kali Wallace
-
Add to Goodreads
I'm part of the blog tour for this book and am super excited to read it. It sounds like a total me book. It fits better with last month's theme but I'm reading it this month so whatevs.
All the Crooked Saints by Maggie Steifvater -
Add to Goodreads
I love Maggie. I have loved all her books that I have read. I'm excited for her next book and to see her take on Magical Realism. Based on The Raven Boys I assume it is going to be good.
The Knowing by Sharon Cameron
-
Add to Goodreads
I LOVED The Forgetting and I am super pumped that there is another book in this series. I can't wait to read this one and found out what happens to this world in the future.
Shadowhouse Fall by Daniel Jose Older
-
Add to Goodreads
I continue to keep this book on my TBR list to remind myself to read it. I loved the first book but I still haven't read this one.
The Wicker King
by J. Acrum
-
Add to Goodreads
This is another perfect read for the Halloween season. It sounds really interesting and I know a few people who have read it and loved it.
Before the Devil Breaks You by Libba Bray
-
Add to Goodreads
I am so excited about this book. I have been waiting for two years for the next book in The Diviners series. This book is out tomorrow and I can't wait for my copy to arrive.
The Book of Dust: La Belle Sauvage by Phillip Pullman
-
Add to Goodreads
I am a huge fan of the His Dark Materials series and was over the mood to find out that there were more books coming out. I can't wait to read this one.
Imprudence by Gail Carriger
-
Add to Goodreads
I read Prudence last month and meant to read Imprudence but never got a chance to read it. I don't have any backlist books in mind for this month so hopefully I can read Imprudence.
There you have it. Some of the books I hope to read in October. As always, these are subject to change. I may read all of these or I may only read a few and then read a bunch of different ones. But honestly I think this list I can stick to. Thanks for stopping by and HAPPY READING!