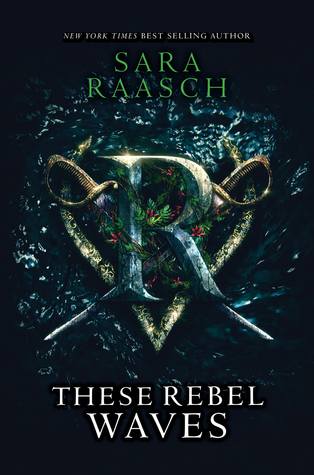 Title: These Rebel Waves
Series: Stream Riders #1
Author: Sara Raasch
Amazon
/
Goodreads
Synopsis:Adeluna is a soldier. Five years ago, she helped the magic-rich island of Grace Loray overthrow its oppressor, Argrid, a country ruled by religion. But adjusting to postwar life has not been easy. When an Argridian delegate vanishes during peace talks with Grace Loray's new Council, Argrid demands brutal justice—but Lu suspects something more dangerous is at work.
Devereux is a pirate. As one of the outlaws called stream raiders who run rampant on Grace Loray, he pirates the island's magic plants and sells them on the black market. But after Argrid accuses raiders of the diplomat's abduction, Vex becomes a target. An expert navigator, he agrees to help Lu find the Argridian—but the truth they uncover could be deadlier than any war.
Benat is a heretic. The crown prince of Argrid, he harbors a secret obsession with Grace Loray's forbidden magic. When Ben's father, the king, gives him the shocking task of reversing Argrid's fear of magic, Ben has to decide if one prince can change a devout country—or if he's building his own pyre.
As conspiracies arise, Lu, Vex, and Ben will have to decide who they really are . . . and what they are willing to become for peace.
Guest Post:
I asked Sara how real life pirates inspired These Rebel Waves. Here are her answers.
One book in particular ignited the pirate-inspired raiders that wreak havoc in THESE REBEL WAVES: Colin Woodard's THE REPUBLIC OF PIRATES. It details the Golden Age of Piracy in the Caribbean and the various players that made it such a sordid time—namely, one deliciously enticing pirate named Samuel "Black Sam" Bellamy.
His career as a pirate captain lasted less than a year (and he died at the age of 28), but in that time, he captured/raided more than 50 ships. He was way nicer than most of his fellows and deigned to show *gasp* mercy to the crews of ships he captured. His own crew loved him; he earned a reputation for being the Robin Hood of the Sea. There's way more to his life and death, of course, but reading about Black Sam stuck him firmly in my brain. What sort of person must he have been, to be successful and merciful in an industry that required ruthlessness?
Black Sam stayed in the back of my head as I worked out the characters in THESE REBEL WAVES, particularly with my pirate POV character, Devereux "Vex" Bell. His name is even a homage to Black Sam Bellamy, a tribute to the real life pirate who was such an appetizingly enticing figure.
Sara Raasch has known she was destined for bookish things since the age of five, when her friends had a lemonade stand and she tagged along to sell her hand-drawn picture books too. Not much has changed since then — her friends still cock concerned eyebrows when she attempts to draw things and her enthusiasm for the written word still drives her to extreme measures. Her NYTimes bestselling SNOW LIKE ASHES trilogy is available now and her upcoming pirate fantasy, THESE REBEL WAVES, releases August 7, 2018. None of those feature her hand-drawn pictures.
Buy the SNOW LIKE ASHES trilogy now and preorder THESE REBEL WAVES!
http://sararaasch.tumblr.com/books
Website:
http://sararaasch.tumblr.com
Twitter:
https://twitter.com/seesarawrite
Facebook:
https://www.facebook.com/pages/Snow-Like-Ashes/463392000376989
Pinterest:
http://www.pinterest.com/seesarawrite/
Goodreads:
https://www.goodreads.com/author/show/6947727.Sara_Raasch
YouTube:
https://www.youtube.com/user/sararaasch
Alright everyone, I hope you enjoyed that little peak into some of the inspiration for These Rebel Waves. Definitely check out the book. I've been reading it all week and I'm really enjoying it. Come back on Monday for more of my thoughts. Thanks for stopping by and HAPPY READING!