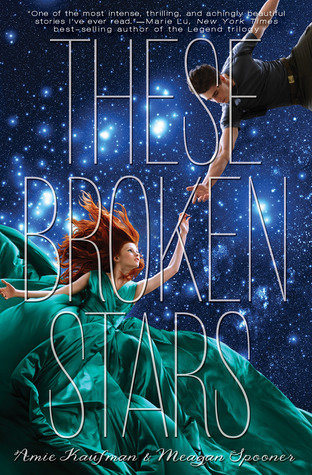 1.) These Broken Stars by Aime Kaufman and Meagan Spooner - is there anyone who isn't absolutely in love with this cover? The background, those colors, that dress. Totally gorgeous. When I saw that this was the question, this was the first cover that came to mind.
2.) The Luxe series by Anna Godbersen- I've said it before and I'll say it again I'm a sucker for a girl in a pretty dress cover. The cover for The Luxe caught my eye across the bookstore years ago and I picked it and loved it. Throughout the series the dresses on the cover get progressively better just as the series does! My personal favorite is Splendor because it's purple.
3.) Across the Universe by Beth Revis - Another gorgeous cover with stars in the background and the colors are fantastic! I also love the disembodied kissing faces which from afar look like a canyon, or something other than faces. I got a hardcover of this book from thriftbooks.com which is awesome and cheap but it didn't come with the dust jacket. I was pissed! That is the best part of this book!
4.) NIL by Lynne Matson - I love a good beach scene. Much of my actual art is beach scenes. On top of the gorgeous tropical scene there is an ominousness about this cover. The colors are bright and monochromatic, the water in the foreground looks like it's moving, and tagline on the cover is amazing! It's absolutely love it and I love this book as well.
5.) Miss Peregrine's School for Peculiar Children by Ransom Riggs - The photograph that is used on the cover of this book is totally gorgeous, totally creepy, and I totally dig it! I would definitely frame it and hang it on my wall, but not in a pace where I can see it at night, that'd be too creepy!
6.) The Magicians - This is another fantastic series with fantastic covers. I love the simplicity of the first cover. The spooky looking tree with the dingy looking landscape. I find the contrast of the brightness of the green and the grey background so gorgeous!
7.) The Swan Thieves by Elizabeth Kostova - I mean this is kind of cheating because the cover is based on an actual painting but it's still gorgeous and ominous. I would put this painting on my wall and so I would also put this book cover.
8.) Out of Oz - I have always had an unexplained attraction to this book cover. First of all I love the teal, second I love the vines crawling up the statues, but under that beautiful dust jacket is an even more gorgeous illustration that looks like a woodcut. It is the most beautifully undressed book I have ever seen! Check it out undressed
HERE
9.) No Place to Fall by Jayne Robin Brown - I recently saw the cover for this book which is to be released later this year and totally fell in love. I mean we all know I love maps. I've said many times that I would love to wallpaper my apartment with maps. Obviously I had to pick a book for this question.
10.) Sisters Red by Jackson Pearce - the colorful and interesting illustration of this book is totally gorgeous! Can we talk about how there are two images going on here, the wolf and the image of the two girls? Can we talk about how long it took me to realize that?
What books would you frame as art to hang on your walls? Leave me a comment with your favorite book covers. Thanks for stopping by and HAPPY READING!