1.)
The Sisterhood of the Traveling Pants
by Ann Brashares
An obvious choice but I'm a big fan of this series and its four protagonists and their coming of age story. Through the good and the bad these friends are there for each other. Tibby, Bridget, Lena, and Carmen may fight and grow apart from time to time but they love and support one another as best friends forever.
2.)
Attachments
by Rainbow Rowell
At the heart of this book is the friendship between Jennifer and Beth who we only meet through their emails. Their relationship is so genuine and realistic however it made me want to be their friend. This book reminded me so much of actual conversations I've had with friends it's not even funny! I mean it is funny, it's very funny actually.
3.)
The Darkest Mind
s by Alexandra Bracken
Three words: Liam and Chubs. I ship Liam and Chubs, that's for damn sure. No, not in the romantic sense (though it wouldn't surprise me), just as friends. These two have been through so much together and they have helped one another through it all. Plus the group on the whole is a great group of friends. This book is full of delightful friendships!
4.)
Ready Player One
by Ernest Cline
Amid a phenomenal world and an action-packed plot there is a great story of friendship, but it's not your normal friendship. It's friendship that begins online. There's this huge theme in this book about your IRL self vs. your online self and at the heart of that issue is the friendship of the characters. As I prepare to meet some fellow bloggers at BEA I can relate.
5.)
No One Else Can Have You
by Kathleen Hale
If you've read this book it may surprise you being on this list, but for me I loved the underlying theme of friendship and finding that one person who gets you for you. This book was pretty realistic in it's view of friendship that it reminded me of my friends. Sometimes it's not all puppies and rainbows, it can be backhanded compliments and tough love but that's okay.
6.)
A Great and Terrible Beauty
by Libba Bray
Sure it's a book about magic, but the core of this coming of age story is the relationship between four girls who are trying to figure out who they are and who they want to be in a world that's changing. Through it all they have one another for guidance and support. I love the friendships in this book, especially between Ann and Gemma, though Felicity and Pippa are a close second.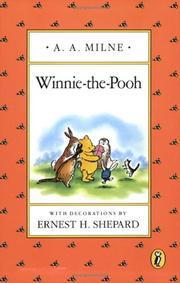 7.)
Winnie the Pooh
by A.A. Milne
Okay, so confession time, I loved Winnie the Pooh as a child. I wished I could live in the 100 Acre Wood. I was totally jealous of Christopher Robin and his friends. These characters are all so delightful and friendly and they went on exciting adventures and.... OH HOW I WANTED TO JOIN THEM!
8.)
The Perks of Being A Wallflower
by Stephen Chbosky
Charlie is a shy and awkward dude having a tough time in high school but he has Sam, Patrick, and some great friends to help him through it all. The way that they support one another and help Charlie break out of his shell and cope is so amazing it makes me feel feels!
9.)
The Heart is a Lonely Hunter
by Carson McCullers
I mean sure, this book is super depressing and made me ugly cry in public but it also is a hauntingly poetic narrative about the struggle to find human connection and someone to talk to. Isn't that what we're all searching for in a friend?
10.)
The Harry Potter series
by JK Rowling
Ron and Hermione were by Harry's side no matter what, no questions asked (well Hermione probably asked questions, but you know what I mean). They were such good friends that they even quit school and traveled all over the country to hunt down these objects they knew almost nothing about. They risked their lives countless times for Harry and never thought twice about it. They were incredible friends and definitely the two people I would want by my side in a battle against evil!
What are your favorite books about friendship? Leave me a comment with your thoughts. Thanks for stopping by and HAPPY READING!