Thanks to the very sweet
Marly at Flyleaf Review
for tagging me! I thought about filming a video version but I'm slightly behind on my reviews for the month so I thought this would be the perfect post!
How do you keep track of your TBR pile?
Not very well! I have a
"to-read" shelf on Goodreads
but I very rarely update it. I also have a Amazon wishlist that I am even worse at updating. I do plan out the books that I am going to read on my blog including review copies and I do this via an excel spreadsheet. I pull the pile and then it'll sit on my bookshelf to remind me what's next. And then of course there is my actual bookshelf. But mostly I just have a lot of different ways that I use very poorly.
Is your TBR mostly print or ebook?
I would say mostly print. I only recently decided I didn't hate e-books and I definitely prefer print books, I read them so much faster and as a slow reader that's a plus. And these days e-books aren't even that much cheaper so when I'm buying books I'd rather grab a paperback. I do have a handful of e-books that I picked up when they had good deals and I have some e-ARCs but I'd still say it's mostly print books.
My October TBR Stack
How do you determine which book from your TBR to read next?
This is a difficult question because at any given time I'm usually reading around 3 different books. I'll have and e-ARC which I decide based on release date, then a print book which is usually part of a series, and an audiobook. Plus on weekends I try to knock out a whole book. Plus because I do themed months on the blog, what I am going to read next revolves around that. I will say I usually pick the theme for the month based on ARCs I have or books I want to read that are coming out that month, or a particular holiday that occurs.
A book that's been on your TBR list the longest?
In terms of on a list that I have never bought?
In the Woods by Tana French
. Strangely enough I actually have the second book in this series but not the first which is why I haven't picked it up. In terms of a book that I've wanted to read for a long time probably
As I Lay Dying by William Faulkner
which most of my friends in HS read in AP English and I didn't.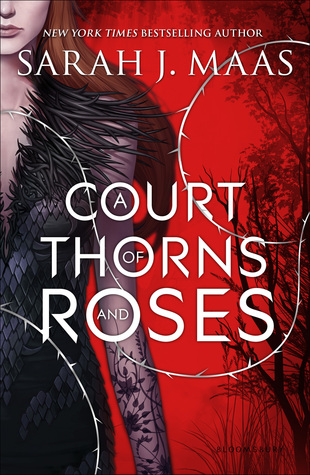 A book that you recently added to your TBR pile?
The most recent addition to my TBR shelf on Goodreads was
A Court of Thorns and Roses by Sarah J. Maas.
The cover was just revealed and it is so so pretty! It reminds me of that dress Sansa wore in the most recent season of Game of Thrones, you know the dress #TeamSansa! Anyway it is also a retelling of Beauty and the Beast which incorporates fairy lore. And if Heir of Fire is any indication Sarah J. Maas know how to write about badass fairies!
A book on your TBR strictly because of its beautiful cover:
I wouldn't say that it's strictly because of it's cover because the premise does sound good but I was definitely attracted to it because of the pretty pretty cover and that it
Tangled Webs by Lee Bross
. It's just so pretty with the black background that kind of looks like leather and the bright pink lace that has designs and the text inside of it.
A book on your TBR that you NEVER plan on actually reading:
Eat, Pray Love by Elizabeth Gilbert
. I think I added it to my Goodreads shelf when it was super trendy because the movie had come out. And despite liking memoirs I'm not a big fan of non-fiction and I am an even less fan of books about travel, I think it makes me jealous, but also bored.
An unpublished book on your TBR that you're excited for:
SO MANY! Seriously 2015 is full of amazing sounding books that I need in my life! I'm going to go with
Firefight by Brandon Sanderson
. For one reason it's Sanderson, he's flawless. But it's also the second book in The Reckoners trilogy and I LOVED the first book in this series. I WANT IT SO BAD! But also
A book on your TBR that basically everyone has read except you:
The
Winner's Curse by Marie Rutkowski
. I know I saw a few people include this on their list of series they want to start but it's one of those books that I feel like most people in the blogosphere have read. Recently I have been seeing a lot about the second book in the trilogy and it reminded me that basically everyone besides me has read this book!
A book on your TBR that everyone recommends to you:
Probably
The Book Thief by Marcus Zusak
. My brother who rarely reads fiction and almost never reads YA has read this! Plus I love Historical Fiction but I'm not usually a big fan of books set during World War II. Everyone raves about this book so I should really get around to reading it.
A book on your TBR that you're dying to read:
The Young Elites by Marie Lu
. I have heard mostly rave reviews about this one and I'm really really excited to read it next month when I do a freebie theme. It's going to be my second read after I finish
In the Afterlight by Alexandra Bracken
which came out yesterday and I'm really excited about, so I am going to include it too. I'm so curious about what is going to happen to Ruby and everyone else!
The number of books on your Goodreads TBR shelf?
Currently it has 100 but it is about to get a lot more. I used to just use it for books I wanted to buy or pick up but now I'm going to add books I already have and need to read and even books I want to read that I haven't added. So sorry for the spam if you're my friend on Goodreads!
So now I have to tag people, right?
Stephanie at
Her Reviews
Jessie at
Jessie Reads Everything
Brittany at
Please Feed the Bookworm
Elizabeth at
Book YAbber
What's on your TBR list? Do we have any books in common? Are there any on my list you think I should read sooner rather than later? Leave me a comment with your thoughts. Thanks for stopping by and HAPPY READING!