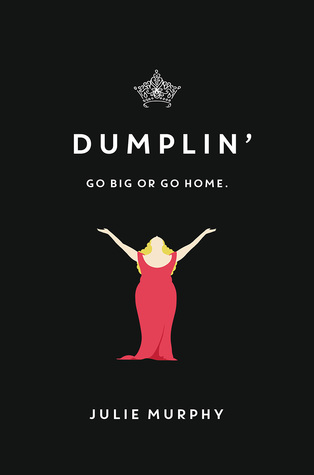 Title: Dumplin


Author: Julie Murphy




Published: September 15, 2015 by Balthazar & Bray (HarperCollins)


(Amazon / Goodreads)

Synopsis: Self-proclaimed fat girl Willowdean Dickson (dubbed "Dumplin'" by her former beauty queen mom) has always been at home in her own skin. Her thoughts on having the ultimate bikini body? Put a bikini on your body. With her all-American beauty best friend, Ellen, by her side, things have always worked . . . until Will takes a job at Harpy's, the local fast-food joint. There she meets Private School Bo, a hot former jock. Will isn't surprised to find herself attracted to Bo. But she is surprised when he seems to like her back.

Instead of finding new heights of self-assurance in her relationship with Bo, Will starts to doubt herself. So she sets out to take back her confidence by doing the most horrifying thing she can imagine: entering the Miss Clover City beauty pageant—along with several other unlikely candidates—to show the world that she deserves to be up there as much as any twiggy girl does. Along the way, she'll shock the hell out of Clover City—and maybe herself most of all.

With starry Texas nights, red candy suckers, Dolly Parton songs, and a wildly unforgettable heroine— Dumplin' is guaranteed to steal your heart
**** I received an advance copy of this book from the publisher in exchange for an honest review. This fact has not changed my opinion. ****
This book was everything I wanted it to be and more. I'm not a huge fan of YA contemporaries but Julie Murphy has yet to disappoint me. I really enjoyed her debut
Side Effects May Vary
, which I found to be a complex and creative story. And that is how Dumplin' was as well. It hit all the right notes for me. From the complex but likable heroine, to the relationships, to the plot development, it was all brilliant.
For one thing, Willowdean is the most perfect heroine and one that we need to see more of in YA. She totally breaks the mold and I mean that in more ways than one. She is a self-proclaimed fat girl who generally loves herself despite not being what others see as beautiful. As a plus size woman myself I could totally relate to Willowdean. It's not often to see a young woman like that take the starring role and do it in such an honest and relateable way. Because despite a sassy attitude and a lot of bravado she's still vulnerable and trying to figure out who she is and who she wants to be both physically and emotionally. She makes mistakes and is vulnerable just as often as she is confident. It was fantastic. A lot of this book is about body image and I love that Julie didn't shy away from those insecurities with Willowdean. It made her a much more complex heroine that you could really empathize with. My sincerest hope is that young women reading this book can relate to the character and see themselves mirrored in the struggle and that Willowdean be a motivating force of self-love. I know she will be for me.
I also really loved the relationships in Dumplin'. First and foremost, the friendships. When we first meet Willowdean she has her best friend Ellen who she does everything with. But throughout the book their relationship hits some bumps. I found it really refreshing to see them kind of fight and drift apart but ultimately come back together. It wasn't perfect but it was so real. Same thing with the new friends she made. They were such a fun group of misfits and seeing them interact was amazing. Julie also did a great job with the familial relationship. There is a lot of criticism in YA about the absent part. For Willowdean her mom was around but they didn't have a great relationship. It too felt very real to see them fight but you could also tell there was a lot of love there. And finally, there was the romance. Julie Murphy knows how to do love triangles right (although you could argue that this wasn't a serious triangle). She provided Willowdean with two amazing and sweet guys who liked her the way she is and it made deciding between them all the more difficult. Every single relationship in this book felt so realistic and honest.
But what is so brilliant about this book is that it effortlessly walks the line between lighthearted humor and serious commentary on society. It dealt with some heavy topics like bullying and body image, and it did it in a way that made you think. I mentioned this a bit when I was talking about Willowdean but there is a fantastic theme throughout this book about self-love. It's a really poignant and empowering story in that way. Julie doesn't shy away for those hard topics and the truth that we all have moments where we don't love ourselves because maybe we are comparing ourselves to others but in the end, you being different is what makes you special. Wow, I sound like an after school special (a term that has me showing my age) but it's true. The themes and sentiments throughout Dumplin' do feel that poignant but they're not overdone and schmaltzy. But it also was a funny and sometimes silly look at high school and beauty pageants. It perfectly walked that line between lighthearted and serious.

On the whole this was a brilliant and adorable read. My only criticism is that I felt like the ending was just a little too rushed. It felt like everything was really building towards the pageant and I felt like it was over a little too quickly. But that may have just been my feelings as a reader who prefers more of a plot-driven storyline. There is sort of two different plot points but they flowed together really well. It's a pretty character-driven story but it was still really well-paced and was a pretty fast read for me. I honestly stayed up way too late reading a few days and when I was finished I wanted to start it all over again because it is seriously that good.

Buy/Borrow/Bypass

: BUY!

This is a must read for all fans of YA or anyone looking for a unique story with a strong female protagonist that isn't like your average heroine. If you are a fan of contemporaries or you're just looking for something different pick this book up and fall in love with Willowdean Dickson.

Have you read Dumplin? What did you think? Leave me a comment with your thoughts. Thanks for stopping by and HAPPY READING!