A weekly meme hosted by
Breaking the Spine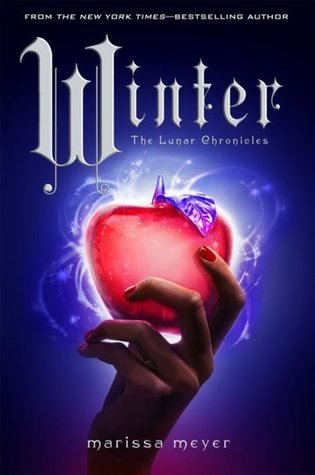 Title: Winter
Series: The Lunar Chronicles #4
Published: November 10, 2015 by Macmillan
Synopsis: Princess Winter is admired by the Lunar people for her grace and kindness, and despite the scars that mar her face, her beauty is said to be even more breathtaking than that of her stepmother, Queen Levana.
Winter despises her stepmother, and knows Levana won't approve of her feelings for her childhood friend–the handsome palace guard, Jacin. But Winter isn't as weak as Levana believes her to be and she's been undermining her stepmother's wishes for years. Together with the cyborg mechanic, Cinder, and her allies, Winter might even have the power to launch a revolution and win a war that's been raging for far too long.
Can Cinder, Scarlet, Cress, and Winter defeat Levana and find their happily ever afters?
My last Waiting on Wednesday was also about a series conclusion coming in November. I was originally not going to do a WoW for Winter because it is in fact the most obvious of all choices. But you know what, sometimes you just have to swim with the current. Plus then I would miss the opportunity to make all the Game of Thrones references.
But also let's be real, this is one of my top three most anticipated books of 2015. I marathoned The Lunar Chronicles last February when Cress came out and I seriously loved them. Not only are they amazing space operas but they are some of the most creative fairy tale retellings I have ever come across. I was originally bummed when Winter was pushed to the fall but Fairest was fantastic and it made me more excited because we got a fun glimpse into Princess Winter who I already love. But I'm also a little scared.
I'm so attached to these characters and invested in their success. I desperately need to know what happens to them in the final book in the series. While Princess Selene reclaim her throne on Luna? Will Cinder and Kai get their HEA? Will Winter and Jacin reach OTP status like the rest of these couples? What shenanigans will Thorne get up to? I cannot wait to read this book!
What about you? What are you waiting for this Wednesday? Are you waiting for Winter with me? Leave me a comment with your thoughts. Thanks for stopping by and HAPPY READING!