I don't mark a lot of books as Did Not Finish but every once and a while a book is just not working for me. It's been a few months but I have to once again mark a book as DNF. I gave it a good go but after following my rule of putting it down for a few days to gauge interest, I still didn't want to pick it up. Plus with reading a few books I had loved and not a lot of time to read this week, I decided not to power through and DNF it.
I decided to to a quick posts to explain my thoughts on the book I shelved as "DNF" this month. Writing DNF reviews is a tricky subject. I don't want to do full reviews on the book because I don't really have a well-rounded enough view on it. But I also wanted to explain why I didn't quite like the books because I try to be really honest here. So I based this post on
Nikki at There Were Books Involved's DNF Q+As.
This allows me to explain why the book didn't quite work for me without giving a full review. So here you go, my DNF Reviews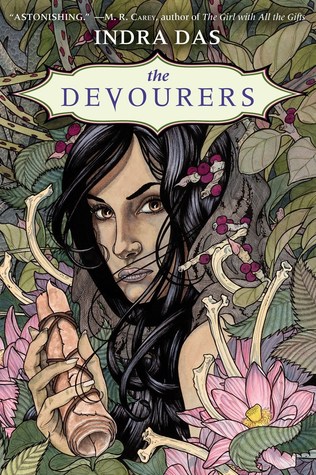 Title: The Devourers
Author: Indra Das
Published: July 12, 2016 by Del Ray (Random House)
Source: Netgalley
(
Amazon
/
Goodreads
)
Synopsis: For readers of Neil Gaiman, Margaret Atwood, China Mieville, and David Mitchell comes a striking debut novel by a storyteller of keen insight and captivating imagination.
On a cool evening in Kolkata, India, beneath a full moon, as the whirling rhythms of traveling musicians fill the night, college professor Alok encounters a mysterious stranger with a bizarre confession and an extraordinary story. Tantalized by the man's unfinished tale, Alok will do anything to hear its completion. So Alok agrees, at the stranger's behest, to transcribe a collection of battered notebooks, weathered parchments, and once-living skins.
From these documents spills the chronicle of a race of people at once more than human yet kin to beasts, ruled by instincts and desires blood-deep and ages-old. The tale features a rough wanderer in seventeenth-century Mughal India who finds himself irrevocably drawn to a defiant woman—and destined to be torn asunder by two clashing worlds. With every passing chapter of beauty and brutality, Alok's interest in the stranger grows and evolves into something darker and more urgent.
Shifting dreamlike between present and past with intoxicating language, visceral action, compelling characters, and stark emotion, The Devourers offers a reading experience quite unlike any other novel.
How Much I Read:
48% of the e-ARC
Why it Didn't Work For Me:
Well first, I did actually like the writing and world of this book. When you have a Gaiman comparison in the synopsis of course there is high expectations. And I honestly think this book lived up to that. It had gorgeous and lyrical prose that that brought the book to life. It was one of those books that reads like a modern fairy tale. It had an old world and lyrical style that I did really like. But atmosphere alone will not keep me reading.
I think the biggest thing here was that it's just a case of being such a plot driven reader. It's not that this book was boring, it just had a very different style. It was kind of rambling and that's not what I typically like when it comes to my books. The half of the book that I read really felt like nothing much was happening. There was a bit of a mystery that I was interested in exploring further but not enough really to keep reading.
In addition I didn't really connect with the characters. The book was split up into two different time periods, a past and a present. Both were inhabited by different people who were noticeably similar. It was hard to keep track of them which made it hard to really connect. This is also a book about shapeshifters or werewolves. I was into the concept but in actual practice I felt like this aspect was confusing and the attempt to make them darker and gritty just came off as almost aloof. It was just one more thing that kept me from connecting.
Will I Go Back to It:
Probably not. I am kind of curious about the mystery and reveal but I don't think I'm curious enough to keep reading. I have theories about it and kind of want to make sure I'm right but I'm not really sure. But to be entirely honest I just really wasn't feeling it and I'm not sure that the second half would be more plot-driven. This is probably just a case of a book not working for me.
Have you read The Devourers? What did you think? Leave me a comment with your thoughts. Thanks for stopping by and HAPPY READING!