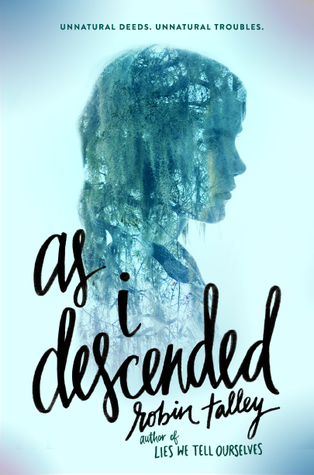 Title: As I Descended
Written by: Robin Talley
Published: September 6, 2016 by Harper Teen
(
Amazon
/
Goodreads
)
Synopsis: Maria Lyon and Lily Boiten are their school's ultimate power couple—even if no one knows it but them.

Only one thing stands between them and their perfect future: campus superstar Delilah Dufrey.

Golden child Delilah is a legend at the exclusive Acheron Academy, and the presumptive winner of the distinguished Cawdor Kingsley Prize. She runs the school, and if she chose, she could blow up Maria and Lily's whole world with a pointed look, or a carefully placed word.

But what Delilah doesn't know is that Lily and Maria are willing to do anything—absolutely anything—to make their dreams come true. And the first step is unseating Delilah for the Kingsley Prize. The full scholarship, awarded to Maria, will lock in her attendance at Stanford―and four more years in a shared dorm room with Lily.

Maria and Lily will stop at nothing to ensure their victory—including harnessing the dark power long rumored to be present on the former plantation that houses their school.

But when feuds turn to fatalities, and madness begins to blur the distinction between what's real and what is imagined, the girls must decide where they draw the line.

From acclaimed author Robin Talley comes a Shakespeare-inspired story of revenge and redemption, where fair is foul, and foul is fair.
So much about the synopsis of this book caught my eye and I'm glad that it did because, oh this book was everything I wanted it to be and probably more. It was exactly what I had hoped for in a "lesbian YA Macbeth set in a haunted boarding school." It was super fantastic. Dark, creepy, and compulsively readable.
Lately I have been all about YA Shakespeare retellings. Give them all to me now! Give me more, especially if they are going to be like this one. Because Robin Talley's Macbeth retelling was fantastic. I usually like my retellings to at least stick really close to the original source material when it comes to the plot or take it in a totally creative direction. Talley managed to do both. You can see exactly the moments Macbeth that were used to craft this story but at the same time it is something all it's own that people not at all familiar with the original will enjoy.
And that creativity came in the form of a totally creepy Gothic ghost story. If you are looking for a dark and atmospheric read for fall, look no further. This book is full of vengeful ghosts, unexplained occurrences, and a great mystery. But as much as I enjoyed these elements that was also one of my criticisms of the book. I felt like there were some questions left unanswered and plot points when it came to the supernatural elements. I would have liked more resolution or even answers about the ghosts. There were a little but in the end there wasn't much explanation about them and the why about them. But that did add to the creepiness factor. There are so many moments here that had me catching my breath, gasping, covering my mouth, and biting my nails out of worry. It's a dark and creepy story with an atmosphere to match.
If you are familiar with the story of Macbeth then you know that as one of Shakespeare's tragedies there is a lot of turmoil in that book. I mean it has a serious body count. And if you are wondering if this book goes there, yes it does. The plot is full of suspense and thrills. It slowly builds to a thrilling conclusion that will have you on the edge of your seat concerned and curious. And of you're like me then you'll be hoping it varies a little from the original.
But the setting and the plot are not the only dark and complex things about this book, the characters fit right in. I will say that when it came to the characters, I did miss some of the relationship building. We were dropped into something already established and I didn't quite buy into it in some instances. However this is mostly a book about ambition gone wrong so you have a book full of overly-ambitious schemers, something I absolutely love. But you also have unreliable narrators and characters who walk a very fine line between right and wrong. And no matter how they might justify it, they definitely cross that line. But that's what makes them so interesting and honestly likable. I surprisingly wanted them to succeed. All of them. Which made it very difficult when there was a conflict among them. And there plenty of conflict which made for an interesting read for sure.
All in all, As I Descended was a fantastic read that I really enjoyed. I was hoping for a dark and dramatic story with complex characters that would creep me and that's what I found. This book totally hooked and I really enjoyed it.
I give As I Descended by Robin Talley 9 out of 10 stars



Buy/Borrow/Bypass:

Buy.

If you are at all interested by this synopsis, check this book out for sure. It is a must read for fans of Macbeth but even if you don't like or have never read the original, check this out of you are looking for a creepy and complex story full of atmosphere and suspense.

Have you read As I Descended? What did you think? Leave me a comment with your thoughts. Thanks for stopping by and HAPPY READING!