Okay so I love this weeks prompt. It's all about audio. And you guys know how I love me some audiobooks. I have done more than my fair share of TTT posts about audiobooks (
Favorite Audiobooks
.
Books to Reread As Audiobooks
,
Books if You're In the Mood for An Audiobook
,
Why I Love Audiobooks
,
Favorite Audiobook Narrators
). But honestly that made this prompt a little more difficult. I have done a ton of Top Ten Tuesday posts about audiobooks. What else is there to say? So in the end I picked one that is similar to a few of these topics but reevaluates the earliest one which is about rereads. Here are some series I
1.) His Dark Materials by Phillip Pullman
-
Goodreads
/
Audible
So I binged this series on audio last December and it was a great choice. These are really fantastic audios. What I love about them is that they are told like radio play style with a full cast so they are different than most audiobooks and it's also a fresh experience of the series.
2.) The Reckoners by Brandon Sanderson
-
Goodreads
/
Audible
This series is one of my all-time favorites on audio. The narrator is seriously so brilliant. I listened to Steelheart on audio and the rest is history. But seriously if you are looking to try audiobooks for the first time, this is a great one to start with. Then binge the series.
3.) The Lunar Chronicles by Marissa Meyer
-
Goodreads
/
Audible
I love these audios so much. I binged the series right before Winter came out for a reread that after trying to read the physical book, I had to go back to the audio because I had the narrators voice in my head. She's honestly so good at the characterization.
4.) The Raven Cycle by Maggie Steifvater
-
Goodreads
/
Audible
I also binged this series before the final book, The Raven King, came out in April and I loved these audiobooks so much. I also had the narrators voice in my head but not as much as with TLC so I alternated back and forth.
5.) Throne of Glass by Sarah J. Maas
-
Goodreads
/
Audible
So I have binged this series on audio a few times. Recently with Empire of Storms coming out I listened to the most recent books. I know this one is hit or miss for a lot of people but I love the narrator. I would totally recommend this for a reread though.
6.) The Kingkiller Chronicles by Patrick Rothfuss
-
Goodreads
/
Audible
I love these audiobooks. Nick Poedhl is fantastic. He can honestly do it all. But my favorite of his is absolutely this series. He captures the atmosphere of this world and it's diverse characters. Plus I like listening to audio for longer books because I get through them faster.
7.) Mistborn by Brandon Sanderson
-
Goodreads
/
Audible
I'm telling you, Sanderson books have some of the best narrators. These ones are great. I read the book and listened to them when I marathoned the series a few years back. If you are looking to try this series and like audiobooks check these out.
8.) A Song of Ice and Fire by George R.R. Martin
-
Goodreads
/
Audible
I know these books are intimidating. Trust me, I know. But the audio is actually pretty good. It has it's problems but if you are looking to try this series or reread it before Winds of Winter comes out then marathoning the audio is probably a good idea.
9.) The Hitchhiker's Guide to the Galaxy by Douglas Adams-
Goodreads
/
Audible
I mostly listened to the audio for this series when I read it for the first time. I seriously loved it. It is one of the first audiobooks I ever listened to and I loved it so much that I got hooked on the form, especially for travel.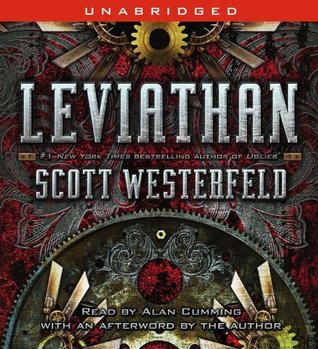 10.) Leviathan by Scott Westerfeld
-
Goodreads
/
Audible
I binged this series last year and it was amazing. It's narrated by Alan Cumming who does an amazing job with all the characterizations and accents. If you like steampunk and are looking for some audiobooks check this series out.
11.) Starbound by Amie Kaufman and Meghan Spooner
-
Goodreads
/
Audible
I binged the first two books in this series as a reread before the final book came out last December. They were totally fantastic. Each book has two different (sometimes 3) narrators and it really helps with the whole companion series. Plus they're just really great audios.
12.) Outlander by Diana Gabaldon
-
Goodreads
/
Audible
I probably shouldn't put this one on the list because I have only listened to the first one. But I think it's fantastic and I need to read more but they are just so many books. But if you're like me and want to read or reread this series audio might be the way to go.
Honorable Mention to the Ones I Need to Listen to
13.) Harry Potter by J.K. Rowling
-
Goodreads
/
Audible
14.) The Magicians by Lev Grossman
-
Goodreads
/
Audible
15.) The Grisha Trilogy by Leigh Bardugo
-
Goodreads
/
Audible
There you have it. The books I recommend binging on audio. These are some of my favorite audiobooks too. Coincidence, nope. But if you are looking for a series to binge on audio either as a reread or for the first time these are ones I loved. What audio would you recommend?